Not what you want?
Try searching again using:
1. Other similar-meaning words.
2. Fewer words or just one word.
Clot in Chinese / Japanese...
Buy a Clot calligraphy wall scroll here!
Start your custom "Clot" project by clicking the button next to your favorite "Clot" title below...
Switched to secondary search mode due to lack of results using primary.
These secondary results may not be very accurate. Try a different but similar meaning word or phrase for better results. Or...
Look up Clot in our Japanese Kanji & Chinese Character Dictionary
Our dictionary is a different system then the calligraphy search you just tried.
If you want a special phrase, word, title, or proverb, feel free to contact me, and I will translate your custom calligraphy idea for you.

juàn

kinu

견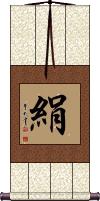 絹 is the Chinese, Japanese Kanji, and old Korean Hanja for thin, tough silk fabric, or silk cloth.

This can also be the Japanese female given name, Masami.

hè

katsu

갈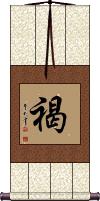 褐 is the most simple way to express brown in Chinese. It also means brown in Japanese but this character is not often written alone in Japanese (they would tend to write 褐色 (brown color) to refer to brown, or the color of tanned skin.

In some context, this can refer to gray or a dark color, or coarse hemp cloth.

In Buddhist context, it can refer to a coarse serge (cheaply sewn clothing) hence poverty.
---
Note: In Taiwanese Mandarin, this is spoken with the 2nd or rising tone instead of the 4th or falling tone used in the mainland.

yuán

en

연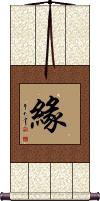 緣 / 縁 is a complicated single character. It can mean a lot of different things depending on how you read it.

In Japanese, it can mean fate; destiny; a mysterious force that binds two people together; a relationship between two people; bond; link; connection; family ties; affinity; opportunity; chance (to meet someone and start a relationship). It can also mean "someone to rely on," relative, reminder, memento, or the female given name, Yori.

It's basically the same in Chinese, where it's defined as cause, reason, karma, fate, or predestined affinity.

In Buddhist context, it's Pratyaya. 緣 / 縁 is the concept of indirect conditions, as opposed to direct causes. It's when something happens (meeting someone) by circumstance, or a contributing environment. Instead of a direct cause or act, it is a conditioning cause without direct input or action by the involved people.

Occasionally, this character is used in a facetious way to say hem, seam, or edge of clothing. In this case, it's the seam that brings or holds the clothing together.
---

Note: Japanese will tend to use the variant of this Kanji shown to the right. If you want this version (and are ordering this from the Japanese master calligrapher), click on the Kanji at the right instead of the button above.

huā mù lán

花木蘭 is the name of the famous Chinese woman warrior Hua Mulan.

She was made famous in the west by Disney's animated movie, "Mulan."

Most of the historical information about her comes from an ancient poem. It starts with a concerned Mulan, as she is told a man from each family is to serve conscription in the army. Her father is too old, and her brother is too young. Mulan decides to take the place of her father. After twelve years of war, the army returns and the best warriors are awarded great posts in the government and riches. Mulan turns down all offers, and asks only for a good horse for the long trip home. When Mulan greets visiting comrades wearing her old clothes, they are shocked to find the warrior they rode into battle with for years was actually a woman.
A sly rabbit has three openings to its den
-or- The crafty rabbit has three different entrances to its lair

jiǎo tù sān kū

This speaks to the cunning character of a sly rabbit. Such a rabbit will not have just one hole but rather a few entrances and exits from his liar.

About 2,250 years ago a very rich man told his assistant to go and buy something wonderful that he did not yet posses. He was a man that already had everything, so the assistant went to a local village that owed a great deal of money to the rich man. The assistant told the village elders that all debts were forgiven. All the villagers rejoiced and praised the rich man's name. The assistant returned to the rich man and told him he had purchased "benevolence" for him. The rich man was mildly amused but perhaps a bit confused by the action.

Some time later, the rich man fell from the favor of the Emperor, and was wiped out without a penny to his name. One day he was walking aimlessly and stumbled into the village in which the debts had been forgiven. The villagers recognized the man and welcomed him with open arms, clothed, fed, and gave him a place to live.

Without trying, the man had become like the sly and cunning rabbit. When his exit was blocked, he had another hole to emerge from - and was reborn. This story and idiom comes from a book titled "The Amendment" - it's unclear whether this man actually existed or not. But the book did propel this idiom into common use in China.

Still today this idiom about the rabbit is used in China when suggesting "backup plans" alternate methods, and anyone with a good escape plan.

huáng

hon / kou

황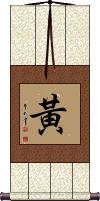 黃 is the single character for the color yellow in Chinese.

In China, yellow is traditionally the color of the emperor. In fact, there was a time when only the emperor could wear yellow clothing, or own yellow pet fish. Note: Goldfish were breed originally in China for the emperor. When the perfect yellow fish was breed, all but the emperor were banned from owning any. Thus a more orange-colored goldfish dominated the market.

黃 is not a common selection for a wall scroll. Even if your Chinese surname is Huang (Yellow) or your Korean surname is Hwang (yellow), it's still probably not appropriate.
---

This character is written with a slight variation in Simplified Chinese and modern Japanese. Click on the image to the right if you want this alternate version.
Search for Clot in my Japanese & Chinese Dictionary
The following table may be helpful for those studying Chinese or Japanese...
Title
Characters
Romaji

(Romanized Japanese)

Various forms of Romanized Chinese
Clotario
克洛塔里奧

---

克洛塔里奥
kè luò tǎ lǐ ào

---

ke4 luo4 ta3 li3 ao4

---

ke luo ta li ao

---

keluotaliao
k`o lo t`a li ao

---

kolotaliao

---

ko lo ta li ao
Clothilde
克洛蒂爾

---

克洛蒂尔
kè luò dì ěr

---

ke4 luo4 di4 er3

---

ke luo di er

---

keluodier
k`o lo ti erh

---

kolotierh

---

ko lo ti erh
Clotilde
克洛蒂爾

---

克洛蒂尔
kè luò dì ěr

---

ke4 luo4 di4 er3

---

ke luo di er

---

keluodier
k`o lo ti erh

---

kolotierh

---

ko lo ti erh
Silk Cloth
絹

---

绢
kinu
juàn / juan4 / juan
chüan
Brown
褐
katsu
hè / he4 / he
ho
The Mysterious Bond Between People
緣 / 縁

---

缘
en
yuán / yuan2 / yuan
yüan
Always Be Prepared
飽帶干糧暖帶衣

---

饱带干粮暖带衣
bǎo dài gān liáng nuǎn dài yī

---

bao3 dai4 gan1 liang2 nuan3 dai4 yi1

---

bao dai gan liang nuan dai yi

---

baodaiganliangnuandaiyi
pao tai kan liang nuan tai i

---

paotaikanliangnuantaii
Hua Mulan
花木蘭

---

花木兰
huā mù lán

---

hua1 mu4 lan2

---

hua mu lan

---

huamulan
A sly rabbit has three openings to its den
狡兔三窟
jiǎo tù sān kū

---

jiao3 tu4 san1 ku1

---

jiao tu san ku

---

jiaotusanku
chiao t`u san k`u

---

chiaotusanku

---

chiao tu san ku
Yellow
黃

---

黄
hon / kou / hon / ko / hon/ko
huáng / huang2 / huang
In some entries above you will see that characters have different versions above and below a line.
In these cases, the characters above the line are Traditional Chinese, while the ones below are Simplified Chinese.
Successful Chinese Character and Japanese Kanji calligraphy searches within the last few hours...
All of our calligraphy wall scrolls are handmade.
When the calligrapher finishes creating your artwork, it is taken to my art mounting workshop in Beijing where a wall scroll is made by hand from a combination of silk, rice paper, and wood.
After we create your wall scroll, it takes at least two weeks for air mail delivery from Beijing to you.
Allow a few weeks for delivery. Rush service speeds it up by a week or two for $10!
When you select your calligraphy, you'll be taken to another page where you can choose various custom options.
Check out my lists of Japanese Kanji Calligraphy Wall Scrolls and Old Korean Hanja Calligraphy Wall Scrolls.
Some people may refer to this entry as Clot Kanji, Clot Characters, Clot in Mandarin Chinese, Clot Characters, Clot in Chinese Writing, Clot in Japanese Writing, Clot in Asian Writing, Clot Ideograms, Chinese Clot symbols, Clot Hieroglyphics, Clot Glyphs, Clot in Chinese Letters, Clot Hanzi, Clot in Japanese Kanji, Clot Pictograms, Clot in the Chinese Written-Language, or Clot in the Japanese Written-Language.
1 people have searched for Clot in Chinese or Japanese in the past year.
Clot was last searched for by someone else on Jul 10th, 2018