Not what you want?
Try searching again using:
1. Other similar-meaning words.
2. Fewer words or just one word.
Body in Chinese / Japanese...
Buy a Body calligraphy wall scroll here!
Start your custom "Body" project by clicking the button next to your favorite "Body" title below...

shēn

mi

신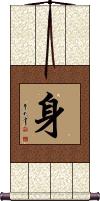 身 is how to write "body" as in your human body, in Chinese, Japanese Kanji, and Korean Hanja. Depending on context and certain language issues, this character can also mean: main part, hull, oneself, somebody, person, I, me, sword, lifetime, one's station in life, etc.

While this written word is universal in three languages, it still makes a rather odd selection for a wall scroll. Also, they tend to use 体 (karada) in Japanese for body (depending on context).
---
See Also: Karada

shēn xīn

shin shin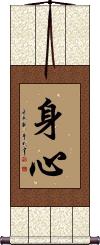 身心 means, "body and mind" or "mental and physical" in Chinese and Japanese.

In the Buddhist context, body and mind encompass the five elements (skandha) of a sentient being.
The body is the physical material (rūpa) of life. Mind embraces the other four skandhas which are consciousness, perception, action, and knowledge.

shēn xīn líng

mi shin rei

신심령

This is probably the best way to express the idea of "Body, Mind and Spirit" in Chinese and old Korean Hanja. We are actually using the word for "heart" here because for thousands of years, the heart was thought to be the place where your thoughts, feelings and emotions came from. We do something similar in the west when we say "warm-hearted" or "I love you with all of my heart." In this context, heart = mind in Asian language and culture.

The very literal translation of these three characters is "body, heart & spirit" which could also be interpreted as "body mind & soul."

We have arranged these characters in this order because it simply "feels" like the proper order in the Chinese language. Word lists like this are not so common for calligraphy artwork, so we have to be careful to put them in the most natural order. It should be noted that this is not a common title in Asia, nor is it considered an actual phrase (as it lacks a clear subject, verb, and object).
---

In Japanese Kanji, they use an alternate form of the character for soul or spirit. If you want this using the Japanese alternate, please click on the Kanji shown to the right instead of the button above.

Japanese disclaimer: This is not a natural phrase/list in Japanese. While not totally-natural in Chinese, this word list is best if your audience is Chinese.

ki ken tai icchi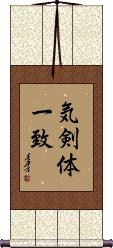 This often gets translated as "Mind Sword Body," or "Spirit, Sword and Body as One." But I think these translations don't tell you enough about what this is really saying.

In this context, 気, which is the modern Japanese version of 氣, means spiritual and unseen energy or "life energy." In some cases, 気 can be translated as spirit, feeling, or nature. If defined as mind, it's more about invisible or intangible part of one's mind (or soul).

剣 is the Japanese version of 劍 meaning sword.

体 is the modern Japanese version of 體 meaning body.

The Kanji 一 means one, and in this case suggests "all in one." The Kanji 到 means to send, deliver, or convey. But together, 一到 suggests all these things in agreement, union cooperation, or in concert.

tǐ

karada / tai / te

체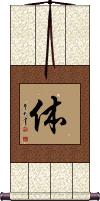 体 is used in Japanese to mean "body."

体 can also refer to the form, style, corporeal existence, appearance, identity, or the state of something or someone. 體 is also used in Buddhism in regards to the corporeal existence of someone (their earthy vessel). It's kind of a broad term that can be used in a lot of different ways.

As a single character, it's usually pronounced "karada" but it can also be pronounced "tai" or "te" (Japanese pronunciation borrowed from the original Chinese).

體 is not a common Kanji to use for a wall scroll. Only select this if you have a personal and meaningful reason to do so. Also, consider this version to be "Japanese only" - see below...
---

In Chinese and old Korean Hanja, this character is written in the traditional form shown to the right. If you want this version, click on the character to the right instead of the button above.

téng tòng jiù shì shuāi ruò lí nǐ ér qù de shí hòu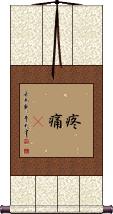 I remember this being shouted a lot during U.S. Marine Corps boot camp. This is how to write that phrase in Chinese. At least, this is as close as we could compose/translate it, and hold the full original meaning and connotations.

The version shown here is really, "Pain is weakness leaving your body." Although, it's said in English both ways (the or your), it works better in Chinese with "your."

tsuyo i karada tsuyo i kokoro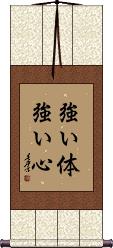 強い体強い心 is a way to write "strong mind, strong body" in Japanese.

Each of the two lines starts with 強い (tsuyoi) which means: strong; powerful; mighty; potent; resistant; resilient; durable; tough; stiff; hard; inflexible.

Body is represented with 体 (ancient version is 體, romanized as karada) which means: body; build; physique; posture; torso; trunk; health.

Mind is represented with 心 (kokoro) which can mean heart, mind, or soul depending on context.

This is not a common phrase in Japanese, so it's not the most natural title for calligraphy. In English, you might want to write it, "strong mind, strong body" but, "strong mind, strong body," is more natural in Japanese.
---
Note: Because this selection contains some special Japanese Hiragana characters, it should be written by a Japanese calligrapher.

duàn liàn

단련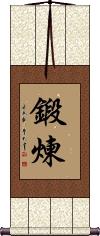 鍛煉 / 鍛鍊 means exercise in much the same way we use the word exercise in English. This can be exercising your body at the gym, or exercising your mind in studies. Most of the time, this refers to physical exercise.

This can also be translated as to temper, to toughen, to train, to drill, to forge, or simply discipline.
Search for Body in my Japanese & Chinese Dictionary
The following table may be helpful for those studying Chinese or Japanese...
Title
Characters
Romaji

(Romanized Japanese)

Various forms of Romanized Chinese
Body
身
mi
shēn / shen1 / shen
Body and Mind
身心
shin shin / shinshin
shēn xīn / shen1 xin1 / shen xin / shenxin
shen hsin / shenhsin
Mind, Body and Spirit
身心靈 / 身心霊

---

身心灵
mi shin rei

---

mishinrei
shēn xīn líng

---

shen1 xin1 ling2

---

shen xin ling

---

shenxinling
shen hsin ling

---

shenhsinling
Energy Sword Body in Concert
気剣体一致 / 氣劍體一致

---

气剑体一致
ki ken tai icchi

---

kikentaiicchi

---

ki ken tai ichi

---

kikentaiichi
Body
Karada
體

---

体
karada / tai / te
tǐ / ti3 / ti
t`i / ti
Pain is Weakness Leaving the Body
疼痛就是衰弱離你而去的時候

---

疼痛就是衰弱离你而去的时候
téng tòng jiù shì shuāi ruò lí nǐ ér qù de shí hòu

---

teng2 tong4 jiu4 shi4 shuai1 ruo4 li2 ni3 er2 qu4 de shi2 hou4

---

teng tong jiu shi shuai ruo li ni er qu de shi hou
t`eng t`ung chiu shih shuai jo li ni erh ch`ü te shih hou

---

teng tung chiu shih shuai jo li ni erh chü te shih hou
Pain is Weakness Leaving the Body
痛みは體から抜ける弱さ

---

痛みは体から抜ける弱さ
itami wa karada kara nukeru yowasa
Strong Body, Strong Mind
強い體強い心

---

強い体強い心
tsuyo i karada tsuyo i kokoro

---

tsuyoikaradatsuyoikokoro
Strong Mind Strong Body
強壯的身體堅強的心態

---

强壮的身体坚强的心态
qiáng zhuàng de shēn tǐ jiān qiáng de xīn tài

---

qiang2 zhuang4 de shen1 ti3 jian1 qiang2 de xin1 tai4

---

qiang zhuang de shen ti jian qiang de xin tai
ch`iang chuang te shen t`i chien ch`iang te hsin t`ai

---

chiang chuang te shen ti chien chiang te hsin tai
Exercise
鍛煉 / 鍛鍊

---

锻炼
duàn liàn

---

duan4 lian4

---

duan lian

---

duanlian
tuan lien

---

tuanlien
You are only as old as you feel
不怕人老隻怕心老

---

不怕人老只怕心老
bú pà rén lǎo zhǐ pà xīn lǎo

---

bu2 pa4 ren2 lao3 zhi3 pa4 xin1 lao3

---

bu pa ren lao zhi pa xin lao

---

buparenlaozhipaxinlao
pu p`a jen lao chih p`a hsin lao

---

pupajenlaochihpahsinlao

---

pu pa jen lao chih pa hsin lao
In some entries above you will see that characters have different versions above and below a line.
In these cases, the characters above the line are Traditional Chinese, while the ones below are Simplified Chinese.
Successful Chinese Character and Japanese Kanji calligraphy searches within the last few hours...
All of our calligraphy wall scrolls are handmade.
When the calligrapher finishes creating your artwork, it is taken to my art mounting workshop in Beijing where a wall scroll is made by hand from a combination of silk, rice paper, and wood.
After we create your wall scroll, it takes at least two weeks for air mail delivery from Beijing to you.
Allow a few weeks for delivery. Rush service speeds it up by a week or two for $10!
When you select your calligraphy, you'll be taken to another page where you can choose various custom options.
Check out my lists of Japanese Kanji Calligraphy Wall Scrolls and Old Korean Hanja Calligraphy Wall Scrolls.
Some people may refer to this entry as Body Kanji, Body Characters, Body in Mandarin Chinese, Body Characters, Body in Chinese Writing, Body in Japanese Writing, Body in Asian Writing, Body Ideograms, Chinese Body symbols, Body Hieroglyphics, Body Glyphs, Body in Chinese Letters, Body Hanzi, Body in Japanese Kanji, Body Pictograms, Body in the Chinese Written-Language, or Body in the Japanese Written-Language.