Not what you want?
Try searching again using:
1. Other similar-meaning words.
2. Fewer words or just one word.
Swim in Chinese / Japanese...
Buy a Swim calligraphy wall scroll here!
Start your custom "Swim" project by clicking the button next to your favorite "Swim" title below...

yóu yǒng

yuuei / yue

유영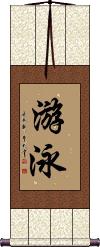 游泳 is the Chinese and Japanese Kanji for swimming, or swim. This can be the act of, or the sport of swimming.

In certain context, this could mean bathing. Further, like the old phrase, "it's going swimmingly." this word can refer to the "conduct of life."
Not the results for swim that you were looking for?
Below are some entries from our dictionary that may match your swim search...
Characters

If shown, 2nd row is Simp. Chinese

Pronunciation
Romanization
Simple Dictionary Definition

Fatal error: Cannot redeclare mockup() (previously declared in /home/admin/web/orientaloutpost.com/public_html/includes/render5.php:4) in /home/admin/web/orientaloutpost.com/public_html/render5.php on line 537