Sunshine in Chinese / Japanese...
Buy a Sunshine calligraphy wall scroll here!
Personalize your custom "Sunshine" project by clicking the button next to your favorite "Sunshine" title below...

陽光 is the Chinese word for sunshine.

陽光 is a more emotional word compared to another Asian word that means "sunlight." If you were going to sing a song or write a poem, this is the word you would use.
---
Note: This is a rarely-used word in Korean or Japanese.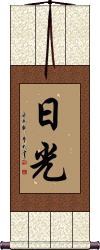 日光 is the Japanese Kanji word for sunshine or sunlight.

This can also be the Japanese female given name Himi.
Sun / Solar
Also means Day, Sunshine, Sunlight, or Japan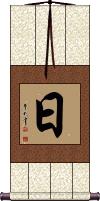 日 is the word for sun.

It also means day and can refer to the day of the month when expressing the date.
Example: October 1st would be "10 Moons, 1 Sun."

日 is also the first Kanji for the title of Japan (in Chinese, Japanese Kanji, and Korean Hanja). Thus, this character is used as an adjective for things that are Japanese.
Ever heard of Japan being called, "The land of the rising sun"? Well, that's what the full title of Japan means.

Depending on the context, this character can mean Sunshine or Sunlight.
---
Note: In Japanese, this Kanji has a variety of possible pronunciations. The pronunciation changed depending on context and how this Kanji is combined with other Kanji. When used alone, this is usually "hi" (pronounced like "hee") but sometimes it's "nichi." When combined, it can be "tsu," "ni," "ka," and a few others.
Not the results for sunshine that you were looking for?
Below are some entries from our dictionary that may match your sunshine search...
Characters

If shown, 2nd row is Simp. Chinese

Pronunciation
Romanization
Simple Dictionary Definition

暉

---

晖

see styles
huī
hui1

---

hui

---

hikaru
ひかる

More info & calligraphy:

Hikari

sunshine; to shine upon; variant of 輝|辉[hui1]

---

(given name) Hikaru

日光

see styles
rì guāng
ri4 guang1

---

jih kuang

---

himi
ひみ
sunlight

---

(1) sunlight; sunshine; sunbeams; (2) Nikkō (city in Tochigi); (female given name) Himi

---

(日光菩薩); 蘇利也波羅皮遮那 Sūrya-prabhāsana. Sunlight, and 月光 (月光菩薩) Moonlight, name of two Bodhisattva assistants of 藥師 the Master of Healing; Sunlight is the ninth in the Dizang Court of the Garbhadhātu group; sunlight

陽光

---

阳光

see styles
yáng guāng
yang2 guang1

---

yang kuang

---

youkou / yoko
ようこう
sunshine; (of personality) upbeat; energetic; transparent (open to public scrutiny)

---

sunshine; sunlight; (female given name) Youkou

---

The sun's light, also idem陽燄 sun flames, or heat, i.e. the mirage causing the illusion of lakes; sunlight

昤

see styles
līng
ling1

---

ling

暘

---

旸

see styles
yáng
yang2

---

yang

---

hinode
ひので

---

(surname) Hinode

曬

---

晒

see styles
shài
shai4

---

shai

---

See: 晒

---

To dry in the sun.

緣

---

缘

see styles
yuán
yuan2

---

yüan

---

en

---

pratyaya means conviction, reliance, but with Buddhists especially it means 'a co-operating cause, the concurrent occasion of an event as distinguished from its proximate cause'. M.W. It is the circumstantial, conditioning, or secondary cause, in contrast with 因 hetu, the direct or fundamental cause. hetu is as the seed, pratyaya the soil, rain, sunshine, etc. To reason, conclude. To climb, lay hold of. The mind 能緣can reason, the objective is 所緣, the two in contact constitute the reasoning process. The four kinds of causes are 因緣; 次第緣; 緣緣, and 增上緣 q.v.

冬日

see styles
fuyubi
ふゆび

刺桐

see styles
cì tóng
ci4 tong2

---

tz`u t`ung
tzu tung

日影

see styles
hikage
ひかげ

日照

see styles
rì zhào
ri4 zhao4

---

jih chao

---

hideri
ひでり

---

sunlight; (place-name) Hideri

---

Divākara

春暉

---

春晖

see styles
chūn huī
chun1 hui1

---

ch`un hui
chun hui

---

haruki
はるき

---

(personal name) Haruki

春陽

see styles
hinata
ひなた

照り

see styles
teri
てり

白日

see styles
bái rì
bai2 ri4

---

pai jih

---

shirahi
しらひ

---

bright sunshine; broad daylight; (given name) Shirahi

表山

see styles
hyouyama / hyoyama
ひょうやま

裏山

see styles
urayama
うらやま

偏照り

see styles
henderi
へんでり

均日照

see styles
jun rì zhào
jun1 ri4 zhao4

---

chün jih chao

日照権

see styles
nisshouken / nisshoken
にっしょうけん

風光る

see styles
kazehikaru
かぜひかる

兩情相悅

---

两情相悦

see styles
liǎng qíng xiāng yuè
liang3 qing2 xiang1 yue4

---

liang ch`ing hsiang yüeh
liang ching hsiang yüeh

包容政策

see styles
houyouseisaku / hoyosesaku
ほうようせいさく

太陽政策

see styles
taiyouseisaku / taiyosesaku
たいようせいさく

年均日照

see styles
nián jun rì zhào
nian2 jun1 ri4 zhao4

---

nien chün jih chao

日照時間

see styles
nisshoujikan / nisshojikan
にっしょうじかん

春光乍泄

see styles
chūn guāng zhà xiè
chun1 guang1 zha4 xie4

---

ch`un kuang cha hsieh
chun kuang cha hsieh

春光明媚

see styles
chūn guāng míng mèi
chun1 guang1 ming2 mei4

---

ch`un kuang ming mei
chun kuang ming mei

風和日暄

---

风和日暄

see styles
fēng hé rì xuān
feng1 he2 ri4 xuan1

---

feng ho jih hsüan

風和日暖

---

风和日暖

see styles
fēng hé rì nuǎn
feng1 he2 ri4 nuan3

---

feng ho jih nuan
Click here for more sunshine results from our dictionary
The following table may be helpful for those studying Chinese or Japanese...
Title
Characters
Romaji

(Romanized Japanese)

Various forms of Romanized Chinese
Sunshine
陽光

---

阳光
you kou / youkou / yo ko
yáng guāng

---

yang2 guang1

---

yang guang

---

yangguang
yang kuang

---

yangkuang
Sunshine
Sunlight
日光
nikkou / niko
rì guāng / ri4 guang1 / ri guang / riguang
jih kuang / jihkuang
Sun
Solar
日
hi / nichi
rì / ri4 / ri
jih
In some entries above you will see that characters have different versions above and below a line.
In these cases, the characters above the line are Traditional Chinese, while the ones below are Simplified Chinese.
Many custom options...




And formats...



Successful Chinese Character and Japanese Kanji calligraphy searches within the last few hours...
All of our calligraphy wall scrolls are handmade.
When the calligrapher finishes creating your artwork, it is taken to my art mounting workshop in Beijing where a wall scroll is made by hand from a combination of silk, rice paper, and wood.
After we create your wall scroll, it takes at least two weeks for air mail delivery from Beijing to you.
Allow a few weeks for delivery. Rush service speeds it up by a week or two for $10!
When you select your calligraphy, you'll be taken to another page where you can choose various custom options.
Check out my lists of Japanese Kanji Calligraphy Wall Scrolls and Old Korean Hanja Calligraphy Wall Scrolls.
Some people may refer to this entry as Sunshine Kanji, Sunshine Characters, Sunshine in Mandarin Chinese, Sunshine Characters, Sunshine in Chinese Writing, Sunshine in Japanese Writing, Sunshine in Asian Writing, Sunshine Ideograms, Chinese Sunshine symbols, Sunshine Hieroglyphics, Sunshine Glyphs, Sunshine in Chinese Letters, Sunshine Hanzi, Sunshine in Japanese Kanji, Sunshine Pictograms, Sunshine in the Chinese Written-Language, or Sunshine in the Japanese Written-Language.
141 people have searched for Sunshine in Chinese or Japanese in the past year.
Sunshine was last searched for by someone else on Nov 22nd, 2022