The name Muslim in Chinese / Japanese...
Buy a Muslim calligraphy wall scroll here!
Personalize your custom "Muslim" project by clicking the button next to your favorite "Muslim" title below...
---
---
Islam
The religion of the Hui People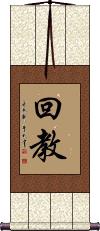 回教 means "Hui Religion" in Chinese.

It refers specifically to the Hui people (Huizu), who have typical Oriental looks but are Muslim (practice the religion of Islam). Hui people can be found throughout China, often establishing Muslim neighborhoods in many cities.

My Japanese dictionary lists this as the all-Kanji way to write Islam as well.

In Korean, the first character is used as a short name to say Muslim.

真主 is how Chinese Muslims refer to God (it literally means "True Master").

Oddly, in China, two different names for God have emerged. Even though Muslims, Christians, and Jews all worship the same God of Abraham.

In Arabic, the word Allah is just the Arabic way to say, God. Arab Christians pray to Allah, just like Arab Muslims. Somehow in China, the title of God diverged.

If you are curious, there are millions of Muslims throughout China but especially in the northwest portion of China known as Xinjiang. Here you will find descendants of Turkmen, Persian, Arab, and other ethnicities. Some are mixed with Han-Chinese blood; others appear to be pure Turkmen. Many have fair complexions, green eyes, and light hair but all are citizens of China. A visit to Xinjiang will shift your paradigm and blow away all of your stereotypes about what it means to be Chinese.
Shii
Movement within Islam

伊斯蘭教 both means and sounds like "Islam" in Mandarin Chinese.

The first three characters sound like the word "Islam," and the last character means "religion" or "teaching." It's the most general term for "Islam" in China. The highest concentration of Muslims in China is Xinjiang (the vast region in northwest China that was called The East Turkistan Republic until 1949 and is sometimes called Chinese Turkistan, Uyghuristan). Here you will find Uygurs, Kazakhs, Kyrgyz, and others that are descendants of Turkmen (possibly mixed with Persians and Arabs). Many of their ancestors were traders who traveled the silk road to buy and sell spices and silk and exchange other goods from the Orient and the Middle East.

I spent some time in Xinjiang and got to know this community. They are strong people who can endure much. They are friendly and love to have a good time. I was a stranger but was treated by villagers (near China's border with Afghanistan) as if I was a good friend.
However, I have heard that it's best not to cross them, as in this land, the law is the blade, and everything is "eye for an eye." The Chinese government has little control in Xinjiang, with almost no police officers except in the capital of Urumqi (so it's a 60-hour roundtrip train ride to seek the aid of law enforcement in most cases).

While few seem devout, there are at least small mosques in every village. And you will never see a man or woman outside without a head covering.

It should be noted that these people are all citizens of China, but they are officially of the Caucasian race. A visit to Xinjiang will change your idea of what it means to be Chinese.
I've noticed you are searching for "muslim". If you are interested, I can have your favorite verse from the Qur'an translated into Chinese and written on a wall scroll for you. You can contact me siting the verse or verses you want.
Not the results for muslim that you were looking for?
Below are some entries from our dictionary that may match your muslim search...
Characters

If shown, 2nd row is Simp. Chinese

Pronunciation
Romanization
Simple Dictionary Definition

ウンマ

see styles
unma
ウンマ

日本ムスリム協会

see styles
nihonmusurimukyoukai / nihonmusurimukyokai
にほんムスリムきょうかい

蘇丹

---

苏丹

see styles
sū dān
su1 dan1

---

su tan

---

suudan / sudan
スーダン

More info & calligraphy:

Sultan

Sudan; sultan (ruler of some Muslim states, esp. Ottoman Emperor)

---

(ateji / phonetic) (kana only) Sudan

侯賽因

---

侯赛因

see styles
hóu sài yīn
hou2 sai4 yin1

---

hou sai yin
Husain or Hussein (name); Hussein (c. 626-680), Muslim leader whose martyrdom is commemorated at Ashura; Saddam Hussein al Tikriti (1937-2006), dictator of Iraq 1979-2003

埃米爾

---

埃米尔

see styles
āi mǐ ěr
ai1 mi3 er3

---

ai mi erh

More info & calligraphy:

Emiel

Emir (Muslim ruler); Amir

穆斯林

see styles
mù sī lín
mu4 si1 lin2

---

mu ssu lin

More info & calligraphy:

Muslim

Muslim

亞伯

---

亚伯

see styles
yà bó
ya4 bo2

---

ya po

清真

see styles
qīng zhēn
qing1 zhen1

---

ch`ing chen
ching chen

---

seima / sema
せいま

---

(personal name) Seima

該隱

---

该隐

see styles
gāi yǐn
gai1 yin3

---

kai yin

ワクフ

see styles
wakufu
ワクフ

回教徒

see styles
kaikyouto / kaikyoto
かいきょうと

穆爾西

---

穆尔西

see styles
mù ěr xī
mu4 er3 xi1

---

mu erh hsi

訪惠聚

---

访惠聚

see styles
fǎng huì jù
fang3 hui4 ju4

---

fang hui chü

ウラマー

see styles
uramaa / urama
ウラマー

ジンミー

see styles
jinmii / jinmi
ジンミー

タリバン

see styles
tariban
タリバン

ハリファ

see styles
harifa
ハリファ

ヒジャブ

see styles
hijabu
ヒジャブ

ヘジャブ

see styles
hejabu
ヘジャブ

ムスリム

see styles
musurimu
ムスリム

モスリム

see styles
mosurimu
モスリム

モスレム

see styles
mosuremu
モスレム

ラマダン

see styles
ramadan
ラマダン

伊斯蘭國

---

伊斯兰国

see styles
yī sī lán guó
yi1 si1 lan2 guo2

---

i ssu lan kuo

イスラム圏

see styles
isuramuken
イスラムけん

シャハーダ

see styles
shahaada / shahada
シャハーダ

シャヒード

see styles
shahiido / shahido
シャヒード

ズィンミー

see styles
zunmii / zunmi
ズィンミー

タリバーン

see styles
taribaan / tariban
タリバーン

ヒジャーブ

see styles
hijaabu / hijabu
ヒジャーブ
Click here for more muslim results from our dictionary
The following table may be helpful for those studying Chinese or Japanese...
Title
Characters
Romaji

(Romanized Japanese)

Various forms of Romanized Chinese
Muslim
穆斯林
mù sī lín

---

mu4 si1 lin2

---

mu si lin

---

musilin
mu ssu lin

---

mussulin
Islam
回教
kai kyou / kaikyou / kai kyo
huí jiào / hui2 jiao4 / hui jiao / huijiao
hui chiao / huichiao
Allah
God of Islam
真主
zhēn zhǔ / zhen1 zhu3 / zhen zhu / zhenzhu
chen chu / chenchu
Shii
什葉

---

什叶
shí yè / shi2 ye4 / shi ye / shiye
shih yeh / shihyeh
Shiite sect of Islam
什葉派

---

什叶派
shí yè pài

---

shi2 ye4 pai4

---

shi ye pai

---

shiyepai
shih yeh p`ai

---

shihyehpai

---

shih yeh pai
Sunni sect of Islam
遜尼派

---

逊尼派
xùn ní pài

---

xun4 ni2 pai4

---

xun ni pai

---

xunnipai
hsün ni p`ai

---

hsünnipai

---

hsün ni pai
Islam
伊斯蘭教

---

伊斯兰教
yī sī lán jiào

---

yi1 si1 lan2 jiao4

---

yi si lan jiao

---

yisilanjiao
i ssu lan chiao

---

issulanchiao
In some entries above you will see that characters have different versions above and below a line.
In these cases, the characters above the line are Traditional Chinese, while the ones below are Simplified Chinese.
Many custom options...




And formats...



Successful Chinese Character and Japanese Kanji calligraphy searches within the last few hours...
All of our calligraphy wall scrolls are handmade.
When the calligrapher finishes creating your artwork, it is taken to my art mounting workshop in Beijing where a wall scroll is made by hand from a combination of silk, rice paper, and wood.
After we create your wall scroll, it takes at least two weeks for air mail delivery from Beijing to you.
Allow a few weeks for delivery. Rush service speeds it up by a week or two for $10!
When you select your calligraphy, you'll be taken to another page where you can choose various custom options.
Check out my lists of Japanese Kanji Calligraphy Wall Scrolls and Old Korean Hanja Calligraphy Wall Scrolls.
Some people may refer to this entry as Muslim Kanji, Muslim Characters, Muslim in Mandarin Chinese, Muslim Characters, Muslim in Chinese Writing, Muslim in Japanese Writing, Muslim in Asian Writing, Muslim Ideograms, Chinese Muslim symbols, Muslim Hieroglyphics, Muslim Glyphs, Muslim in Chinese Letters, Muslim Hanzi, Muslim in Japanese Kanji, Muslim Pictograms, Muslim in the Chinese Written-Language, or Muslim in the Japanese Written-Language.
28 people have searched for Muslim in Chinese or Japanese in the past year.
Muslim was last searched for by someone else on Jun 24th, 2023