Did you mean: Dove ?
Cove in Chinese / Japanese...
Buy a Cove calligraphy wall scroll here!
Personalize your custom "Cove" project by clicking the button next to your favorite "Cove" title below...
Switched to secondary search mode due to lack of results using primary.
These secondary results may not be very accurate. Try a different but similar meaning word or phrase for better results. Or...
Look up Cove in my Japanese Kanji & Chinese Character Dictionary
My dictionary is a different system then the calligraphy search you just tried.
If you want a special phrase, word, title, name, or proverb, feel free to contact me, and I will translate your custom calligraphy idea for you.
---
---
Resilience / Restoration / Recovery

This title suggests having the power to recover, restore, rehabilitate. This can refer to yourself, someone else, or even to something, like rehabilitating a burned forest. 恢復力 is the essence of resilience in life.

The first two characters are a word that means to reinstate, to resume, to restore, to recover, to regain, to rehabilitate, restoration, rehabilitation, recovery, return, improvement, recovery (from an illness), recuperation, or convalescence.

The last character means strength or power.
---
See Also: Tenacity | Perseverance
Serendipity / Chance Discovery

偶然の発見 is a way to express serendipity in Japanese. This title is more about discovery by chance like the melting candy bar in a Bell radar/communications laboratory that led to the invention of the microwave oven.

The first two Kanji mean incidentally, by chance, randomly, unexpectedly, suddenly, accident, fortuity, or by coincidence.

In the middle is a possessive article that connects these words/ideas together.

The last two Kanji mean discovery, detection, or finding.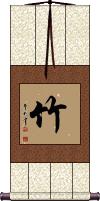 竹 is the character that means bamboo in Chinese, Japanese Kanji, and old Korean Hanja.

In Asian cultures, bamboo is often seen as a symbol of a noble gentleman (being tall, straight, and honest).

There are also some multi-character bamboo words that regard individual bamboo plants, species of bamboo, bamboo as lumber, and edible bamboo shoots. However, this single-character seems most appropriate for a wall scroll and covers the whole category of Asian bamboo.
Desire / Longing / Craving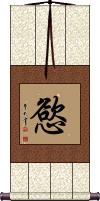 慾 means desire, longing, appetite, wish, covetousness, greed, passion, desire, avarice, and craving.

慾 is universal in Chinese, Japanese Kanji, and Korean Hanja.

The context in which this character is used, determines whether the meaning is good or bad. As a single character on a wall scroll, you get to decide what the definition is to you (hopefully more toward desire than greed).
---

Please note that Japanese use a simplified version of this character - it also happens to be the same simplification used in mainland China. Click on the character to the right if you want the Japanese/Simplified version of desire.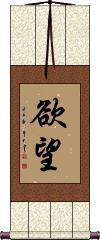 欲望 is a word that means strong desire, while some might translate it as "lust".

The first character of this word means desire, longing, hunger, covetousness, greed, passion, desire, craving, or wish. The second character means to hope for, ambition, to desire, to aspire, to expect, to gaze (into the distance) or to look for something.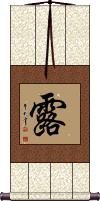 露 is the Chinese, Japanese Kanji, and old Korean Hanja for dew.

Depending on the context in which this character is used, it can also mean: tears; syrup; nectar; outdoors (not under cover); to show; to reveal; to betray; to expose; scanty; bare; unconcealed; naked; public.

露 can be a Chinese surname Lu. 露 can also be the Japanese surname Tsuyuzaki or Tsuyusaki, and the given names Tsuyu or Akira.

Oddly, 露 is sometimes used as an abbreviation for Russia.

In Buddhist context, 露 also means dew, but can be a symbol of transience. Sometimes used as a metaphor to expose or disclose knowledge and truth.

This both means and sounds like "Islam" in Mandarin Chinese.

The first three characters sound like the word "Islam", and the last character means "religion" or "teaching". It's the most general term for "Islam" in China. The highest concentration of Muslims in China is Xinjiang (the vast region in northwest China that was called The East Turkistan Republic until 1949 and is sometimes called Chinese Turkistan, Uyghuristan). Here you will find Uygurs, Kazakhs, and Kyrgyz and others that are descendants of Turkmen (possibly mixed with Persians and Arabs). Many of their ancestors were traders who traveled the silk road to buy and sell spices, silk, and exchange other goods from the Orient and the Middle East.

I spent some time in Xinjiang and got to know this community. They are strong people who can endure much. They are friendly and love to have a good time. I was a stranger but treated by villagers (near China's border with Afghanistan) as if I was a good friend.
However, I have heard that it's best not to cross them, as in this land, the law is the blade, and everything is "eye for an eye". The Chinese government has little control in Xinjiang with almost no police officers except in the capital of Urumqi (so it's a 60-hour roundtrip train ride to seek the aid of law enforcement in most cases).

While few seem to be devout, there are at least small mosques in every village. And you will never see a man or woman outside without a head covering.

It should be noted that these people are all citizens of China, but they are officially of the Caucasian race. A visit to Xinjiang will change your idea what it means to be Chinese.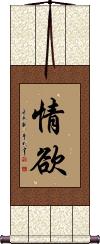 情欲 can be defined as lust, sexual desire, sensual desire, carnal desire, carnal passions, sexual desire, and passion.

The first character means feeling, emotions, passionate, sympathy, affection, love, compassion, tender feelings, and sometimes circumstances or facts.

The second character means desire, longing, appetite, wish, covetousness, greed, passion, desire, and craving.

情欲 is universal in Chinese, Japanese Kanji, and Korean Hanja.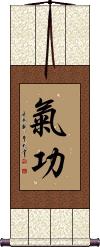 Qigong is the title of a technique that is somewhere between a medical practice, meditation, and in some cases a religion. The definition is blurred depending on which school of Qigong you are following. In some cases, it is even incorporated with martial arts.

Some people (even Chinese people) mix this title with Tai Chi (Tai Qi) exercises.

Lately in China, people will claim to practice Tai Chi rather than Qigong because the Qigong title was recently used as a cover for an illegal pseudo-religious movement in China with the initials F.G. or F.D. (I can not write those names here for fear of our website being banned in China).

You can learn those names and more here: Further info about Qigong

If you are wondering about why I wrote "Qi Gong" and "Chi Kung" as the title of this calligraphy entry, I should teach you a little about the various ways in which Chinese can be Romanized. One form writes this as "Chi Kung" or "Chikung" (Taiwan). In the mainland and elsewhere, it is Romanized as "Qi Gong" or "Qigong". The actual pronunciation is the same in Taiwan, mainland, and Singapore Mandarin. Neither Romanization is exactly like English. If you want to know how to say this with English rules, it would be something like "Chee Gong" (but the "gong" has a vowel sound like the "O" in "go").

Romanization is a really confusing topic and has caused many Chinese words to be mispronounced in the west. One example is "Kung Pao Chicken" which should actually be more like "Gong Bao" with the "O" sounding like "oh" for both characters. Neither system of Romanization in Taiwan or the Mainland is perfect in my opinion and lead to many misunderstandings.
The following table may be helpful for those studying Chinese or Japanese...
Title
Characters
Romaji

(Romanized Japanese)

Various forms of Romanized Chinese
Resilience
Restoration
Recovery
恢復力

---

恢复力
huī fù lì

---

hui1 fu4 li4

---

hui fu li

---

huifuli
Serendipity
Chance Discovery
偶然の発見
guuzen no hakken

---

guuzennohakken

---

guzen no haken

---

guzennohaken
Bamboo
竹
take
zhú / zhu2 / zhu
chu
Chill Out
冷静になる
reiseininaru
Desire
Longing
Craving
慾

---

欲
yoku
yù / yu4 / yu
yü
Desire
Craving
欲望
yokubou / yokubo
yù wàng / yu4 wang4 / yu wang / yuwang
yü wang / yüwang
Dew
露
ro
lòu / lou4 / lou
Islam
伊斯蘭教

---

伊斯兰教
yī sī lán jiào

---

yi1 si1 lan2 jiao4

---

yi si lan jiao

---

yisilanjiao
i ssu lan chiao

---

issulanchiao
Lust
Desire
Passion
情欲
jouyoku / joyoku
qíng yù / qing2 yu4 / qing yu / qingyu
ch`ing yü / chingyü / ching yü
Qi Gong
Chi Kung
氣功

---

气功
kikou / kiko
qì gōng / qi4 gong1 / qi gong / qigong
ch`i kung / chikung / chi kung
In some entries above you will see that characters have different versions above and below a line.
In these cases, the characters above the line are Traditional Chinese, while the ones below are Simplified Chinese.
Many custom options...




And formats...



Successful Chinese Character and Japanese Kanji calligraphy searches within the last few hours...
All of our calligraphy wall scrolls are handmade.
When the calligrapher finishes creating your artwork, it is taken to my art mounting workshop in Beijing where a wall scroll is made by hand from a combination of silk, rice paper, and wood.
After we create your wall scroll, it takes at least two weeks for air mail delivery from Beijing to you.
Allow a few weeks for delivery. Rush service speeds it up by a week or two for $10!
When you select your calligraphy, you'll be taken to another page where you can choose various custom options.
Check out my lists of Japanese Kanji Calligraphy Wall Scrolls and Old Korean Hanja Calligraphy Wall Scrolls.
Some people may refer to this entry as Cove Kanji, Cove Characters, Cove in Mandarin Chinese, Cove Characters, Cove in Chinese Writing, Cove in Japanese Writing, Cove in Asian Writing, Cove Ideograms, Chinese Cove symbols, Cove Hieroglyphics, Cove Glyphs, Cove in Chinese Letters, Cove Hanzi, Cove in Japanese Kanji, Cove Pictograms, Cove in the Chinese Written-Language, or Cove in the Japanese Written-Language.
5 people have searched for Cove in Chinese or Japanese in the past year.
Cove was last searched for by someone else on Oct 10th, 2021