Typical Gallery Price: $50.00
$25.00
Sold Out
Sorry you missed it.
• Fine Art Giclée Print.
• Handmade Wall Scroll.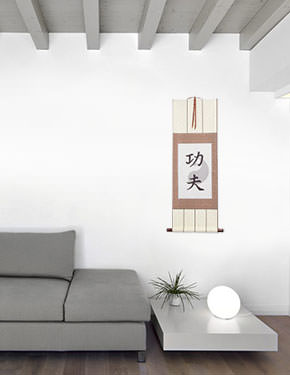 This artwork will look great in your home or office.
Discounted: This wall scroll has some very minor spots in the upper silk panel. This is not very noticeable unless you make a very close inspection.
Kung Fu
This is a print of the characters for Kung Fu (Gong Fu) with a gray Yin Yang symbol in the background.

This is giclee printed on handmade kozo (mulberry) paper. The artwork was then mounted to a handmade two-tone silk brocade wall scroll.

The result is a beautiful and elegant presentation of Kung Fu.
This item was listed or modified
Jun 27th, 2018
Typical Gallery Price: $50.00
$25.00
Sold Out
Sorry you missed it.
Related and Recommended Items...