Typical Gallery Price: $90.00
$38.88
Sold Out
Sorry you missed it.
• Fine Art Giclée Print.
• Handmade Wall Scroll.
• Money-Back Guarantee.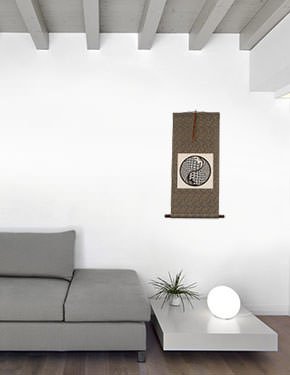 This artwork will look great in your home or office.
Yin Yang Fish - Papercut Style Print on Wall Scroll
This is a mechanically-printed yin yang fish that originated as a papercut pattern. I was actually experimenting with my new industrial ink-jet printer. I used handmade paper loaded into the special HP DesignJet printer. I then sent the print to Beijing where my guys at the workshop build this handmade wall scroll.

At this price, I'm really just charging for the wall scroll, and not the artwork or the cost of printing. Therefore, this is a great deal if you like this yin yang fish papercut image that is presented on this nice wall scroll.
This item was listed or modified
Jan 27th, 2020
Typical Gallery Price: $90.00
$38.88
Sold Out
Sorry you missed it.
Related and Recommended Items...