Ships from:

This artwork is
100% hand-painted.
---
Ba Gua / Yin Yang Symbol
Chinese Wall Scroll
---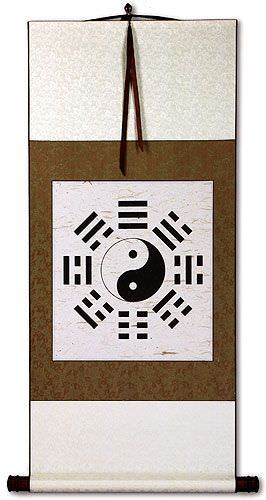 Approximate Measurements
Artwork Panel: 32cm x 35.5cm ≈ 12½" x 14"
Silk/Brocade: 41.2cm x 92.5cm ≈ 16¼" x 36½"
Width at Wooden Knobs: 50.2cm ≈ 19¾"
Information about caring for your wall scroll

See Larger Image
Yin Yang
This is a print of the famous Daoist/Taoist Yin Yang symbol surrounded by the Ba Gua.

The Ba Gua is a Chinese religious motif consisting of eight trigrams of the I Ching.

The Ba Gua is also seen in feng shui where it is used as a pattern that helps determine the significance and auspicious qualities of spatial relationships.

This Ba Gua and Yin Yang is printed on handmade/hand-pressed Chinese xuan paper with a high-fiber content (you will see lots of natural husks and fibers pressed into this paper). The artwork was then mounted to a handmade two-tone silk brocade wall scroll.

The result is a beautiful and elegant presentation of the legendary Yin Yang surrounded by the Ba Gua.

The print was created on a $4000+ Giclee printer. The fine lines and complex geometry would make it impractical to paint this artwork by hand.
This item was listed or modified
Dec 21st, 2016

Printer Friendly
Version
Gary's random little things about China:
I pee freely:
If you come to China, save your small change...
In Beijing, the government recently passed a law against charging money for using a public toilet.
However, in other cities and towns around China, expect to pay between 2-5 mao (about 3-5 cents) for the use.
Bring your own toilet paper, or expect to pay 5 mao for a small pack of tissue as you enter.

In my opinion, the best public toilet in all of China is at Tian'anmen Square.
This public restroom is not only clean, but also features its own gift shop.
---