Not what you want?
Try searching again using:
1. Other similar-meaning words.
2. Fewer words or just one word.
Kirin in Chinese / Japanese...
Buy a Kirin calligraphy wall scroll here!
Start your custom "Kirin" project by clicking the button next to your favorite "Kirin" title below...

qí lǐn

keilun

kirin

기린

This word is the title of a mythical beast of Asia.

The animal is thought to be related to the giraffe, and in some ways, it is a giraffe. However, it is often depicted with the horns of a dragon or deer and sometimes with the body like a horse but many variations exist.

In Japanese it is pronounced "Kirin" as in "Kirin Ichiban" beer.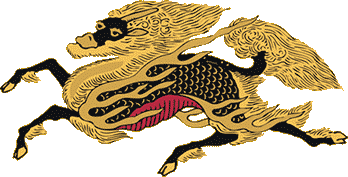 Notes:

1. This is sometimes spelled as "kylin".

2. In Japanese, this is the only Kanji word for giraffe. Therefore in Japan, this word needs context to know whether you are talking about the mythical creature or the long-necked giraffe of Africa.

3. Apparently, this was the first word used for regular giraffes in China (some were brought from Africa to China during the Ming Dynasty - probably around the year 1400). Though the mythical creature may have existed before, the name "qilin" was given to the "new giraffe". This is because, more than 600 years ago, giraffes somewhat matched the mythical creature's description when Chinese people saw them for the first time. Later, to avoid such an ambiguous title, a three-character word was devised to mean a "giraffe of Africa". The characters for "qilin" shown here are only for the mythological version in modern Chinese.

4. More information about the qilin / kirin from Wikipedia.

5. This creature is sometimes translated as the "Chinese Unicorn", even though it is generally portrayed with two horns. I think this is done more for the fantasy aspect of the unicorn and because most westerners don't know what a qilin or kirin is (this avoids a long explanation by the translator).

6. In Korean, this can mean kirin or simply giraffe (usually the mythological creature is what they would think of when seeing these characters alone on a wall scroll).

ikkakujuu

一角獣 is the Japanese name for the western unicorn (a horse with a spiral horn emerging from the head). This can also refer to a narwhal depending on context.

一角獣 is an unusual title for a Japanese wall scroll but it's OK if you really love unicorns.

Japanese have their own ancient unicorn-like creature called a "kirin" (or qilin in the original Chinese).
Not the results for kirin that you were looking for?
Below are some entries from our dictionary that may match your kirin search...
Characters

If shown, 2nd row is Simp. Chinese

Pronunciation
Romanization
Simple Dictionary Definition

麒麟

see styles
qí lín

/ qi2 lin2

---

ch`i lin

/ chi lin

---

kirin

きりん



qilin (mythical Chinese animal); kylin; Chinese unicorn; commonly mistranslated as giraffe

---

(1) (kana only) giraffe (Giraffa camelopardalis); (2) qilin (Chinese unicorn); (3) Kirin (brand of beer); (surname, female given name) Kirin

---

Male and female unicorns; the qilin in general.

---

吉林

see styles
jí lín

/ ji2 lin2

---

chi lin

---

yoshibayashi

よしばやし




kitsurin

きつりん




kiirin / kirin

きーりん



Jilin province (Kirin) in northeast China, abbr. 吉, capital 長春|长春; also Jilin prefecture level city, Jilin province

---

(surname) Yoshibayashi; (place-name) Jilin (China); Kirin

---

樹林

---

树林

see styles
shù lín

/ shu4 lin2

---

shu lin

---

jurin

じゅりん




kirin

きりん




kibayashi

きばやし



woods; grove; forest; Shulin city in New Taipei City 新北市[Xin1 bei3 shi4], Taiwan

---

forest; (female given name) Jurin; (surname, female given name) Kirin; (surname) Kibayashi

---

A grove, a forest; tree groves

---

キリン

see styles

kirin

キリン



(1) (kana only) giraffe (Giraffa camelopardalis); (2) qilin (Chinese unicorn); (female given name) Kirin; (c) Kirin

---

吉林省

see styles
jí lín shěng

/ ji2 lin2 sheng3

---

chi lin sheng
Jilin Province (Kirin) in northeast China, abbr. 吉, capital Changchun 長春|长春[Chang2 chun1]

---

喜林苑

see styles
xǐ lín yuàn

/ xi3 lin2 yuan4

---

hsi lin yüan

---

Kirin on



Joy-grove garden, a name for Indra's garden or paradise.

---

希麟音義

---

希麟音义

see styles
xī lín yīn yì

/ xi1 lin2 yin1 yi4

---

hsi lin yin i

---

Kirin ongi



The dictionary compiled by Hsi-lin of the Tang dynasty, supplementing the 慧琳音義 Hui-lin-yin-i. Sound and meaning accord with Hui-lin, and terms used in translations made subsequent to that work are added; Xilin yinyi

---
Search for Kirin in my Japanese & Chinese Dictionary
The following table may be helpful for those studying Chinese or Japanese...
Title
Characters
Romaji

(Romanized Japanese)

Various forms of Romanized Chinese
Kirin
Giraffe
Mythical Creature
麒麟
kirin
qí lǐn / qi2 lin3 / qi lin / qilin
ch`i lin / chilin / chi lin
Giraffe
長頸鹿

---

长颈鹿
zhǎng jǐng lù

---

zhang3 jing3 lu4

---

zhang jing lu

---

zhangjinglu
chang ching lu

---

changchinglu
Unicorn
獨角獸

---

独角兽
dú jiǎo shòu

---

du2 jiao3 shou4

---

du jiao shou

---

dujiaoshou
tu chiao shou

---

tuchiaoshou
Unicorn
一角獣
ikkakujuu / ikakuju
In some entries above you will see that characters have different versions above and below a line.
In these cases, the characters above the line are Traditional Chinese, while the ones below are Simplified Chinese.
Successful Chinese Character and Japanese Kanji calligraphy searches within the last few hours...
All of our calligraphy wall scrolls are handmade.
When the calligrapher finishes creating your artwork, it is taken to my art mounting workshop in Beijing where a wall scroll is made by hand from a combination of silk, rice paper, and wood.
After we create your wall scroll, it takes at least two weeks for air mail delivery from Beijing to you.
Allow a few weeks for delivery. Rush service speeds it up by a week or two for $10!
When you select your calligraphy, you'll be taken to another page where you can choose various custom options.
Check out my lists of Japanese Kanji Calligraphy Wall Scrolls and Old Korean Hanja Calligraphy Wall Scrolls.
Some people may refer to this entry as Kirin Kanji, Kirin Characters, Kirin in Mandarin Chinese, Kirin Characters, Kirin in Chinese Writing, Kirin in Japanese Writing, Kirin in Asian Writing, Kirin Ideograms, Chinese Kirin symbols, Kirin Hieroglyphics, Kirin Glyphs, Kirin in Chinese Letters, Kirin Hanzi, Kirin in Japanese Kanji, Kirin Pictograms, Kirin in the Chinese Written-Language, or Kirin in the Japanese Written-Language.