Not what you want?
...Or search again using:
1. Other similar-meaning words.
2. Fewer words or just one word.
Profound / Powerful Words in Chinese / Japanese...
Buy a Profound / Powerful Words calligraphy wall scroll here!
Start your custom "Profound / Powerful Words" project by clicking the button next to your favorite "Profound / Powerful Words" title below...

rù mù sān fēn
These four characters together translate in English to a strong form of "profound" or "written with a forceful hand."

But there is much more to the story...

The deep meaning behind this proverb comes from a man named Wan Xizhi who lived in the third century.

He was a great writer and calligrapher whose writing style influenced generations of other writers and calligraphers.

He once wrote words on a piece of wood to be taken to an engraver.
When the engraver began to carve the characters into the wood, he found that Wang Xizhi's writing had penetrated the wood about 3/8 of an inch.

Thus people believed that his words were so powerful, and so profound this it caused the ink from his brush to penetrate the wood deeply.

The proverb literally means "penetrated wood three fen" (fen is an ancient Chinese measurement a little over to 1/8 of an inch or almost 4mm).

yī yán jiǔ dǐng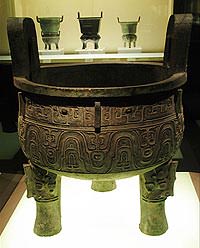 This is an ancient Chinese proverb used in modern times talk of profound or powerful words.

The literal meaning is, "one word [worth] nine [sacred] tripods." The tripod is a highly-prized three-legged (sometimes four-legged) metal pot or kettle of ancient China. They are often made of bronze, and the Emperor would have very large ones gilded in gold. See the image to the right for an example.
Buy some related in-stock artwork?
Compare: $144.00
Your Price: $79.88
Compare: $200.00
Your Price: $108.88
All of our calligraphy wall scrolls are handmade.
When the calligrapher finishes creating your artwork, it is taken to my art mounting workshop in Beijing where a wall scroll is made by hand from a combination of silk, rice paper, and wood.
After we create your wall scroll, it takes at least two weeks for air mail delivery from Beijing to you.
Allow a few weeks for delivery. Rush service speeds it up a week or two for $10!
When you select your calligraphy, you'll be taken to another page where you can choose various custom options.
If your search is not successful, just post your request on our forum, and we'll be happy to do research or translation for any reasonable request.
Successful Chinese Character and Japanese Kanji calligraphy searches within the last few hours...
With so many searches, we had to upgrade to our own Linux server.
Of course, only one in 500 searches results in a purchase - Hey buy a wall scroll!!!
The following table is only helpful for those studying Chinese (or Japanese), and perhaps helps search engines to find this page when someone enters Romanized Chinese or Japanese
Title
Characters
Various forms of Romanized Chinese
Profound / Powerful Words
入木三分
rù mù sān fēn

---

ru4 mu4 san1 fen1

---

ru mu san fen

---

rumusanfen
ju mu san fen

---

jumusanfen
Words Have Enormous Weight
One Word Worth Nine Caldrons
一言九鼎
yī yán jiǔ dǐng

---

yi1 yan2 jiu3 ding3

---

yi yan jiu ding

---

yiyanjiuding
i yen chiu ting

---

iyenchiuting
This page of Profound / Powerful Words Chinese calligraphy dictionary search results was generated in 0.0713 seconds.