The name Massage in Chinese / Japanese...
Buy a Massage calligraphy wall scroll here!
Personalize your custom "Massage" project by clicking the button next to your favorite "Massage" title below...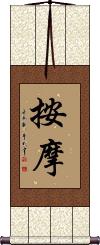 按摩 is a very common word for massage in China, Japan, and Korea.

In many cases, and perhaps traditionally, this is a massage performed by a blind person. However, in modern times, this is a very generic term for any kind of massage. This can range from a massage for health from a blind masseur or masseuse, a proper deep tissue massage by a professional masseuse, or an illicit massage with a "happy ending."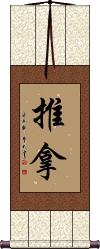 推拿 is "Tui Na," a Chinese version of therapeutic massage.

The title suggests a pushing and pulling motion.

In reality, this is the most legitimate form of massage in China. Seeing this on a sign in front of a building tells you it's a place for health improvement via massage. No mistaking this for any illicit version of massage.
Beauty Shop / Beauty Salon

美容店 is how to write "Beauty Shop" or "Beauty Salon."

If you own such a business, this will make a nice wall scroll to hang up - and many of your Asian customers will be able to read and appreciate it.

When traveling in China, you will see signs like this in the window of any place that offers full services of hair styling, manicures, pedicures, and often shampoo with head and back massage.

However, as a handmade wall scroll, this becomes a very fancy piece of artwork that shows the high class of your business (a great sign for your window if you don't get direct sunlight).

靈氣 is the title of a healing practice now found globally but with origins in Japan.

Special note: Outside of the context of the healing practice of Reiki, this means "aura" or "spiritual essence that surrounds all living things." A Japanese person unfamiliar with the practice will take the "aura" meaning.

Reiki is a technique for stress reduction and relaxation that also heals. It can be compared to massage but is based on the idea that an unseen "life force energy" flows through us and is what causes us to be alive. If your life force energy is low, you'll be more likely to get sick or feel stressed. If your life force energy is abundant and flowing well, you become more capable of being happy and healthy.

There is a lot of information available if you want to Google this term - my job is to offer the calligraphy while you can decide if it is right for you.
Note: We are showing the ancient (traditional) form of the Reiki Kanji. I have seen Reiki written with the slightly simplified version and this more classic form. If you want the form of Reiki with the two strokes in the shape of an X on the second character and the modern first character, simply click on the Kanji characters to the right.

Note: 靈氣 is also a Chinese word, but in Chinese, these characters create a word that refers to a smart person or someone with high aspirations. It is not read as a healing method in Chinese.
In Korean Hanja, this can be read as a "mysterious atmosphere" by a Korean who is not familiar with the practice of Reiki (still has a cool meaning in Korean).
This in-stock artwork might be what you are looking for, and ships right away...
Gallery Price: $67.00
Your Price: $36.88
These search terms might be related to Massage:
Hard Work

Heaven Rewards Hard Work

Use Hard Work to Overcome Adversity

Work Together With One Heart

Work Together With One Mind

Work Unselfishly for the Common Good


Not the results for massage that you were looking for?
Below are some entries from our dictionary that may match your massage search...
Characters

If shown, 2nd row is Simp. Chinese

Pronunciation
Romanization
Simple Dictionary Definition

按摩

see styles
àn mó
an4 mo2

---

an mo

---

anma
あんま
massage; to massage

---

(noun/participle) (1) massage, esp. the Anma Japanese type of massage; (2) (sensitive word) masseur; masseuse; massager; (3) (archaism) (colloquialism) blind person (as many were traditionally massagers)

---

massaging [the body with oil]

推拿

see styles
tuī ná
tui1 na2

---

t`ui na
tui na

---

suina
すいな
tui na (form of Chinese manual therapy)

---

tui na (Chinese massage)

推

see styles
tuī
tui1

---

t`ui
tui

---

sui

---

To push away, recede from, decline, resign, push, put, put of; investigate.

揉

see styles
róu
rou2

---

jou

導引

---

导引

see styles
dǎo yǐn
dao3 yin3

---

tao yin

---

douin / doin
どういん

---

(1) guidance; showing the way; (2) (See あん摩・あんま・1) massage; (3) tao yin; Taoist Neigong; Taoist exercises

---

To lead.

折枝

see styles
zhé zhī
zhe2 zhi1

---

che chih

---

orie
おりえ

---

(female given name) Orie

按腹

see styles
anpuku
あんぷく

按蹻

---

按跷

see styles
àn qiāo
an4 qiao1

---

an ch`iao
an chiao

捏脊

see styles
niē jǐ
nie1 ji3

---

nieh chi

捶背

see styles
chuí bèi
chui2 bei4

---

ch`ui pei
chui pei

推油

see styles
tuī yóu
tui1 you2

---

t`ui yu
tui yu

揉む

see styles
momu
もむ

敲背

see styles
qiāo bèi
qiao1 bei4

---

ch`iao pei
chiao pei

整体

see styles
seitai / setai
せいたい

施術

see styles
sejutsu; shijutsu
せじゅつ; しじゅつ

泰式

see styles
tài shì
tai4 shi4

---

t`ai shih
tai shih

絲足

---

丝足

see styles
sī zú
si1 zu2

---

ssu tsu

胸推

see styles
xiōng tuī
xiong1 tui1

---

hsiung t`ui
hsiung tui

臀推

see styles
tún tuī
tun2 tui1

---

t`un t`ui
tun tui

足療

---

足疗

see styles
zú liáo
zu2 liao2

---

tsu liao

あん摩

see styles
anma
あんま

オイル

see styles
oiru
オイル

ヘルス

see styles
berusu
ベルス

リフレ

see styles
rifure
リフレ

指圧師

see styles
shiatsushi
しあつし

按摩師

---

按摩师

see styles
àn mó shī
an4 mo2 shi1

---

an mo shih

---

anmashi
あんまし

---

(out-dated kanji) masseuse; masseur

按摩機

see styles
anmaki
あんまき

揉療治

see styles
momiryouji / momiryoji
もみりょうじ

揉解す

see styles
momihogusu
もみほぐす

理容院

see styles
lǐ róng yuàn
li3 rong2 yuan4

---

li jung yüan

---

riyouin / riyoin
りよういん

---

(See 理容室・りようしつ) barbershop; barber shop
Click here for more massage results from our dictionary
The following table may be helpful for those studying Chinese or Japanese...
Title
Characters
Romaji

(Romanized Japanese)

Various forms of Romanized Chinese
Massage
按摩
an ma / anma
àn mó / an4 mo2 / an mo / anmo
Therapeutic Massage
推拿
tuī ná / tui1 na2 / tui na / tuina
t`ui na / tuina / tui na
Beauty Shop
Beauty Salon
美容店
měi róng diàn

---

mei3 rong2 dian4

---

mei rong dian

---

meirongdian
mei jung tien

---

meijungtien
Reiki
靈氣

---

灵气 霊気
reiki
líng qì / ling2 qi4 / ling qi / lingqi
ling ch`i / lingchi / ling chi
In some entries above you will see that characters have different versions above and below a line.
In these cases, the characters above the line are Traditional Chinese, while the ones below are Simplified Chinese.
Many custom options...




And formats...



Successful Chinese Character and Japanese Kanji calligraphy searches within the last few hours...
All of our calligraphy wall scrolls are handmade.
When the calligrapher finishes creating your artwork, it is taken to my art mounting workshop in Beijing where a wall scroll is made by hand from a combination of silk, rice paper, and wood.
After we create your wall scroll, it takes at least two weeks for air mail delivery from Beijing to you.
Allow a few weeks for delivery. Rush service speeds it up by a week or two for $10!
When you select your calligraphy, you'll be taken to another page where you can choose various custom options.
Check out my lists of Japanese Kanji Calligraphy Wall Scrolls and Old Korean Hanja Calligraphy Wall Scrolls.
Some people may refer to this entry as Massage Kanji, Massage Characters, Massage in Mandarin Chinese, Massage Characters, Massage in Chinese Writing, Massage in Japanese Writing, Massage in Asian Writing, Massage Ideograms, Chinese Massage symbols, Massage Hieroglyphics, Massage Glyphs, Massage in Chinese Letters, Massage Hanzi, Massage in Japanese Kanji, Massage Pictograms, Massage in the Chinese Written-Language, or Massage in the Japanese Written-Language.
90 people have searched for Massage in Chinese or Japanese in the past year.
Massage was last searched for by someone else on Jun 24th, 2023