Not what you want?
Try searching again using:
1. Other similar-meaning words.
2. Fewer words or just one word.
Massage in Chinese / Japanese...
Buy a Massage calligraphy wall scroll here!
Start your custom "Massage" project by clicking the button next to your favorite "Massage" title below...

àn mó

an ma

안마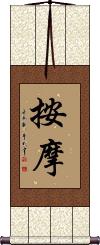 按摩 is a very common word for massage in China, Japan, and Korea.

In many cases, and perhaps traditionally, this is massage performed by a blind person. However, in modern times, this is a very generic term for any kind of massage. This can range from a massage for health from a blind masseur or masseuse, a proper deep tissue massage by a professional masseuse, or an illicit massage that includes a "happy ending."

tuī ná

추나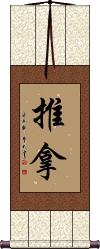 推拿 is "Tui Na," a Chinese version of therapeutic massage.

The title suggest a pushing and pulling motion.

In reality, this is the most legitimate form of massage in China. Seeing this on a sign in front of a building tells you it's a place for health improvement via massage. No mistaking this for any illicit version of massage.

měi róng diàn

美容店 is how to write "Beauty Shop" or "Beauty Salon." If you own such a business, this would make a nice wall scroll to hang up - and many of your Asian customers will be able to read and appreciate it. When traveling in China, you will see signs like this in the window of any place that offers full services of hair styling, manicures, pedicures, and often shampoo with head and back massage.

However, as a handmade wall scroll, this becomes a very fancy piece of artwork that shows the high class of your business (a great sign for your window, if you don't get direct sunlight).

líng qì

reiki

령기 or 영기

靈氣 is the title of a healing practice that is now found throughout the world but with origins in Japan.

Special note: Outside of the context of the healing practice of Reiki, this means "aura" or "spiritual essence that surrounds all living things." A Japanese person not familiar with the practice will take the "aura" meaning.

Reiki is a technique for stress reduction and relaxation that also heals. It can be compared to massage but is based on the idea that an unseen "life force energy" flows through us and is what causes us to be alive. If your life force energy is low, you'll be more likely to get sick or feel stress. If your life force energy is abundant and flowing well, you become more capable of being happy and healthy.

There is a lot of information available if you want to Google this term - my job is to offer the calligraphy, while you can decide if it is right for you.
Note: We are showing the ancient (traditional) form of the Reiki Kanji. I have seen Reiki written with both the slightly simplified version and this more classic form. If you want the form of Reiki with the two strokes in the shape of an X on the second character and the modern first character, simply click on the Kanji characters to the right.

Note: 靈氣 is also a Chinese word but in Chinese, these characters create a word that refers to a smart person or someone with high aspirations. It is not read as a healing method in Chinese.
In Korean Hanja, this can be read as "mysterious atmosphere" by a Korean who is not familiar with the practice of Reiki (still has a cool meaning in Korean).
Not the results for massage that you were looking for?
Below are some entries from our dictionary that may match your massage search...
Characters

If shown, 2nd row is Simp. Chinese

Pronunciation
Romanization
Simple Dictionary Definition

Fatal error: Cannot redeclare mockup() (previously declared in /home/admin/web/orientaloutpost.com/public_html/includes/render5.php:4) in /home/admin/web/orientaloutpost.com/public_html/render5.php on line 537