Flourishing in Chinese / Japanese...
Buy a Flourishing calligraphy wall scroll here!
Personalize your custom "Flourishing" project by clicking the button next to your favorite "Flourishing" title below...
---
---

繁榮 means "prosperous," "flourishing," or "thriving" when used regarding a person.

However, when used about a whole country, it can mean a "booming economy."

繁榮 is the traditional Chinese, ancient Japanese Kanji, and ancient Korean Hanja version of prosperity.
---

Note: If you order this from the Japanese master calligrapher, the second character may look more like the Kanji shown to the right. If you want a different form, please note that in the special instructions for your order.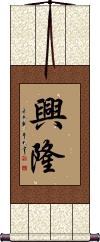 興隆 is a kind of prosperity that applies to a business. Something great to hang behind your desk if you are a small or large business owner. Doing so says that you either are a booming business or you wish success and prosperity for your business.

Can also be translated as thriving, flourishing, brisk business, and other words related to prosperity in business.

A good meaning in China but is a little antiquated in Japanese.
---
See Also: Prosperity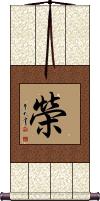 榮 relates to giving someone a tribute or praise.

It's a little odd as a gift, so this may not be the best selection for a wall scroll.

I've made this entry because this character is often misused as "honorable" or "keeping your honor." It's not quite the same meaning, as this usually refers to a tribute or giving an honor to someone.

榮 is often found in tattoo books incorrectly listed as the western idea of personal honor or being honorable. Check with us before you get a tattoo that does not match the meaning you are really looking for. As a tattoo, this suggests that you either have a lot of pride in yourself or that you have a wish for prosperity for yourself and/or your family.



In modern Japanese Kanji, glory and honor look like the image to the right.

There is a lot of confusion about this character, so here are some alternate translations for this character: prosperous, flourishing, blooming (like a flower), glorious beauty, proud, praise, rich, or it can be the family name "Rong." The context in which the character is used can change the meaning between these various ideas.

In the old days, this could be an honor paid to someone by the Emperor (basically a designation by the Emperor that a person has high standing).

To sum it up: 榮 has a positive meaning; however, it's a different flavor than the idea of being honorable and having integrity.

繁栄 is the same "prosperity" as the Traditional Chinese version, except for a slight change in the way the second character is written (it's the Japanese Kanji deviation from the original/ancient Chinese form).

Chinese people will still be able to read this, though you should consider this to be the Japanese form (better if your audience is Japanese).


Sometimes, the Kanji form shown to the right is used in Japanese. It will depend on the calligrapher's mood as to which form you may receive. If you have a preference, please let us know at the time of your order.
Worldwide Wish for Peace and Prosperity
qǐ shèng shì kāi tài píng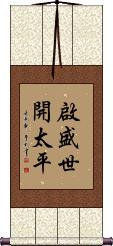 啟盛世開太平 means "To bring flourishing peace and security to the world (our current era)."

It's a wish that a new door leading to peace and prosperity could be opened to mankind.

Character and word breakdown:
啟 to open; to start; to initiate; to enlighten or awaken.
盛世 a flourishing period; period of prosperity; a golden age.
開 to open; to start; to turn on.
太平 peace and security; peace and tranquility; peace; tranquility.
I don't like to do breakdowns like this, as the words altogether create their unique meaning (encompassed in the main title above).
Rise and Fall / Ups and Downs
Eiko-Seisui

This Japanese proverb can be translated as "flourish and wither, prosper and perish," "life is full of fortune and misfortune," or simply "vicissitudes of life."

栄枯盛衰 / 榮枯盛衰 is about the rise and fall of human affairs or the ups and downs of life. Prosperity comes and goes, everything is fleeting and temporary, but like waves, another swell of prosperity may come.

Here's how the Kanji break down in this proverb:

栄 = prosper; thrive; flourish; boom.
枯 = wither; die.
盛 = prosperous; flourishing; thriving; successful; energetic; vigorous; enthusiastic.
衰 = become weaker; decline; get weak; die down; subside; abate; fail.
---

Notes: The original version of the first character looks like the image to the right. In modern Japan, they simplified that Kanji a bit into the version shown above. If you have a preference for which style is used for your calligraphy, please let me know when you place your order.

Apparently, with that original version of the first character, this is also used in Korean Hanja. However, I have not confirmed that it's used in the same way or is widely-known in Korean.
Mutual Welfare and Benefit
Jita-Kyoei

自他共榮 can be translated in a few different ways. Here are some possibilities:
Benefit mutually and prosper together.
Mutual welfare and benefit.
A learning concept of mutual benefit and welfare (that applies to all fields of society).
Mutual prosperity.

The first two characters are easy to explain. They are "self" and "others." Together, these two characters create a word that means "mutual" (literally "me and them").

The third character can have different meanings depending on context. Here, it means "in common" or "to share."

The fourth character suggests the idea of "prosperity," "flourishing," or becoming "glorious."

It should be noted that these Kanji are used almost exclusively in the context of Judo martial arts. 自他共榮 is not a common or recognized Japanese proverb outside of Judo.
---
In modern Japanese Kanji, the last character looks like

instead of

. If you want this slightly-simplified version, please let us know when you place your order.
Appreciation and Love for Your Parents
shuí yán cùn cǎo xīn bào dé sān chūn huī

誰言寸草心報得三春暉 is the last line of a famous poem. It is perceived as a tribute or ode to your parents or mother from a child or children that have left home.

The poem was written by Meng Jiao during the Tang Dynasty (about 1200 years ago). The Chinese title is "You Zi Yin" which means "The Traveler's Recite."

The last line as shown here speaks of the generous and warm spring sunlight which gives the grass far beyond what the little grass can could ever give back (except perhaps by showing its lovely green leaves and flourishing). The metaphor is that the sun is your mother or parents, and you are the grass. Your parents raise you and give you all the love and care you need to prepare you for the world. A debt that you can never repay, nor is repayment expected.

The first part of the poem (not written in the characters to the left) suggests that the thread in a loving mother's hands is the shirt of her traveling offspring. Vigorously sewing while wishing them to come back sooner than they left.
...This part is really hard to translate into English that makes any sense but maybe you get the idea. We are talking about a poem that is so old that many Chinese people would have trouble reading it (as if it was the King James Version of Chinese).
These search terms might be related to Flourishing:
Abundance / Prosperous

Prosperous Business

Prosperous Life


The following table may be helpful for those studying Chinese or Japanese...
Title
Characters
Romaji

(Romanized Japanese)

Various forms of Romanized Chinese
Prosperity
繁榮

---

繁荣
han ei / hanei
fán róng / fan2 rong2 / fan rong / fanrong
fan jung / fanjung
Prosperous Business
興隆

---

兴隆
kou ryuu / kouryuu / ko ryu
xīng lóng

---

xing1 long2

---

xing long

---

xinglong
hsing lung

---

hsinglung
Glory and Honor
榮

---

荣 / 栄
ei
róng / rong2 / rong
jung
Prosperity
繁栄

---

繁荣
hanei
fán róng / fan2 rong2 / fan rong / fanrong
fan jung / fanjung
Worldwide Wish for Peace and Prosperity
啟盛世開太平

---

启盛世开太平
qǐ shèng shì kāi tài píng

---

qi3 sheng4 shi4 kai1 tai4 ping2

---

qi sheng shi kai tai ping

---

qishengshikaitaiping
ch`i sheng shih k`ai t`ai p`ing

---

chishengshihkaitaiping

---

chi sheng shih kai tai ping
Flourish
興盛

---

兴盛
kou sei / kousei / ko sei
xīng shèng

---

xing1 sheng4

---

xing sheng

---

xingsheng
hsing sheng

---

hsingsheng
Rise and Fall
Ups and Downs
栄枯盛衰 / 榮枯盛衰

---

荣枯盛衰
ei ko sei sui

---

eikoseisui
Mutual Welfare and Benefit
自他共榮

---

自他共荣 / 自他共栄
ji ta kyou ei

---

jitakyouei

---

ji ta kyo ei
Appreciation and Love for Your Parents
誰言寸草心報得三春暉

---

谁言寸草心报得三春晖
shuí yán cùn cǎo xīn bào dé sān chūn huī

---

shui2 yan2 cun4 cao3 xin1 bao4 de2 san1 chun1 hui1

---

shui yan cun cao xin bao de san chun hui
shui yen ts`un ts`ao hsin pao te san ch`un hui

---

shui yen tsun tsao hsin pao te san chun hui
In some entries above you will see that characters have different versions above and below a line.
In these cases, the characters above the line are Traditional Chinese, while the ones below are Simplified Chinese.
Many custom options...




And formats...



Successful Chinese Character and Japanese Kanji calligraphy searches within the last few hours...
All of our calligraphy wall scrolls are handmade.
When the calligrapher finishes creating your artwork, it is taken to my art mounting workshop in Beijing where a wall scroll is made by hand from a combination of silk, rice paper, and wood.
After we create your wall scroll, it takes at least two weeks for air mail delivery from Beijing to you.
Allow a few weeks for delivery. Rush service speeds it up by a week or two for $10!
When you select your calligraphy, you'll be taken to another page where you can choose various custom options.
Check out my lists of Japanese Kanji Calligraphy Wall Scrolls and Old Korean Hanja Calligraphy Wall Scrolls.
Some people may refer to this entry as Flourishing Kanji, Flourishing Characters, Flourishing in Mandarin Chinese, Flourishing Characters, Flourishing in Chinese Writing, Flourishing in Japanese Writing, Flourishing in Asian Writing, Flourishing Ideograms, Chinese Flourishing symbols, Flourishing Hieroglyphics, Flourishing Glyphs, Flourishing in Chinese Letters, Flourishing Hanzi, Flourishing in Japanese Kanji, Flourishing Pictograms, Flourishing in the Chinese Written-Language, or Flourishing in the Japanese Written-Language.
13 people have searched for Flourishing in Chinese or Japanese in the past year.
Flourishing was last searched for by someone else on Apr 20th, 2022