Not what you want?
Try searching again using:
1. Other similar-meaning words.
2. Fewer words or just one word.
Father and Son in Chinese / Japanese...
Buy a Father and Son calligraphy wall scroll here!
Start your custom "Father and Son" project by clicking the button next to your favorite "Father and Son" title below...

zhī zǐ mò ruò fù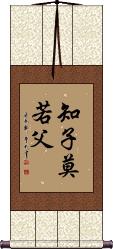 This can be translated as "No one knows a son better than his father."

This idiom is based on the idea that after spending many years together, family members know everything about each other. Better than anyone else, a father knows the qualities and shortcomings of his son.

If you are looking for something about "father and son," this is probably the best selection.

知子莫若父 is the original proverb (very old) but others have been composed about various combinations of mothers, sons, daughters, and fathers.

bàn

kizuna

반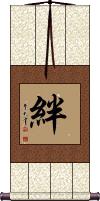 This Kanji represents a bond, as in the bond between mother and daughter, father and son, family ties, or a family bond.

絆 is the kind of character that says, no matter what happens (difficult times), we have this bond that cannot be broken.

If you go to the Japanese dictionary, the definition is: bonds (between people); (emotional) ties; relationship; connection; link; tether; fetters.
---

Read this before ordering...
This Kanji is best if your audience is Japanese. While this is also a Chinese character, it has a completely different meaning in Chinese (it means to hinder or stumble in Chinese). It's a very rare character in Korean Hanja but does mean bond in Korean (used in Korean words for certain kinds of glue and sticking plaster).
Not the results for father and son that you were looking for?
Below are some entries from our dictionary that may match your father and son search...
Characters

If shown, 2nd row is Simp. Chinese

Pronunciation
Romanization
Simple Dictionary Definition

Fatal error: Cannot redeclare mockup() (previously declared in /home/admin/web/orientaloutpost.com/public_html/includes/render5.php:4) in /home/admin/web/orientaloutpost.com/public_html/render5.php on line 537