Buy Self-Reliance Chinese & Japanese Calligraphy Wall Scrolls Here
Choose from many options to create artwork with Self-Reliance characters on a wall scroll or portrait.
If you want to create a cool Self-Reliance wall scroll, this is the place. Below you will find a few Asian symbols that express the idea of self-reliance.

自恃 means self-reliance but is often used to mean self-confidence or the state of being self-assured.

Basically, this means you can rely on yourself (with a slight suggestion that others can rely on you as well).

The first character means "oneself," while the second means "to rely upon."
---
See Also: Confidence | Self-Confidence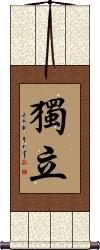 Besides meaning "to be independent," this can also mean "to stand alone," self-reliance or self-support.
---

Modern Japanese use a simplified version of the first character of independence. it's the same simplified version currently used in mainland China, so understood by most Chinese and all Japanese people. Click on the character to the right if you want the simplified/Japanese version.
Prideful Mind / Self-Respecting Heart

自尊心 is a Japanese and Korean word that means "pride" or "self-respect."

The first Kanji/Hanja means oneself. The second can mean revered, valuable, precious, noble, or exalted. And the last Kanji/Hanja means heart, mind, and/or spirit.
---
While these characters make sense and hold the same general meaning in Chinese, this is not a normal Chinese word. This selection should only be used if your audience is Japanese or Korean.
---
See Also: Respect | Pride | Self-Reliance | Self-Control | Self-Discipline
Standing by Oneself / Walking by Oneself
The following table may be helpful for those studying Chinese or Japanese...
Title
Characters
Romaji

(Romanized Japanese)

Various forms of Romanized Chinese
Self-Reliance
自恃
zì shì / zi4 shi4 / zi shi / zishi
tzu shih / tzushih
Independence
獨立

---

独立
dokuritsu
dú lì / du2 li4 / du li / duli
tu li / tuli
Prideful Mind
Self-Respecting Heart
自尊心
ji son shin

---

jisonshin
zì zūn xīn

---

zi4 zun1 xin1

---

zi zun xin

---

zizunxin
tzu tsun hsin

---

tzutsunhsin
Standing by Oneself
Walking by Oneself
獨立獨步

---

独立独步
do kuritsu do ppo

---

dokuritsudoppo

---

do kuritsu do po
In some entries above you will see that characters have different versions above and below a line.
In these cases, the characters above the line are Traditional Chinese, while the ones below are Simplified Chinese.
All of our calligraphy wall scrolls are handmade.
When the calligrapher finishes creating your artwork, it is taken to my art mounting workshop in Beijing where a wall scroll is made by hand from a combination of silk, rice paper, and wood.
After we create your wall scroll, it takes at least two weeks for air mail delivery from Beijing to you.
Allow a few weeks for delivery. Rush service speeds it up by a week or two for $10!
When you select your calligraphy, you'll be taken to another page where you can choose various custom options.
The Japanese experience in technology
From transfer to self-reliance. The Japanese Experience Series ... The Japanese Experience in Technology: From Transfer to Self-Reliance, Takeshi Hayashi...
Self-reliance
Unknown. Ben Franklin. Jonathan Swift. Sir Leslie Stephen. Sir ... Quotes Category: Self-reliance. Wise Sayings. info. A burden that one chooses is not felt.
Historical perspectives on self-reliance
...1960s, Japanese industry gravitated toward eventual self-reliance, thereby ... The policies geared toward this self-reliance can be grouped into three...
Self-Reliance and Creative Destruction
...the ideal of individualism may be found in Ralph Waldo Emerson's "Self-Reliance.
... governmental protection from Japanese competitors that suddenly threatened...
Self-Reliant Filmmaking " Blog Archive " Japanese Manufacturing Techniques?
...mean that, by definition, a filmmaker can't exercise principles of self-reliance.
... movies would they consider Japanese manufacturing techniques any less...
Japanese Groups
The Japanese emphasis on group extends far beyond the family.
... (kojin-shugi) has negative connotations of selfishness rather than self-reliance.
Fostering Corporate Self-reliance RIETI
...that all those painful measures will really revive the Japanese economy... To Foster Self-reliance Among Companies, Market Players Must Reform Their Way of...
Navy Wife | MTV MOVIES
Time: 83 minutes Director: Edward Bernds Starring: Joan Bennett, Gary Merrill, ... independence and self-reliance of Peg and Debby, the local Japanese wives begin...