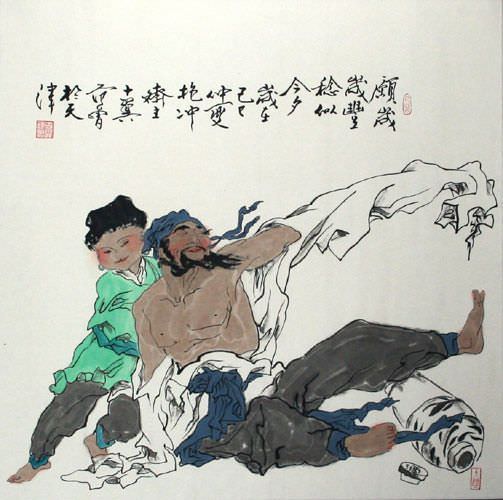 For the best possible display, this portrait should be professionally framed.

A frame is not included with this artwork!
Enjoy the Time You Have
The title is actually a poem about enjoying the attributes of your current age, and enjoying the time that you have on this world.
Notes about the Art...
While the name of the artist is Wang Wen-Hua, he has signed this "Fan Zeng". This is not his pen name, but rather this painting is a tribute to a famous artists named Fan Zeng (In this case, "tribute" is a nice way to say this is almost a "forgery"). Of course, if you don't have $50,000 you cannot afford an original Fan Zeng painting.
---
About the artist...
The artist's name is



(Wang Wen-Hua) who lives in the Jinan area of Shandong Province in Northern China. He specializes in traditional figure paintings and subjects like this (especially Buddhism and philosophy-related themes).
---
About the Art
This was painted on Chinese xuan paper (often incorrectly called "rice paper"). The artist used watercolors throughout.

After buying this from the artist in Jinan, I rolled it up in a tube, and put it in my backpack. I then took the 5-hour-train ride back to our workshop in Beijing. At the workshop, it was laminated to more sheets of xuan paper and a silk border was added by our skilled craftsmen. See more about mounting Asian art
This item was listed or modified
Mar 19th, 2013
Gary's random little things about China:
Where's my fortune cookie?
So after traveling to China, you have just finished your first meal in a real Chinese restaurant.
But the bill comes, and the waiter forgot to bring everyone their fortune cookies!
Well, actually not...
You see, fortune cookies did not come from China (at least not directly).
One legend has it in the late 1800s or early 1900s, a Chinese man running a noodle making shop in San Francisco accidentally mixed a bunch of sugar in his dough, and didn't want to waste it. So he made cookies and stuck papers with people's fortunes on them as a novelty.
In the end, it's really the Chinese visitors to America that are confused when the waiter brings them a blob of sugary noodle dough with a piece of paper stuck in it.