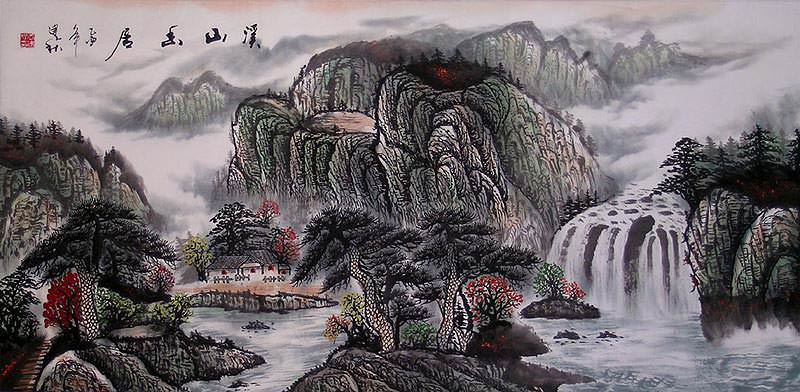 For the best possible display, this portrait should be professionally framed.

A frame is not included with this artwork!
Secluded Home at Spring Mountain
This is the rough translation of the artist's title for this painting.
The title written in Chinese characters suggests that this is a quiet and wonderful place to live. Of course, this is called "Spring Mountain" because of the water coming out of this mountain, and creating the waterfall on the right.
The artist of this work is Wang Jian-Qiu from Jinan, the capital city of Shandong Province in Northern China. If you are familiar with my other artwork listings, you should note that this artist is very good friends with Qin Xia from our birds & flowers category.
---
Although this will not be cheap to frame when you receive it (because of the large size). I will certainly bring strong character to the room you hang it in.
This is painted on special xuan paper (rice paper) then mounted with white silk matting/border.
Please note: This painting includes a silk border similar to the what is shown above, but not a frame.
I recommend professional framing and matting for the best presentation of this work.
Gary's random little things about China:
Crossing the Street: Human Frogger in China
If you are from my generation, you may remember the video game called "Frogger". It involved crossing a busy road while narrowly dodging cars and truck, often both in front of and behind you at the same time.

Well you can play real live Frogger every time you cross the street in China. It is perfectly normal to cross a four or six-lane road, one lane at a time. You stand motionless on the white, dashed line between lanes as cars and trucks whiz by you on both sides with only inches to spare. When the next lane is clear, you advance (there is no retreat in this game, that could get you killed, since drivers in China would never expect that).

If you did this in America, drivers would come to a screeching halt and think you were crazy (they might even tell you so, using colorful words and hand gestures). It is simply a different culture, or rather a different way of doing things in modern Chinese culture.