Discount Asian Art Gallery
Compare: $400.00

Your Price: $168.88

Compare: $70.00

Your Price: $29.88

Compare: $72.00

Your Price: $39.88

Compare: $50.00

Your Price: $24.95

Compare: $100.00

Your Price: $49.88

Compare: $60.00

Your Price: $32.88

Compare: $31.00

Your Price: $16.88

Compare: $31.00

Your Price: $16.88

Compare: $31.00

Your Price: $16.88

Compare: $31.00

Your Price: $16.88

Compare: $40.00

Your Price: $16.88

Compare: $31.00

Your Price: $16.88

Compare: $40.00

Your Price: $16.88

Compare: $63.00

Your Price: $34.88

Compare: $81.00

Your Price: $44.88

Compare: $89.00

Your Price: $49.00

Compare: $60.00

Your Price: $32.88

Compare: $200.00

Your Price: $108.88

Compare: $60.00

Your Price: $32.88

Compare: $72.00

Your Price: $39.88

Compare: $65.00

Your Price: $39.88

Compare: $100.00

Your Price: $49.88

Compare: $100.00

Your Price: $58.88

Compare: $140.00

Your Price: $72.88

Compare: $200.00

Your Price: $68.88

Compare: $65.00

Your Price: $32.88

Compare: $200.00

Your Price: $68.88

Compare: $200.00

Your Price: $68.88

Compare: $200.00

Your Price: $78.88

Compare: $70.00

Your Price: $38.88

Compare: $50.00

Your Price: $24.95

Compare: $50.00

Your Price: $24.95

Compare: $50.00

Your Price: $24.95

Compare: $50.00

Your Price: $24.95

Compare: $50.00

Your Price: $24.95
---
Newly-Listed Asian Art
Search In-Stock Artwork
Search Custom Calligraphy


I'm Gary, founder of Oriental Outpost. I moved to China 14 years ago after serving as a U.S. Marine for a decade. I've spent many years searching for art in the backcountry of China.

When the economy crashed, I joined the Army National Guard as a Combat Engineer so I could access military medical insurance for my family.
Your purchase supports a decorated Marine and Soldier, about a dozen families in China & some of my favorite charities.
Buy Custom Chinese Symbol & Japanese Kanji Calligraphy
Wall Scrolls Here!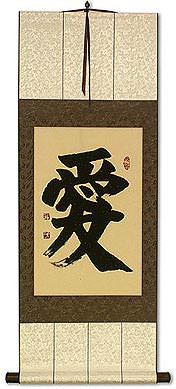 You can search for a short English phrase, but single words work best.

You can try your
first name too!

Advanced users can also search by typing Chinese characters or Japanese Kanji.
Welcome to our...
Asian Art Gallery
If you're looking to buy hand-painted Asian art at discount prices, you've come to the right Asian art gallery. All artwork here is fair trade, and created by independant Chinese, Korean & Japanese artists.

While this artwork is of the highest quality available, our prices are much lower than those of most art galleries, around the world & even inside China, Japan & Korea.
If you are looking for...
Custom Chinese Character or Japanese Kanji Symbol Calligraphy Wall Scrolls, Asian Dragon Artwork, Birds & Flowers, Asian Philosophy Art, Paintings of Horses, Cats & Kitten Art, or Southern Chinese Peasant Folk Art.
...I have something for you.
---
There are 1108 ready-to-ship Asian art items for sale on our website.
And, a BILLION combinations of custom Japanese & Chinese calligraphy wall scrolls.
---