Discount Asian Art Gallery
Buy Custom Chinese Symbol & Japanese Kanji Calligraphy
Wall Scrolls Here!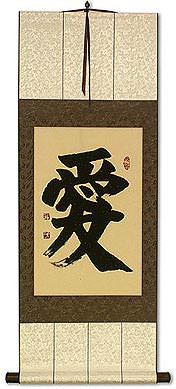 You can search for a short English phrase, but single words work best.

You can try your
first name too!

Advanced users can also search by typing Chinese characters or Japanese Kanji.
---
Welcome to our...
Asian Art Gallery
You've found the best discount online Asian art gallery to buy great hand-painted Asian Art by talented Chinese, Korean & Japanese artists.

While this artwork is of the highest quality available, our prices are much lower than those of most art galleries, around the world & even inside China, Japan & Korea.

I do the work for you & you get the "locals only" price.
If you are looking for...
Custom Chinese Character or Japanese Kanji Symbol Calligraphy Wall Scrolls, Asian Dragon Artwork, Birds & Flowers, Asian Philosophy Art, Paintings of Horses, Cats & Kitten Art, or Southern Chinese Peasant Folk Art
...I have something for you.
---
There are 1062 ready-to-ship Asian art items for sale on our website.
And, a BILLION combinations of custom Japanese & Chinese calligraphy wall scrolls.
---
---
January 22-24, 2010 and January 21-22, 2011
Copyright Oriental Outpost 2002-2013 - All Rights Reserved
Image Use Policy Privacy Policy