Custom Unselfish Perfectly Impartial Chinese & Japanese Calligraphy Wall Scroll
We have many options to create artwork with Unselfish Perfectly Impartial characters on a wall scroll or portrait.
If you want to create a cool Unselfish Perfectly Impartial wall scroll, this is the place. Below you will find a few Asian symbols that express the idea of unselfish perfectly impartial.
---
---
Unselfish: Perfectly Impartial

大公無私 is a Chinese proverb that comes from an old story from some time before 476 BC. About a man named Qi Huangyang, who was commissioned by the king to select the best person for a certain job in the Imperial Court.

Qi Huangyang selected his enemy for the job. The king was very confused by the selection, but Qi Huangyang explained that he was asked to find the best person for the job, not necessarily someone that he liked or had a friendship with.

Later, Confucius commented on how unselfish and impartial Qi Huangyang was by saying, "Da Gong Wu Si" which, if you look it up in a Chinese dictionary, is generally translated as "Unselfish" or "Just and Fair."

If you translate each character, you'd have something like
"Big/Deep Justice Without Self."
Direct translations like this leave out a lot of what the Chinese characters really say. Use your imagination, and suddenly you realize that "without self" means "without thinking about yourself in the decision" - together, these two words mean "unselfish." The first two characters serve to drive the point home that we are talking about a concept that is similar to "blind justice."

One of my Chinese-English dictionaries translates this simply as "just and fair." So that is the short and simple version.

Note: This can be pronounced in Korean, but it's not a commonly used term.
---
See Also: Selflessness | Work Unselfishly for the Common Good | Altruism
Impartial and Fair to the Brotherhood and Sisterhood of the World

一視同仁 is how to write "universal benevolence." This is also how to express the idea that you see all people the same.

If you are kind and charitable to everyone, this is the best way to state that virtue. It is the essence of being impartial to all mankind, regardless of social standing, background, race, sex, etc. You do not judge others, but instead, you see them eye to eye on the same level as you.
---
See Also: Benevolence | Compassion | Equality | Justice | Right Decision | Selflessness | Work Unselfishly for the Common
ai ha subete o kanzen ni musubu obi de aru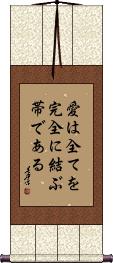 愛は全てを完全に結ぶ帯である is a Japanese phrase that suggests we (or a couple) are bound together by love.

I searched the web and found all of these English translation variations for this phrase:

Have love; The only way in which you may be completely joined together.

Love is the sash that perfectly binds us together.

Love is what binds us together

Love binds all things together in perfect unity.

This same Japanese phrase is used as part of Colossians 3:14 in at least one version of the Japanese Bible.

A few Biblical versions include:

...Charity, which is the bond of perfectness. (KJV)

...Love, which binds them all together in perfect unity. (NIV)
---
Note: Because this selection contains some special Japanese Hiragana characters, it should be written by a Japanese calligrapher.
shàn dì zǒng shì yǔ nǐ tóng zài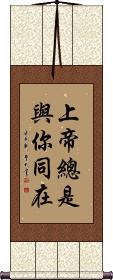 I was going to write this phrase as "God is with me always" but as a wall scroll, hanging in your room, it is talking to you (you're not talking), so it works better with you.

上帝總是與你同在 is a nice phrase that any Chinese Christian would enjoy on his/her wall.

If I annotate this, it sounds a little strange in English but it's perfectly natural in Chinese:
上帝 God | 总是 always | 与 and | 你 you | 同 together | 在 existing
Justice / Rectitude / Right Decision
Also means: honor loyalty morality righteousness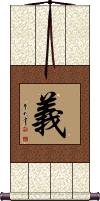 義 is about doing the right thing or making the right decision, not because it's easy but because it's ethically and morally correct.

No matter the outcome or result, one does not lose face if tempering proper justice.

義 can also be defined as righteousness, justice, morality, honor, or "right conduct." In a more expanded definition, it can mean loyalty to friends, loyalty to the public good, or patriotism. This idea of loyalty and friendship comes from the fact that you will treat those you are loyal to with morality and justice.

義 is also one of the five tenets of Confucius's doctrine.



There's also an alternate version of this character sometimes seen in Bushido or Korean Taekwondo tenets. It's just the addition of a radical on the left side of the character. If you want this version, click on the image to the right instead of the button above.
---
This is also a virtue of the Samurai Warrior
See our page with just Code of the Samurai / Bushido here
---
See Also: Judgment | Confucius Tenets
Peacefulness / Tranquility / Perfectly Quiet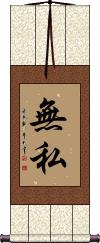 無私 would be literally translated as "none self" in Chinese, Korean, and Japanese.

It is used to express "selflessness" or "unselfish."

無私 is a popular term for the idea of being selfless or unselfish in modern China and Japan.
This term is not as commonly used in Korea but still has good meaning.
---
See Also: Altruism
Tai Chi Chuan / Tai Ji Quan

太極拳 is the famous Taoist meditation and martial art exercise. The direct translation of these characters would be something like "grand ultimate fist," but that does not quite hit the mark for what this title really means.

An early-morning walk through any city in China near a park or an open area will yield a view of Chinese people practicing this ancient technique.

A typical scene is an old man of no less than 80 years on this earth, with a wispy white beard and perhaps a sword in one hand. He makes slow moves that are impossibly smooth. He is steady-footed and always in balance. For him, time is meaningless and proper form, and technique is far more important than speed.

For the younger generation, faster moves may look impressive and seem smooth to the casual observer. But more discipline and mental strength are needed to create perfectly smooth moves in virtual slow motion.

Note: There are two ways to Romanize these Chinese characters, as seen in the title above. The pronunciation and actual characters are the same in Chinese. If you really used English sounds/words to pronounce this, it would be something like "tie jee chew-on" (make the "chew-on" one flowing syllable).
Work Unselfishly for the Common Good

克己奉公 is a Chinese proverb that is often used to express how one should act as a government official. Most of us wish our public officials would hold themselves to higher standards. I wish I could send this scroll, along with the meaning to every member of Congress, and the President (or if I was from the UK, all the members of Parliament, and the PM)

This can also mean: "Place Strict Standards on Oneself in Public Service."
The story behind this ancient Chinese idiom:
Cai Zun was born in China a little over 2000 years ago. In 24 AD, he joined an uprising led by Liu Xiu, who later became the emperor of the Eastern Han Dynasty.

Later, the new emperor put Cai Zun in charge of the military court. Cai Zun exercised his power in strict accordance with military law, regardless of the offender's rank or background. He even ordered the execution of one of the emperor's close servants after the servant committed a serious crime.

Cai Zun led a simple life but put great demands on himself to do all things honorably. The emperor rewarded him for his honest character and honorable nature by promoting him to the rank of General and granting him the title of Marquis.

Whenever Cai Zun would receive an award, he would give credit to his men and share the reward with them.
Cai Zun was always praised by historians who found many examples of his selfless acts that served the public interest.
Sometime long ago in history, people began to refer to Cai Zun as "ke ji feng gong."
---
See Also: Selflessness | Altruism
The following table may be helpful for those studying Chinese or Japanese...
Title
Characters
Romaji

(Romanized Japanese)

Various forms of Romanized Chinese
Unselfish: Perfectly Impartial
大公無私

---

大公无私
dà gōng wú sī

---

da4 gong1 wu2 si1

---

da gong wu si

---

dagongwusi
ta kung wu ssu

---

takungwussu
Fair
Impartial
公平
kouhei / kohei
gōng píng

---

gong1 ping2

---

gong ping

---

gongping
kung p`ing

---

kungping

---

kung ping
Impartial and Fair to the Brotherhood and Sisterhood of the World
一視同仁

---

一视同仁
isshidoujin

---

ishidojin
yí shì tóng rén

---

yi2 shi4 tong2 ren2

---

yi shi tong ren

---

yishitongren
i shih t`ung jen

---

ishihtungjen

---

i shih tung jen
Love Binds Us Together
愛は全てを完全に結ぶ帯である
ai ha subete o kanzen ni musubu obi de aru
God Is With You Always
上帝總是與你同在

---

上帝总是与你同在
shàn dì zǒng shì yǔ nǐ tóng zài

---

shan4 di4 zong3 shi4 yu3 ni3 tong2 zai4

---

shan di zong shi yu ni tong zai

---

shandizongshiyunitongzai
shan ti tsung shih yü ni t`ung tsai

---

shan ti tsung shih yü ni tung tsai
Justice
Rectitude
Right Decision
義

---

义
gi
yì / yi4 / yi
i
Peacefulness
Tranquility
Perfectly Quiet
靜謐

---

静谧
seihitsu
jìng mì / jing4 mi4 / jing mi / jingmi
ching mi / chingmi
Presence of Mind
泰然自若
taizenjijaku
tài rán zì ruò

---

tai4 ran2 zi4 ruo4

---

tai ran zi ruo

---

tairanziruo
t`ai jan tzu jo

---

taijantzujo

---

tai jan tzu jo
Selflessness
無私

---

无私
mushi
wú sī / wu2 si1 / wu si / wusi
wu ssu / wussu
Tai Chi Chuan
Tai Ji Quan
太極拳

---

太极拳
tai kyoku ken

---

taikyokuken
tài jí quán

---

tai4 ji2 quan2

---

tai ji quan

---

taijiquan
t`ai chi ch`üan

---

taichichüan

---

tai chi chüan
Work Unselfishly for the Common Good
克己奉公
kè jǐ fèng gōng

---

ke4 ji3 feng4 gong1

---

ke ji feng gong

---

kejifenggong
k`o chi feng kung

---

kochifengkung

---

ko chi feng kung
Perfectly Sincere Mind
至誠心

---

至诚心
shi jou shin

---

shijoushin

---

shi jo shin
zhì chéng xīn

---

zhi4 cheng2 xin1

---

zhi cheng xin

---

zhichengxin
chih ch`eng hsin

---

chihchenghsin

---

chih cheng hsin
In some entries above you will see that characters have different versions above and below a line.
In these cases, the characters above the line are Traditional Chinese, while the ones below are Simplified Chinese.
All of our calligraphy wall scrolls are handmade.
When the calligrapher finishes creating your artwork, it is taken to my art mounting workshop in Beijing where a wall scroll is made by hand from a combination of silk, rice paper, and wood.
After we create your wall scroll, it takes at least two weeks for air mail delivery from Beijing to you.
Allow a few weeks for delivery. Rush service speeds it up by a week or two for $10!
When you select your calligraphy, you'll be taken to another page where you can choose various custom options.
The Cuban Revolution, Chapter 9
...of time and labor is wasted on perfectly useless, even socially harmful projects.
... justify his total surrender to the Russian-Chinese imperialist camp.
The Creation , Sustenance and Dissolution of The Universe. chapter 8 . The light of truth by swami dayanand ...
...government, perfectly free from religious prejudices, impartial towards all ... of different countries as the Ethiopeans, Chinese, the Indians and the Europeans.
The History of the Former Han Dynasty
Same as English referenceTraditional ChineseEnglish8/27/04Swan KimGraduate ... but never before had the Huns acknowledged themselves vassals of the Chinese.
A Biographical Dictionary of ... Freethinkers
Order books by and about Joseph McCabe now.
... And-Er-Rahman III (891-961) ... the workers, and ignore such an unselfish and effective worker as Burdett.
Volume III Chapter XXXVI
...OF SPECIE PAYMENTS - VETO OF CHINESE EXCLUSION BILL DURING the second year ... Professor Henry's unselfish devotion to science.
European Tribune - Community, Politics & Progress.
...Appeal, On Lying in Bed, Two Chinese Ladies, On Going About and Seeing Things, ... not deriving personal advantage; impartial; unselfish, generous") seems to be...
SBE 19: Kiouen V: Varga 25. Parinirvâ n a
...Sanskrit into Chinese by Dharmaraksha A.D. 420, and From Chinese into English by ... impartial in his thoughts to friend or foe, the all-knowing,. perfectly...
Bush Camp's Pit Bulls Assert Their Entitlement [Free Republic]
...both perceived and real, of the Clintons-and so perfectly oblivious of their own.
... A front for Japanese car interests, the PAC spent more than $300,000...
A Biographical Dictionary of ... Freethinkers
Order books by and about Joseph McCabe now.
... And-Er-Rahman III (891-961) ... the workers, and ignore such an unselfish and effective worker as Burdett.
courses.ed.asu.edu/gonzalez/APHB/ETexts/Depew.CM/...
It has been my good fortune to take part in history-making meetings ... time, six feet four inches in height, perfectly proportioned and a superb figure.
HiddenMysteries ThE-Magazine
...be restored in the professional, impartial, and nonpolitical character of the agency.
... the pervasive control over Japanese society which had been...
Chapter XI
Isis Unveiled, by H.B. Blavatsky ... "Not to commit any sin, to do good, and to purify one's mind, that is the ... This is strict and impartial justice.