Custom Simplicity Chinese & Japanese Calligraphy Wall Scroll
We have many options to create artwork with Simplicity characters on a wall scroll or portrait.
If you want to create a cool Simplicity wall scroll, this is the place. Below you will find a few Asian symbols that express the idea of simplicity.
---
---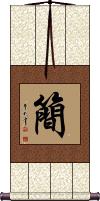 簡 expresses the idea of something simple or the essence of simplicity in life in Chinese.

This can also refer to a simple slip of bamboo for taking notes or writing a letter (especially in Korean Hanja).

Technically this is a word meaning simplicity and brevity in Japanese but it's rarely used in modern Japanese. Therefore, you should probably only select this character if your audience is Chinese.
---
See Also: Brevity
Heijoshin / Presence of Mind

平常心 is the title Heijoshin, as associated with Kendo and Aikido schools of Japanese martial arts.

平常心 is also a word in Japanese that can be translated as "one's self-possession" or "presence of mind."

In Chinese and Korean, this means "simplicity heart," "composure," "calmness," or a "sense of orderliness." In Chinese and Korean, this implies that you enjoy what you have, keep your heart in balance, and have no over-blown ambitions.

內心平靜 is a Chinese and Japanese phrase that is a direct translation of the western idea of inner peace.

The first two characters contain the idea of "heart," "innermost being," or "deep in the/your inner mind."

The last two characters mean "tranquil" and "serene."

I have seen this phrase used as "inner peace" for art prints and even on the side of coffee cups. But I think the translation is too literal. It feels like a direct translation from English rather than a nicely composed Chinese or Japanese phrase. See my other entries for "inner peace."
---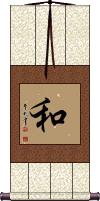 和 is the simplest form of peace and harmony.

和 can also be translated as the peaceful ideas of gentle, mild, kind, and calm. With a more harmonious context, it can be translated as union, together with, on good terms with, or on friendly terms.

Most people would just translate this character as peace and/or harmony. 和 is a very popular character in Asian cultures - you can even call it the "peace symbol" of Asia. In fact, this peace and harmony character was seen repeatedly during the opening ceremony of the 2008 Olympic Games in Beijing (a major theme of the games).
---
In old Chinese poems and literature, you might see this used as a kind of "and." As in two things summed together. As much as you could say, "the sun and moon," you could say "the sun in harmony with the moon."
---
See Also: Inner Peace | Patience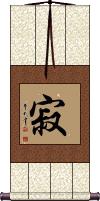 寂 means silent, solitary, quiet, calm, still, rest, or tranquil.

This also has a strong association with Buddhism where it can mean "entering into Nirvana." In that context, this is sometimes used to refer to the passing of a Buddhist monk (he is silent, as he has entered Nirvana). For the living, this is about tranquility (especially of mind).

Some will also use this to mean "elegant simplicity."

From Sanskrit, this can represent praśama, vivikta, śānti, or nibbāna (nirvāṇa).
Tathata / Ultimate Nature of All Things

真如 comes from the Sanskrit and Pali word often romanized as "tathata" or "tathatā." Originally written, "तथता."

It's a Buddhist term often translated as "thusness" or "suchness," but this does not explain it.
A better explanation may be "the ultimate nature of all things" or "ultimate truth." However, this gives it too strong of a feeling. This concept is sometimes described as being in awe of the simple nature of something - like a blade of grass blowing in the wind or ripples on water. It is what it is supposed to be, these things follow their nature. Amazing in their mundane simplicity.

Every sect of Buddhism will have a slightly different flavor or explanation, so don't get fixated on one definition.
---
Notes: Sometimes Buddhists use the word dharmatā, a synonym to tathatā.

In Japan, this can also be the female given name Mayuki, or the surname Majo.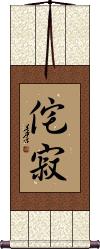 侘寂 is Wabi-Sabi, the aesthetic sense in Japanese art emphasizing quiet simplicity and subdued refinement.
---
More about this subject at Wikipedia: Wabi Sabi

幽玄 is the Chinese, Japanese Kanji, and old Korean Hanja word meaning dim, deep, mysterious, subtle grace, hidden beauty, mysterious profundity, elegant simplicity, or subtle and profound.

This can also be the Japanese personal name Yuugen or Yugen.
This in-stock artwork might be what you are looking for, and ships right away...
Gallery Price: $410.00
Your Price: $195.88
Gallery Price: $376.00
Your Price: $208.88
The following table may be helpful for those studying Chinese or Japanese...
Title
Characters
Romaji

(Romanized Japanese)

Various forms of Romanized Chinese
Simplicity
簡

---

简
kan
jiǎn / jian3 / jian
chien
Simplicity
Modesty
質素

---

质素
shisso / shiso
zhì sù / zhi4 su4 / zhi su / zhisu
chih su / chihsu
Tanjun
Simplicity
単純
tanjun
Heijoshin
Presence of Mind
平常心
hei jou shin

---

heijoushin

---

hei jo shin
píng cháng xīn

---

ping2 chang2 xin1

---

ping chang xin

---

pingchangxin
p`ing ch`ang hsin

---

pingchanghsin

---

ping chang hsin
Inner Peace
內心平靜

---

内心平静
naishin heizyou

---

naishinheizyou

---

naishin heizyo
nèi xīn píng jìng

---

nei4 xin1 ping2 jing4

---

nei xin ping jing

---

neixinpingjing
nei hsin p`ing ching

---

neihsinpingching

---

nei hsin ping ching
Peace
Harmony
和
wa
hé / he2 / he
ho
Silent
Solitary
寂
jaku
jì / ji4 / ji
chi
Tathata
Ultimate Nature of All Things
真如
shinnyo
zhēn rú / zhen1 ru2 / zhen ru / zhenru
chen ju / chenju
Wabi Sabi
侘寂
wabi sabi / wabisabi
Mysterious
幽玄
yū gen / yūgen
yōu xuán / you1 xuan2 / you xuan / youxuan
yu hsüan / yuhsüan
Shitsujitsu Goken
質実剛健
shitsu jitsu gou ken

---

shitsujitsugouken

---

shitsu jitsu go ken
In some entries above you will see that characters have different versions above and below a line.
In these cases, the characters above the line are Traditional Chinese, while the ones below are Simplified Chinese.
Many custom options...




And formats...




All of our calligraphy wall scrolls are handmade.
When the calligrapher finishes creating your artwork, it is taken to my art mounting workshop in Beijing where a wall scroll is made by hand from a combination of silk, rice paper, and wood.
After we create your wall scroll, it takes at least two weeks for air mail delivery from Beijing to you.
Allow a few weeks for delivery. Rush service speeds it up by a week or two for $10!
When you select your calligraphy, you'll be taken to another page where you can choose various custom options.