Custom Self-Discipline Chinese & Japanese Calligraphy Wall Scroll
We have many options to create artwork with Self-Discipline characters on a wall scroll or portrait.
If you want to create a cool Self-discipline wall scroll, this is the place. Below you will find a few Asian symbols that express the idea of self-discipline.
---
---
Self-Discipline / Will-Power

自律 means self-discipline and self-control.

It is doing what you really want to do rather than being tossed around by your feelings like a leaf in the wind. You act instead of reacting. You get things done in an orderly and efficient way. With self-discipline, you take charge of yourself.
---
Not sure if this one works for a Japanese audience.
---
See Also: Self-Control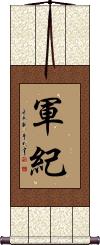 軍紀 means military discipline or military principles.

If maintaining your military discipline is important to you personally or important to your military unit, this is the wall scroll to have up behind your desk. In fact, it's the kind of thing I expect to see behind the desk of a First Sergeant or maybe a hardcore NCO.

Note: In some rare contexts, it could be extended to mean "morale," but "discipline" is much closer to the commonly-held definition.

Note: This term is not well-known outside the military services in Asia (not used by the common person).
---
See Also: Self-Discipline

節制 means moderation or temperance in Chinese, Japanese Kanji, and old Korean Hanja.

Moderation is creating a healthy balance in your life between work and play, rest and exercise. You don't overdo or get swept away by the things you like. You use your self-discipline to take charge of your life and your time.

節制 can also be translated as sobriety or self-restraint.

This is often used as part of the Seven Heavenly Virtues to represent sobriety and/or temperance.
---
Prideful Mind / Self-Respecting Heart

自尊心 is a Japanese and Korean word that means "pride" or "self-respect."

The first Kanji/Hanja means oneself. The second can mean revered, valuable, precious, noble, or exalted. And the last Kanji/Hanja means heart, mind, and/or spirit.
---
While these characters make sense and hold the same general meaning in Chinese, this is not a normal Chinese word. This selection should only be used if your audience is Japanese or Korean.
---
See Also: Respect | Pride | Self-Reliance | Self-Control | Self-Discipline
Self-Restraint / Self-Control

克己 can be translated as "self-denial," "self-abnegation," "self-restraint," "self-discipline," "self-mastery," or selflessness.

As a tenet of Korean taekwondo, and other martial arts, this is often used with the title "self-control."

修養 means self-improvement in Chinese, Japanese Kanji, and old Korean Hanja.

Other translations for this word include accomplishment, training, self-cultivation, (mental) training, self-discipline, cultivation, or cultivating moral character.
The following table may be helpful for those studying Chinese or Japanese...
Title
Characters
Romaji

(Romanized Japanese)

Various forms of Romanized Chinese
Self-Discipline
Will-Power
自律
jiritsu
zì lǜ / zi4 lv4 / zi lv / zilv
tzu lü / tzulü
Military Discipline
軍紀

---

军纪
gun ki / gunki
jūn jì / jun1 ji4 / jun ji / junji
chün chi / chünchi
Moderation
Temperance
節制

---

节制
sessei / sesei
jié zhì / jie2 zhi4 / jie zhi / jiezhi
chieh chih / chiehchih
Prideful Mind
Self-Respecting Heart
自尊心
ji son shin

---

jisonshin
zì zūn xīn

---

zi4 zun1 xin1

---

zi zun xin

---

zizunxin
tzu tsun hsin

---

tzutsunhsin
Self-Restraint
Self-Control
克己 / 剋己

---

克己
kokki / koki
kè jǐ / ke4 ji3 / ke ji / keji
k`o chi / kochi / ko chi
Self-Improvement
修養

---

修养
shuuyou / shuyo

---

shuyo / shuyo
xiū yǎng / xiu1 yang3 / xiu yang / xiuyang
hsiu yang / hsiuyang
In some entries above you will see that characters have different versions above and below a line.
In these cases, the characters above the line are Traditional Chinese, while the ones below are Simplified Chinese.
All of our calligraphy wall scrolls are handmade.
When the calligrapher finishes creating your artwork, it is taken to my art mounting workshop in Beijing where a wall scroll is made by hand from a combination of silk, rice paper, and wood.
After we create your wall scroll, it takes at least two weeks for air mail delivery from Beijing to you.
Allow a few weeks for delivery. Rush service speeds it up by a week or two for $10!
When you select your calligraphy, you'll be taken to another page where you can choose various custom options.