• Delivered to you in Ashburn by Mar 8th.
• Standard shipping is just $3.80 for any order.
• This is a
• Fine Art Giclée Print.
• Handmade Wall Scroll.
• Money-Back Guarantee.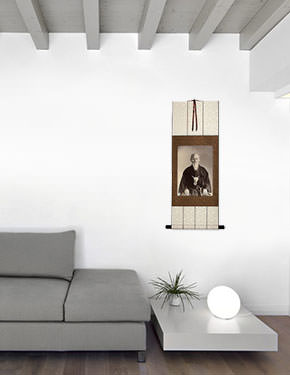 This artwork will look great in your home or office.
Reason for discount: Although not at all obvious in the image above, we got a funky batch of copper silk. It was not the normal rich and deep golden-brown color. Instead, it has a very slight shift towards olive drab when the light hits it just right. You probably won't notice this at all, but I'm really picky about stuff like this. So I am selling this at cost for such a minor issue.
Morihei Ueshiba O'Sensei
Fine Art Giclee Print
This features the father of Aikido, Morihei Ueshiba O'Sensei.
This item was listed or modified
Feb 5th, 2021
Related and Recommended Items...