Zhao Jun
The Distinguished Beauty of Ancient China
The title can be translated as "Zhao Jun Crossing the pass/border". It is a reference to her leaving her native kingdom behind to become the Hun queen.
---
About the Four Beauties of China:
In Chinese culture, there are four famous beautiful woman of China.
They are thought to be the most beautiful and significant woman of China's ancient history.
Although the stories about these woman are based on fact, they are also steeped in legend.
These woman have remained famous through history because of the drastic effects on the emperors, kings, and kingdoms with whom they were bound.
Some of the beauties brought kingdoms and dynasties to their knees.
Most of the beauties had lives that ended in tragedy or mystery.
The legend and history of these woman has inspired Chinese artists for generations to create paintings that depict these four famous beauties of ancient China.
---
More about the beauty depicted on this scroll:
The woman in this painting is known as "Wang Zhao-Jun"
To break down the meaning:
Wang = Her maiden family name
Zhao-Jun= Distinguished (her given name)
---
Her Story:
History tells us that around 48 B.C. the Emperor of the Han Dynasty (206 B.C. - 220 A.D.) sent out servants to find the most beautiful woman in all of China. These women in turn were selected to be the Emperor's concubines/wives.
The Emperor did not want to go through the pageantry of personally looking over each woman before making his selection of which one would accompany him for evening, so he had an artist paint a picture of each woman. This way, he could choose in private, and have the one of his choosing summoned to his chamber.
Legend has it that because Zhao-Junwas an honest woman, she did not bribe the painter as the other concubines did. So, being snubbed by the artist, her portrait was not as attractive as the portraits of the other women. She was never summoned to the Emperor's chamber.
Years later in 33 B.C., the Han Emperor needed to make a peace-offering to the Hun King (from what is now called Mongolia). The Hun King demanded to marry a princess of the Han-Chinese Empire if peace was to prevail.
The call went out throughout the palace for a woman willing to live in the "barbarian lands" of Mongolia. Only Zhao-Junvolunteered. She was still known to the emperor only by the less-than flattering painting of her. The Emperor having never seen her in person agreed to the exchange.
In much ceremony and fanfare, Zhao-Junwas given to the Hun King. When the Han Emperor saw her for the first time at the ceremony, he realized that he was giving away the most beautiful woman of his entire court. He was angry, but he could not go back on his word and risk war with the Huns.
Upon the departure of the Hun King and his new wife Zhao-Jun, the Emperor summoned his painter and had him executed (Looks CAN kill, even in art).
Zhao-Juntaught the Hun people how to weave and farm. Previously they had been a clan of warriors and hunters and therefore knew very little of agricultural techniques at the time.
During her life, she gave birth to two girls and a boy, and the king was well-pleased.
Zhao-Junbecame a very beloved in the Hun Kingdom. She became a symbol of peace, and because of her, battles ceased between the Huns and Han-Chinese for more than 60 years.
No one is certain what happened to her after the king's death. Some believe that she committed suicide to avoid following the leviratetradition of maintaining the royal bloodline by marrying her own son. Others believe that she married a different heir to the throne born by another woman.
There is still a tomb and memorial in Inner-Mongolia that honors her life and the peace that she brought to the region.
---
This work was done in Chengdu by Huang Xin'an (Pronounced a little bit like "who-ong shin un") from the Sichuan (Szechwan) Province of China.
After I bought this work in Chengdu, I later returned to Beijing and had it mounted as a traditional hand-made silk scroll in our workshop. This makes a nice, ready-to-hang piece of wonderful hand-painted art.
---
The story behind how I found this art...
I lost track of Huang Xin'an after my last trip to Chengdu. His phone number was out of order, and I was disappointed that I could not contact him to get more of his paintings.
I make the decision to go to Chengdu on my new art-buying trip mostly because of him.
After 15 hours on a slow train, I arrive in Chengdu. I check-in at Sam's Guesthouse (a hangout for backpackers from around the world, and a hostel with reasonably-priced beds). After a much-needed shower, I head out to find Huang Xin'an.
Taxis drive at the speed-of-light in Chengdu (the city boasts over 1000 fatal auto accidents per year), I arrive in no-time at the place I last found Mr. Huang. Sure enough, as I walk down the alley toward his gallery, he sees me and runs out to greet me. I'm really happy to see him, and the feeling is mutual.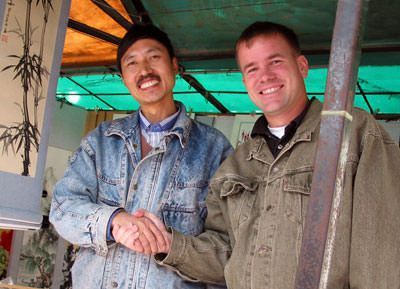 I tell him how I came to Chengdu just to buy art from him (after not being able to reach him on the phone). He is so honored that I think he wants to hug me. He offers me a chair, and says he's painted a lot of work over that last 9 months with both me and my customers in mind. I was also honored by this gesture. He shows me a lot of new work in styles that I like.
I spend 2 days with Mr. Huang and we talk about a lot of new ideas and artwork that I think my western customers will like. He offers to close his gallery for a few days, and paint the art that I asked for. So I took a few days to meet and visit other artists in Chengdu. When I return to Mr. Huang's gallery, I am not disappointed. He did such a great job, words can't describe.
This item was listed or modified
Aug 7th, 2016