It's not too late! We can deliver custom Chinese calligraphy art to the USA before Christmas! Order now!
• Delivered to you in Ashburn by Dec 18th.
• All U.S. orders ship for just $3.80 total.
• This is a "Bargain Bin" item - A one-of-a-kind deal.
• Handmade Wall Scroll.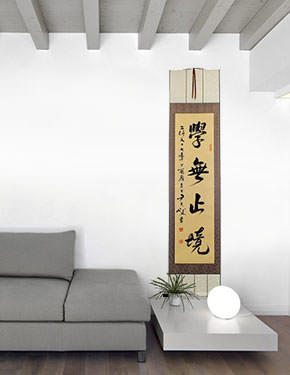 This artwork will look great in your home or office.
This wall scroll is discounted because it is a little wavy - not a wrinkle, but not super flat.




Learning is Eternal
Chinese Calligraphy Scroll
Xue Wu Zhi Jing
---
This calligraphy scroll tells of how we continue to learn throughout our lives. It can be translated in a few ways such as, "Study Has No End", or "Knowledge is Infinite"
The deeper meaning: Even when we finish school we are still students of the world gaining more knowledge from our surroundings with each passing day.
This item was listed or modified
Feb 15th, 2019
Related and Recommended Items...
Gallery Price: $178.00
Your Price: $98.88
Gallery Price: $160.00
Your Price: $88.88
Gallery Price: $160.00
Your Price: $88.88
Gallery Price: $100.00
Your Price: $49.88
Gallery Price: $178.00
Your Price: $98.88
Gallery Price: $178.00
Your Price: $98.88
Gallery Price: $100.00
Your Price: $49.88
Gallery Price: $340.00
Your Price: $188.88