Want it by Monday?
Order in the next 6 hours and 20 minutes
• Delivered to you in Ashburn by Oct 21st.
• All U.S. orders ship for just $3.80 total.
• This is a "Bargain Bin" item - A one-of-a-kind deal.
• Handmade Wall Scroll.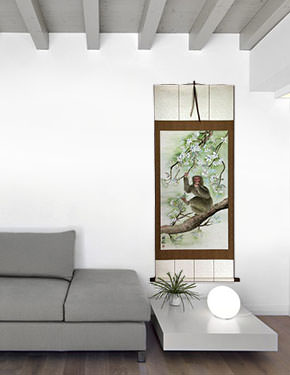 This artwork will look great in your home or office.
Monkeys
This scroll did not pass my inspection. It has a minor watermark in the paper of the painting.

Many people (including the artists) believe that such watermarks are a natural and necessary part of this kind of watercolor paintings. Others even feel that is it proof of the handmade nature of the artwork. I still have to discount it to avoid any misunderstandings.
This item was listed or modified
Aug 10th, 2018
Related and Recommended Items...
Gallery Price: $200.00
Your Price: $68.88
Gallery Price: $200.00
Your Price: $68.88
Gallery Price: $70.00
Your Price: $38.88
Gallery Price: $63.00
Your Price: $35.00
Gallery Price: $63.00
Your Price: $35.00
Gallery Price: $63.00
Your Price: $35.00
Gallery Price: $200.00
Your Price: $78.88
Gallery Price: $200.00
Your Price: $78.88
Gallery Price: $268.00
Your Price: $148.88