Typical Gallery Price: $80.00
$34.00
Sold Out
Sorry you missed it.
• Hand-Painted Artwork.
• Handmade Wall Scroll.
• Money-Back Guarantee.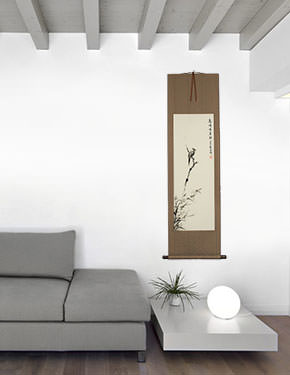 This artwork will look great in your home or office.
A minor silk flaw (faint lines in the upper silk panel) has forced me to reduce this to $34 - less than half price (it would have been almost $68.88).
枯木鳴鵙図 - Musashi's "Shrike Perched in a Dead Tree"
An homage to Musashi's famous artwork
This artwork is a hand-painted homage to Musashi's artwork titled "Shrike Perched in a Dead Tree".

Besides his legacy as a warrior and tactician, Musashi was an extraordinary sumi-e artist. The man who painted this may not be a warrior, but is an accomplished artist and has been a personal friend of mine for the past 17 years.

The paper used is handmade as well. You may see some fibers, husks, and other artifacts embedded in the paper. This is a testament to the handmade nature of the paper.
This item was listed or modified
Jan 26th, 2021
Typical Gallery Price: $80.00
$34.00
Sold Out
Sorry you missed it.
Related and Recommended Items...