Want it by Monday?
Order in the next 22 hours and 35 minutes
• Delivered to you in Ashburn by Oct 21st.
• All U.S. orders ship for just $3.80 total.
• This is a "Bargain Bin" item - A one-of-a-kind deal.
• Handmade Wall Scroll.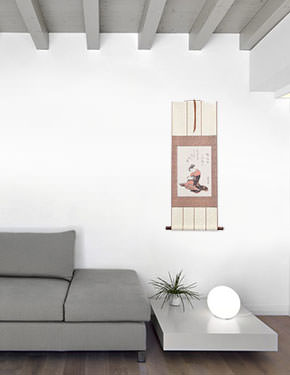 This artwork will look great in your home or office.
Reason for discount: Tiny/minor red spot on the lower silk panel. Marked down to less than half price. This is a print, not hand-painted. It was printed using a fine art giclee printer on handmade kozo paper. Mounted to a handmade wall scroll. The original artwork came from the image of an old Japanese woodblock print.
This item was listed or modified
Jul 18th, 2018
Related and Recommended Items...
Gallery Price: $106.00
Your Price: $58.88
Gallery Price: $40.00
Your Price: $22.00
Gallery Price: $88.00
Your Price: $48.88
Gallery Price: $71.00
Your Price: $39.00
Gallery Price: $90.00
Your Price: $35.00
Gallery Price: $71.00
Your Price: $39.00
Gallery Price: $71.00
Your Price: $39.00
Gallery Price: $90.00
Your Price: $35.00
Gallery Price: $88.00
Your Price: $48.88
Gallery Price: $88.00
Your Price: $48.88