Want it by Wednesday?
Order in the next 14 hours and 42 minutes
• Delivered to you in Ashburn by Oct 23rd.
• All U.S. orders ship for just $3.80 total.
• This is a "Bargain Bin" item - A one-of-a-kind deal.
• Handmade Wall Scroll.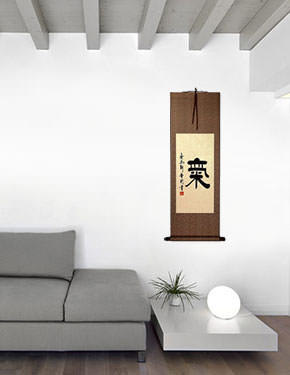 This artwork will look great in your home or office.

Discounted/Blemished
Reason for discount: Nothing really wrong with it, but the calligrapher wrote a rare variant of the "Chi" energy character. I'm selling it for cheap rather than explain why this does not look like the typical

Spiritual Essence / Energy Symbol
More about this symbol can be found as the first entry on this page: Ki / Qi - Spiritual Essence and Energy.
This item was listed or modified
Jan 28th, 2019
Related and Recommended Items...
Gallery Price: $45.00
Your Price: $25.00
Gallery Price: $132.00
Your Price: $72.88
Gallery Price: $69.00
Your Price: $37.88
Gallery Price: $106.00
Your Price: $58.88