Custom Lucky Chinese & Japanese Calligraphy Wall Scroll
We have many options to create artwork with Lucky characters on a wall scroll or portrait.
If you want to create a cool Lucky wall scroll, this is the place. Below you will find a few Asian symbols that express the idea of lucky.
---
---
Lucky / Auspicious / Good Omen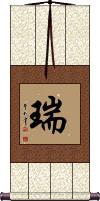 瑞 is a Chinese, Japanese, and old Korean word that means: lucky; auspicious; propitious; freshness; purity; luster; a good omen.

In Japanese, this can be the following female given names: Yutaka; Midzuho; Mizuho; Mizuki; Mizue; Mizu; Mio; Tamami. It can also be a Japanese surname, Zui or Shirushi.

In the Buddhist context, this can represent an auspicious jade token or good omen.
Happiness / Fortune / Lucky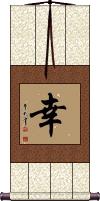 幸 can mean happiness, good fortune, good luck, and in the old days, good harvest or bounty.

Note: From Japanese, this character is sometimes romanized as "sachi," and is often pronounced "kou" or sometimes "rei" when used in compound words with other Kanji.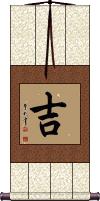 吉 is a simple way to express the state of being lucky.

Also used in conversation to hope that all is well with someone. 吉 is more often seen as part of a compound word with a lucky association (especially in Korean).
---
Not as often used in Japanese but still means "good luck" but can also mean "joy" in Japanese.
---
See Also: Good Luck
Serendipity / Lucky Coincidence

幸運な偶然 is one of many ways to express serendipity in Japanese.

The first two Kanji mean fortunate, lucky, fortune, or good luck.

In the middle is a Japanese Hiragana character connecting these words/ideas.

The last two Kanji mean incidentally, by chance, randomly, unexpectedly, suddenly, accident, fortuity, or by coincidence.
Dragon and Phoenix Brings Luck

龍鳳呈祥 is often seen at weddings and other celebrations in China.

It suggests that the dragon and phoenix will bring you auspicious tidings.

The first character is a dragon.
The second is a phoenix.
The third is presents or brings.
And the last means auspicious, propitious, or luck.

Throughout China, the dragon and phoenix are symbols of good fortune. You will see these auspicious figures as decorative symbols on everything from buildings, furniture, wedding costumes, and sculptures in public parks to caskets and items used in ceremonies.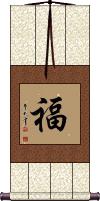 福 is pronounced "fu" in Chinese.

The character "fu" is posted by virtually all Chinese people on the doors of their homes during the Spring Festival (closely associated with the Chinese New Year).

One tradition from the Zhou Dynasty (beginning in 256 B.C.) holds that putting a fu symbol on your front door will keep the goddess of poverty away.

福 literally means good fortune, prosperity, blessed, blessedness, happiness, and fulfillment.

You'll also see this character in Vietnam (where Chinese characters were the written form until a romanization reform) where it is pronounced Phúc - a word commonly used in Vietnamese names because of its good meaning.

幸運 can be translated as "good luck," fortunate, lucky, and/or "good fortune" in Chinese, Korean and Japanese.

Occasionally, this is also translated as a type of happiness or a short way to write serendipity.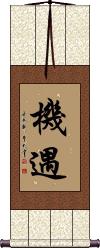 機遇 is the kind of opportunity that comes via good luck or good fortune.

This word is sometimes translated as "stroke of good luck."

While there are other ways to express "opportunity," I think this version is best for a calligraphy wall scroll or portrait.

Note: In Korean Hanja, this would also mean "Meeting someone under strange circumstances."
---
See Also: Good Luck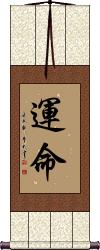 These two characters contain the ideas of fate, destiny, fortune, and luck in Chinese, Japanese Kanji, and old Korean Hanja.

運命 is often defined as "a person's fate" or "personal fate" in various dictionaries.

These two characters can be reversed (written in either order) and yield roughly the same meaning.

This particular character order is more common in old Korean and less common in modern Chinese.
---
See Also: Good Fortune | Good Luck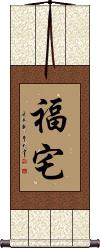 福宅 is perhaps the Chinese equivalent of "This blessed house" or perhaps "home sweet home."

This phrase literally means "Good fortune house" or "Good luck household." It makes any Chinese person who sees it feel that good things happen in the home in which this calligraphy is hung.
This in-stock artwork might be what you are looking for, and ships right away...
The following table may be helpful for those studying Chinese or Japanese...
Title
Characters
Romaji

(Romanized Japanese)

Various forms of Romanized Chinese
Lucky
Auspicious
Good Omen
瑞
zui
ruì / rui4 / rui
jui
Happiness
Fortune
Lucky
幸
saki / sachi / rei / rē
xìng / xing4 / xing
hsing
Lucky
Auspicious
吉
kichi
jí / ji2 / ji
chi
Serendipity
Lucky Coincidence
幸運な偶然
kou un na guu zen

---

kouunnaguuzen

---

ko un na gu zen
Lucky Star
福星
fukusei
fú xīng / fu2 xing1 / fu xing / fuxing
fu hsing / fuhsing
Dragon and Phoenix Brings Luck
龍鳳呈祥

---

龙凤呈祥
lóng fèng chéng xiáng

---

long2 feng4 cheng2 xiang2

---

long feng cheng xiang

---

longfengchengxiang
lung feng ch`eng hsiang

---

lungfengchenghsiang

---

lung feng cheng hsiang
Good Luck
Good Fortune
福
fuku
fú / fu2 / fu
Good Luck
幸運

---

幸运
kou un / kouun / ko un
xìng yùn / xing4 yun4 / xing yun / xingyun
hsing yün / hsingyün
Opportunity
Good Luck
機遇

---

机遇
jī yù / ji1 yu4 / ji yu / jiyu
chi yü / chiyü
Destiny
Fate
運命

---

运命
un mei / unmei
yùn mìng / yun4 ming4 / yun ming / yunming
yün ming / yünming
House of Good Fortune
福宅
fú zhái / fu2 zhai2 / fu zhai / fuzhai
fu chai / fuchai
In some entries above you will see that characters have different versions above and below a line.
In these cases, the characters above the line are Traditional Chinese, while the ones below are Simplified Chinese.
Many custom options...




And formats...




All of our calligraphy wall scrolls are handmade.
When the calligrapher finishes creating your artwork, it is taken to my art mounting workshop in Beijing where a wall scroll is made by hand from a combination of silk, rice paper, and wood.
After we create your wall scroll, it takes at least two weeks for air mail delivery from Beijing to you.
Allow a few weeks for delivery. Rush service speeds it up by a week or two for $10!
When you select your calligraphy, you'll be taken to another page where you can choose various custom options.
Chinese Fortune Telling Calendar for Chinese Astrology, Horoscope, Baby Gender Predictor, Dating, Marriage, Wedding...
2007 Chinese Astrology Horoscope Fortune Telling Calendar for Baby Gender Prediction, Infant Lucky name, Perpetual Lunar Calendar, Farmer Almanac and Feng Shui
Chinese Lucky Signs
Chinese lucky signs - find out what they represent ... Bat - "Bat" sounds like "fortunateness" in Chinese - happy and lucky that is.
Lucky Kitchen Chinese Restaurant, takeout, delivery, dine-in, Ann Arbor, MI
Lucky Kitchen Chinese Restaurant, Ann Arbor, MI ?Mfit meals, takeout, delivery or dine-in of healthy, economical Asian food.
2007 Chinese Astrology, Horoscope Love Match, Baby Gender Prediction and Feng Shui
2007 Chinese Astrology for Baby Gender, Dating, Love, ... Chinese Farmer's Almanac. Find lucky hours. Menu - Complete Site Index. Fortune Angel Love Match...
Lucky Candy
Chinese lucky candy.
... Chinese Zodiac. About us. Customer Testimonials. About Asiachi.com. Store Policies. Privacy Policy...
Chinese lucky patterns
About Chinese Furniture. Chinese Lucky Patterns. Chinese furniture hardware. Color Sample. Chinese Lucky Patterns. Four seasons with hundred flowers. Four seasons and...