Custom Knight Chinese & Japanese Calligraphy Wall Scroll
We have many options to create artwork with Knight characters on a wall scroll or portrait.
If you want to create a cool Knight wall scroll, this is the place. Below you will find a few Asian symbols that express the idea of knight.
---
---

The first character, 武, is the spirit or essence of a warrior. The second character, 士, means soldier, officer, or official. 武士 is also used appropriately enough to describe a piece of a chess game. 武士 can also be translated as a soldier, cavalier, palace guard, or samurai, and sometimes as a knight. I've occasionally seen this translated as strong man or tough man (gender not necessarily implied).

By far, 武士 is the most common way to write warrior in Chinese characters, Japanese Kanji, and old Korean Hanja.

Note: In Japanese, this is Bushi, as in Bushido.
---
Bushido / The Way of the Samurai

武士道 is the title for "The Code of the Samurai."

Sometimes called "The Seven Virtues of the Samurai," "The Bushido Code," or "The Samurai Code of Chivalry."

This would be read in Chinese characters, Japanese Kanji, and old Korean Hanja as "The Way of the Warrior," "The Warrior's Way," or "The Warrior's Code."

It's a set of virtues that the Samurai of Japan and ancient warriors of China and Korea had to live and die by. However, while known throughout Asia, this title is mostly used in Japan and thought of as being of Japanese origin.

The seven commonly-accepted tenets or virtues of Bushido are Rectitude 義, Courage 勇, Benevolence 仁, Respect 礼(禮), Honour 名誉, Honesty 誠, and Loyalty 忠実. These tenets were part of oral history for generations, thus, you will see variations in the list of Bushido tenets depending on who you talk to.
---
See our page with just Code of the Samurai / Bushido here
---
Martial Arts / Budo
Way of the Warrior

武道 is the very common Japanese way to say "Martial Arts."

武道 is used mostly in Japanese dojos but is also understood in Chinese and Korean.

Some will use this title to mean chivalry (the conduct of a knight) or military art. The way this word is understood would depend on the context in which it is used.

The first character means "force," "warlike," or "essence of a warrior."

The second character means "method," "path," and "the way." It is the same character used to describe/mean the philosophy of Taoism / Daoism.

Some will also translate this as "The Way of the Warrior"; especially in the context of Korean martial arts.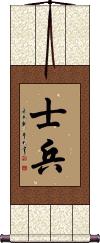 士兵 means "Soldier" but more specifically, a rank-and-file soldier (a private or troop - you could say a ground-pounder). Our other entry for "solider / serviceman" is probably better for a wall scroll (since someday, you will be promoted).

Note: In Japanese, they use these characters in the opposite order to create the same meaning word. In that order, it's pronounced "heishi" in Japanese. Just let us know if you want it in Japanese Kanji order when you place your order.
This in-stock artwork might be what you are looking for, and ships right away...
Gallery Price: $108.00
Your Price: $59.88
The following table may be helpful for those studying Chinese or Japanese...
Title
Characters
Romaji

(Romanized Japanese)

Various forms of Romanized Chinese
Knight
騎士

---

骑士
ki shi / kishi
qí shì / qi2 shi4 / qi shi / qishi
ch`i shih / chishih / chi shih
Warrior
武士
bu shi / bushi
wǔ shì / wu3 shi4 / wu shi / wushi
wu shih / wushih
Warrior
Fighter
戦士
sen shi / senshi
Noble Warrior
大俠

---

大侠
dà xiá / da4 xia2 / da xia / daxia
ta hsia / tahsia
Bushido
The Way of the Samurai
武士道
bu shi do / bushido
wǔ shì dào

---

wu3 shi4 dao4

---

wu shi dao

---

wushidao
wu shih tao

---

wushihtao
Martial Arts
Budo
武道
bu dou / budou / bu do
wǔ dào / wu3 dao4 / wu dao / wudao
wu tao / wutao
Paladin
聖騎士

---

圣骑士
shèng qí shì

---

sheng4 qi2 shi4

---

sheng qi shi

---

shengqishi
sheng ch`i shih

---

shengchishih

---

sheng chi shih
Soldier
Private
士兵
shì bīng / shi4 bing1 / shi bing / shibing
shih ping / shihping
Soldier
Serviceman
軍人

---

军人
gun jin / gunjin
jūn rén / jun1 ren2 / jun ren / junren
chün jen / chünjen
Bushi Kai
武士會

---

武士会
bu shi kai / bushikai
In some entries above you will see that characters have different versions above and below a line.
In these cases, the characters above the line are Traditional Chinese, while the ones below are Simplified Chinese.
Many custom options...




And formats...




All of our calligraphy wall scrolls are handmade.
When the calligrapher finishes creating your artwork, it is taken to my art mounting workshop in Beijing where a wall scroll is made by hand from a combination of silk, rice paper, and wood.
After we create your wall scroll, it takes at least two weeks for air mail delivery from Beijing to you.
Allow a few weeks for delivery. Rush service speeds it up by a week or two for $10!
When you select your calligraphy, you'll be taken to another page where you can choose various custom options.
An Introduction to the Wuxia Genre
...are not familiar with it is to define it as Chinese swords and sorcery.
... In The Chinese Knight-Errant, eight common attributes of the xia are listed as...
Knight-Oriental
The Knight (KN) of Chinese chess moves in a 2 x 1 or 1 x 2 manner.
... and during the middle game are useful in spearheading the attack (Chinese chess)...
A few inspiring articles in Chinese - BioWare's Official Jade Empire Site
...basically compares and contrasts the Chinese "Knight-Errant" (Yu-xia) from its ... However, the Chinese Knight-Errants had their own strong moral/heroic code that...
Exotic Chess
Chinese Fish Pawn. Forward to move or capture, or one ... Knight. 2,1 jumper. Rider. Unlimited 2,1 jumps in one direction. Chinese Knight. Cannot jump.
Mao / Chinese Knight [Retro Corner]
The Retrograde Analysis Corner. Home -> Retro Corner -> Glossary Mail. Mao, a.k.a. Chinese Knight ... the usual (1,2) knight displacement but decomposes it...
Factmonster Search: knight
Chinese New Year. 2007 Calendar. Reference Desk. Atlas. Almanacs. Dictionary. Encyclopedia ... Phil Knight (Kids' Almanac - People)...
Phil Knight: The Force Behind Nike
Phil Knight built a successful business by selling shoes.
... almost dreamy mien and his affinity for all things Asian, especially Japanese.
Knight Toolworks - Wooden Planes
Japanese plane iron upgrade ... Japanese Style Plane ... These are custom built for Knight Toolworks. Japanese irons for only $100.00 extra.
YouTube - knight rider intro
...it like this: Michael Knight, son of a bitch and ... Japanese Knight Rider Intro. 00:26. From: b1dover. Views: 10939. Lada Rider. 01:18. From: b1dover...
The Japanese Samurai Versus The European Knight
For six centuries the medieval knight dominated the battlefield and influenced ... played an important role in Japanese history from the nation's beginning, the...
Shogi - Japanese Chess
The knight moves one square forward and then one square diagonally, left or ... once it has entered the promotion zone and the promoted knight looks like this:...