Buy a wall scroll with Israel in Chinese or Japanese.
Learn how the name Israel is written in Chinese and Japanese. Decorate your home with a cool wall scroll that says Israel.
---
---
God of Zion / God of Abraham

上帝 is how Chinese Christians and Jews refer to God, AKA The Judeo-Christian God.

There are Chinese Jews whose ancestry dates back to Jewish traders on the silk road. They are known as the Kaifeng Jews. Most have left China for Israel now.

There are also plenty of Christians in China of the Protestant and Catholic varieties. However, the churches are basically run by the government, and the Chinese Catholic church does not recognize the Pope.

Oddly, in my experience, I found the Chinese Protestant church to be much less political compared to Baptist and other Protestant churches that I have visited in America.

上帝 is also the typically-used title for God in Japanese.

While you may find this term in old Korean dictionaries, it is an obscure and rarely-used title for God in modern Korean.
---
See Also: Christianity | Jesus Christ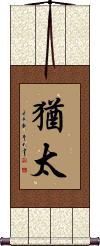 猶太 is the title for Jews or the adjective for being Jewish in Chinese.

You may be surprised to learn there are still a few native Jews in China (though many ethnic Jews moved to Israel). It's believed that they are descendants of traders who traveled the silk road between the Middle East and the Orient.

巴勒斯坦 is the Chinese name for Palestine.

Currently, this refers to the Palestinian territories (collectively the territories of the West Bank and the Gaza Strip) but will still be the same title if a state of Palestine is established.
---
See Also: Asia
The following table may be helpful for those studying Chinese or Japanese...
Title
Characters
Romaji

(Romanized Japanese)

Various forms of Romanized Chinese
God of Zion
God of Abraham
上帝
joutei / jotei
shàng dì / shang4 di4 / shang di / shangdi
shang ti / shangti
Idan
伊丹
yī dān / yi1 dan1 / yi dan / yidan
i tan / itan
Israel
以色列
yǐ sè liè

---

yi3 se4 lie4

---

yi se lie

---

yiselie
i se lieh

---

iselieh
Israel
イスラエル
i su ra e ru

---

isuraeru
Israel
伊斯雷爾

---

伊斯雷尔
yī sī léi ěr

---

yi1 si1 lei2 er3

---

yi si lei er

---

yisileier
i ssu lei erh

---

issuleierh
Jew
Jewish
猶太

---

犹太
yóu tài / you2 tai4 / you tai / youtai
yu t`ai / yutai / yu tai
Palestine
巴勒斯坦
bā lè sī tǎn

---

ba1 le4 si1 tan3

---

ba le si tan

---

balesitan
pa le ssu t`an

---

palessutan

---

pa le ssu tan
In some entries above you will see that characters have different versions above and below a line.
In these cases, the characters above the line are Traditional Chinese, while the ones below are Simplified Chinese.
All of our calligraphy wall scrolls are handmade.
When the calligrapher finishes creating your artwork, it is taken to my art mounting workshop in Beijing where a wall scroll is made by hand from a combination of silk, rice paper, and wood.
After we create your wall scroll, it takes at least two weeks for air mail delivery from Beijing to you.
Allow a few weeks for delivery. Rush service speeds it up by a week or two for $10!
When you select your calligraphy, you'll be taken to another page where you can choose various custom options.