Buy a wall scroll with Fancy in Chinese or Japanese.
Learn how the name Fancy is written in Chinese and Japanese. Decorate your home with a cool wall scroll that says Fancy.
Beauty Shop / Beauty Salon

美容店 is how to write "Beauty Shop" or "Beauty Salon."

If you own such a business, this would make a nice wall scroll to hang up - and many of your Asian customers will be able to read and appreciate it.

When traveling in China, you will see signs like this in the window of any place that offers full services of hair styling, manicures, pedicures, and often shampoo with head and back massage.

However, as a handmade wall scroll, this becomes a very fancy piece of artwork that shows the high class of your business (a great sign for your window, if you don't get direct sunlight).
Fancy Nails
(Special Business Name)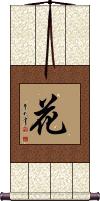 花 is the simple way to write "flower" in Chinese, Japanese, and old Korean. It can also mean blossoms or can refer to a fancy or assorted pattern.

Note: In some context it can mean "spend money." However, as a single character, it will be read as "flower."

This has the meaning of Xochitl (flower) in Spanish, so if your name is Xochitl, I suggest this character to represent your name.

More random information about this character:
花 is the Korean surname spelled as "Hwa" before the Korean Romanization reformation of 2000-2001.
It's also a somewhat common given name in China (for females).
花 is a borrowed word from Chinese, so it sounds similar in Chinese and Korean.
Four Noble Truths: Desire and Attachment
Samudaya

At the core of suffering is often the concept of desire or attachment.

This can be carnal desire, monetary desire, or the attachment you have to something that you are unwilling to part with (such as a fancy car). 集諦 is a simplification of the second noble truth which is really and exploration into the root causes of suffering - it's deeper than I can go in a few sentences.
---
See Also: Buddhism | Enlightenment

While known in the west as fu dogs or foo dogs, these are actually guardian lions.

These are the lion statues traditionally placed at the entrance of Chinese imperial palaces, imperial tombs, temples, and high-ranking officials' homes. These days, you are more likely to see them at the entrance to a fancy Chinese restaurant.

This title actually means, "stone lion(s)".
The Single Life
Dokushin-Kizoku

This Japanese proverb literally means "Single Aristocrat" or "Single Noble."

The understood meaning is that single people can live freely without a spouse or kids to support. To put it in an old cliché, they are footloose and fancy-free.

If you are a bachelor or bachelorette with few responsibilities and just a thirst for freedom and a worry-free life, this could be the title for you.

This Chinese word literally means "mountain villa".

It can also be translated as manor house or just villa. 山莊 is used in hotel names and other fancy titles.
A Traditional Warm Welcome

This would be the ultimate Chinese "welcome mat." Except it will be on your wall, and people will not step on it.

In a somewhat literal translation, you could say it means, "I feel happiness as I welcome you, as you have brought a shining light to this place with your arrival" or in a more simple way, "I am happy you've come as your presents really brightens up the place."

It has become common for this greeting to be announced by the staff upon the arrival of any customer in to a fancy store in China. You will also see these characters on the "welcome mats" in front of 4 and 5 star hotels in China.

Having this on a wall scroll is an extra nice touch. I have seen a few horizontal scrolls with this phrase on the wall behind the reception desk of better hotels, or near the front door of fine shops. At the most fancy department stores and restaurants in China, several greeters (almost always young women) will stand by the front door all wearing sashes with this phrase embroidered on them. As you walk in, they will bow and say "huan ying guang lin" to welcome you to the establishment.

Note: The first two and last two characters do make words in Korean Hanja but seldom used as a sentence like this in Korean.
Woman
The ancient way to say Woman

巾幗 is the very old way to say woman in Chinese.

A common title ancient China, this actually refers to the scarf or head wrapping worn by virtually all women at that time.

巾幗 is kind of a cool way to say Woman now. The actual gender character alone on a wall scroll would actually just look like a fancy sign for the woman's restroom (WC).


If you are curious, the character to the right directly means female or woman. 巾幗 is useful information if you are a woman in need of a toilet in China.
This in-stock artwork might be what you are looking for, and ships right away...
The following table may be helpful for those studying Chinese or Japanese...
Title
Characters
Romaji

(Romanized Japanese)

Various forms of Romanized Chinese
Beauty Shop
Beauty Salon
美容店
měi róng diàn

---

mei3 rong2 dian4

---

mei rong dian

---

meirongdian
mei jung tien

---

meijungtien
Fancy
范茜
fàn qiàn / fan4 qian4 / fan qian / fanqian
fan ch`ien / fanchien / fan chien
Fancy Nails
時尚甲

---

时尚甲
shí shàng jiǎ

---

shi2 shang4 jia3

---

shi shang jia

---

shishangjia
shih shang chia

---

shihshangchia
Flower
花
hana
huā / hua1 / hua
Four Noble Truths: Desire and Attachment
集諦

---

集谛
jittai
jí dì / ji2 di4 / ji di / jidi
chi ti / chiti
Fu Dog
Foo Dog
石獅子

---

石狮子
shí shī zi

---

shi2 shi1 zi5

---

shi shi zi

---

shishizi
shih shih tzu

---

shihshihtzu
The Single Life
独身貴族 / 獨身貴族

---

独身贵族
do kushin ki zoku

---

dokushinkizoku
Mountain Villa
山莊

---

山庄
shān zhuāng

---

shan1 zhuang1

---

shan zhuang

---

shanzhuang
shan chuang

---

shanchuang
A Traditional Warm Welcome
歡迎光臨

---

欢迎光临
huān yíng guāng lín

---

huan1 ying2 guang1 lin2

---

huan ying guang lin

---

huanyingguanglin
huan ying kuang lin

---

huanyingkuanglin
Woman
巾幗

---

巾帼
jīn guó / jin1 guo2 / jin guo / jinguo
chin kuo / chinkuo
In some entries above you will see that characters have different versions above and below a line.
In these cases, the characters above the line are Traditional Chinese, while the ones below are Simplified Chinese.
Many custom options...




And formats...




All of our calligraphy wall scrolls are handmade.
When the calligrapher finishes creating your artwork, it is taken to my art mounting workshop in Beijing where a wall scroll is made by hand from a combination of silk, rice paper, and wood.
After we create your wall scroll, it takes at least two weeks for air mail delivery from Beijing to you.
Allow a few weeks for delivery. Rush service speeds it up by a week or two for $10!
When you select your calligraphy, you'll be taken to another page where you can choose various custom options.
Chinese Clothing,Chinese dress,Cheongsam,Qipao,Kungfu uniform ...
Fancy Lanterns. Fancy lanterns, a special handicraft product of Chinese tradition ... Chinese, Chinese name translation service available at Bravochina.com. Three options to...
Chinese Names, Chinese Family Name and Given Names
Chinese names information about the meanings, tradition and characteristics of Chinese (famliy) surnames and last (given) names list as well as how to address Chinese...
Your Fancy China Photos
We say set your table with your fancy China even if you're serving the most mundane of ... Is this correct? Photo Caption (name, location, etc.) Max 400 Chars
Chinese Students Pick Fantasy English Names : NPR
Many Chinese students choose an English name when they start to learn the language. The choice of names often involves flights of fancy, a desire to invent an...
CHINESE BABY NAMES: Meet little Larry from ...
... overrule her students' right to choose - when on her first day of class, one of her male pupils chose the English name " Fancy." Other Chinese might borrow names...