Not what you want?
Try other similar-meaning words, fewer words, or just one word.

Enter your email below, and get an automatic notice when results for Politeness are added or updated...
Politeness in Chinese / Japanese...
Buy a Politeness calligraphy wall scroll here!
Personalize your custom "Politeness" project by clicking the button next to your favorite "Politeness" title below...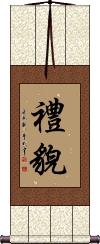 禮貌 is a Chinese and old Korean word that means courtesy or politeness.

Courtesy is being polite and having good manners. When you speak and act courteously, you give others a feeling of being valued and respected. Greet people pleasantly. Bring courtesy home. Your family needs it most of all. Courtesy helps life to go smoothly.
---
If you put the words "fēi cháng bù" in front of this, it is like adding "very much not." it's a great insult in China, as nobody wants to be called "extremely discourteous" or "very much impolite."
---
The Five Tenets of Confucius
The Five Cardinal Rules / Virtues of Confucius

仁義禮智信 are the core of Confucius philosophy.

Simply stated:
仁 = Benevolence / Charity
義 = Justice / Rectitude
禮 = Courtesy / Politeness / Tact
智 = Wisdom / Knowledge
信 = Fidelity / Trust / Sincerity

Many of these concepts can be found in various religious teachings. Though it should be clearly understood that Confucianism is not a religion but should instead be considered a moral code for a proper and civilized society.

This title is also labeled, "5 Confucian virtues".
---

If you order this from the Japanese calligrapher, expect the middle Kanji to be written in a more simple form (as seen to the right). This can also be romanized as "jin gi rei satoshi shin" in Japanese. Not all Japanese will recognize this as Confucian tenets but they will know all the meanings of the characters.
---
See Also: Confucius Teachings | Ethics
Respect
Politeness, Gratitude and Propriety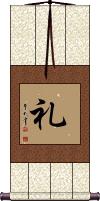 We show respect by speaking and acting with courtesy. We treat others with dignity and honor the rules of our family, school, and nation. Respect yourself, and others will respect you.

礼 is also one of the five tenets of Confucius.

礼, beyond respect, can also be translated as propriety, good manners, politeness, rite, worship or an expression of gratitude.



Please note that Japanese use this simplified 礼 version of the original 禮 character for respect. 礼 also happens to be the same simplification used in mainland China. While 禮 is the traditional and original version, 礼 has been used as a shorthand version for many centuries. Click on the big 禮 character to the right if you want the Traditional Chinese and older Japanese version.
---
This is also a virtue of the Samurai Warrior
See our page with just Code of the Samurai / Bushido here
---
See Also: Confucius
The following table may be helpful for those studying Chinese or Japanese...
Title
Characters
Romaji

(Romanized Japanese)

Various forms of Romanized Chinese
Courtesy
Politeness
禮貌

---

礼貌
lǐ mào / li3 mao4 / li mao / limao
The Five Tenets of Confucius
仁義禮智信

---

仁义礼智信
jin gi rei tomo nobu

---

jingireitomonobu
rén yì lǐ zhì xìn

---

ren2 yi4 li3 zhi4 xin4

---

ren yi li zhi xin

---

renyilizhixin
jen i li chih hsin

---

jenilichihhsin
Respect
禮

---

礼
rei
lǐ / li3 / li
In some entries above you will see that characters have different versions above and below a line.
In these cases, the characters above the line are Traditional Chinese, while the ones below are Simplified Chinese.
Not the results for politeness that you were looking for?
Below are some entries from our dictionary that may match your politeness search...
Characters

If shown, 2nd row is Simp. Chinese

Pronunciation
Romanization
Simple Dictionary Definition

さん

see styles
san
さん

まし

see styles
mashi
まし

ませ

see styles
mase
ませ

五常

see styles
wǔ cháng
wu3 chang2

---

wu ch`ang
wu chang

---

gojou / gojo
ごじょう

---

the five cardinal Confucian virtues (justice, politeness, wisdom, fidelity and benevolence); (place-name) Gojou

---

five constant [virtues]

慇懃

---

殷勤

see styles
yīn qín
yin1 qin2

---

yin ch`in
yin chin

---

ingin
いんぎん

---

Zealous, careful; zealous

懇到

see styles
kontou / konto
こんとう

礼節

see styles
reisetsu / resetsu
れいせつ

還禮

---

还礼

see styles
huán lǐ
huan2 li3

---

huan li

---

genrei

---

還拜; 還香 Return of courtesy, of a salute, of incense offered, etc; return of courtesy

客氣話

---

客气话

see styles
kè qi huà
ke4 qi5 hua4

---

k`o ch`i hua
ko chi hua

やさんす

see styles
yasansu
やさんす

別太客氣

---

别太客气

see styles
bié tài kè qi
bie2 tai4 ke4 qi5

---

pieh t`ai k`o ch`i
pieh tai ko chi

毫不客氣

---

毫不客气

see styles
háo bù kè qi
hao2 bu4 ke4 qi5

---

hao pu k`o ch`i
hao pu ko chi

社交辞令

see styles
shakoujirei / shakojire
しゃこうじれい

禮尚往來

---

礼尚往来

see styles
lǐ shàng wǎng lái
li3 shang4 wang3 lai2

---

li shang wang lai

閑居十德

---

闲居十德

see styles
xián jū shí dé
xian2 ju1 shi2 de2

---

hsien chü shih te

---

kanko juttoku

馬鹿慇懃

see styles
bakaingin
ばかいんぎん

Variations:
ませ
まし

see styles
mase; mashi
ませ; まし
(auxiliary) (1) (polite language) (following the imperative form of an honorific verb; used to make a polite request or demand) (See ます・1) please; (auxiliary) (2) (polite language) used to increase the politeness of a greeting

やしゃます

see styles
yashamasu
やしゃます

やしゃんす

see styles
yashansu
やしゃんす

エチケット

see styles
echiketto
エチケット

礼儀正しさ

see styles
reigitadashisa / regitadashisa
れいぎただしさ

ポライトネス

see styles
poraitonesu
ポライトネス

Variations:
やさんす
やしゃんす
やしゃます

see styles
yasansu; yashansu; yashamasu
やさんす; やしゃんす; やしゃます
(auxiliary verb) (archaism) (feminine speech) (polite language) (after a monosyllable imperfective form verb) indicates respect for the one performing an action and politeness to the listener
Many custom options...




And formats...



Successful Chinese Character and Japanese Kanji calligraphy searches within the last few hours...
All of our calligraphy wall scrolls are handmade.
When the calligrapher finishes creating your artwork, it is taken to my art mounting workshop in Beijing where a wall scroll is made by hand from a combination of silk, rice paper, and wood.
After we create your wall scroll, it takes at least two weeks for air mail delivery from Beijing to you.
Allow a few weeks for delivery. Rush service speeds it up by a week or two for $10!
When you select your calligraphy, you'll be taken to another page where you can choose various custom options.
Check out my lists of Japanese Kanji Calligraphy Wall Scrolls and Old Korean Hanja Calligraphy Wall Scrolls.
Some people may refer to this entry as Politeness Kanji, Politeness Characters, Politeness in Mandarin Chinese, Politeness Characters, Politeness in Chinese Writing, Politeness in Japanese Writing, Politeness in Asian Writing, Politeness Ideograms, Chinese Politeness symbols, Politeness Hieroglyphics, Politeness Glyphs, Politeness in Chinese Letters, Politeness Hanzi, Politeness in Japanese Kanji, Politeness Pictograms, Politeness in the Chinese Written-Language, or Politeness in the Japanese Written-Language.
26 people have searched for Politeness in Chinese or Japanese in the past year.
Politeness was last searched for by someone else on Apr 19th, 2021