Your search for Chrysanthemum found 4 items
Search Results for Chrysanthemum
Gallery Price: $108.00
Your Price: $59.88
Gallery Price: $108.00
Your Price: $59.88
Gallery Price: $117.00
Your Price: $64.88
Gallery Price: $108.00
Your Price: $59.88
Chrysanthemum
Custom Chrysanthemum Calligraphy Scrolls...
These 2 Chrysanthemum titles can be completely customized and delivered in several weeks. Prices vary widely depending on the calligrapher and other custom options you chose.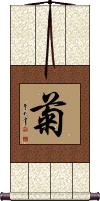 菊 is the most simple way to say chrysanthemum in Chinese, Japanese Kanji, and old Korean Hanja.
Typical price range:
$39.88 - $78.88
Typical price range:
$43.88 - $82.88
Many custom options...




And formats...