Buy a wall scroll with Roman in Chinese or Japanese.
Learn how the name Roman is written in Chinese and Japanese. Decorate your home with a cool wall scroll that says Roman.
---
---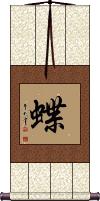 蝶 is the simplest way to write "butterfly" in Chinese, Japanese and Korean.

If you are looking at the Chinese pronunciation and Romanization, please note this is not pronounced like the English "die".
It actually sounds like "dee-ah". (Chinese Romanization does not exactly follow English or Latin pronunciation of Roman letters).

サスケ is the Japanese title of the TV show, Sasuke Rising.

サスケ is the original Japanese TV show that inspired the American Ninja Warrior, Ninja Warrior UK, and other variations.

It should be noted that in Japan, the shows title is usually displayed in capital Roman letters as "SASUKE", rather than the Japanese text, サスケ. Although, both titles are known in Japan (you'd probably need to search for サスケ if looking to buy a Sasuke DVD in Japan).
---
Note: Because this title is entirely Japanese Katakana, it should be written by a Japanese calligrapher.
The following table may be helpful for those studying Chinese or Japanese...
Title
Characters
Romaji

(Romanized Japanese)

Various forms of Romanized Chinese
Butterfly
蝶
chou / cho
dié / die2 / die
tieh
Nero
尼祿

---

尼禄
ní lǜ / ni2 lv4 / ni lv / nilv
ni lü / nilü
Roman
羅曼

---

罗曼
luō màn / luo1 man4 / luo man / luoman
lo man / loman
Roman
ロマン
roman
Sasuke
サスケ
sasuke
Venus
ヴィーナス
viinasu / vinasu
In some entries above you will see that characters have different versions above and below a line.
In these cases, the characters above the line are Traditional Chinese, while the ones below are Simplified Chinese.
All of our calligraphy wall scrolls are handmade.
When the calligrapher finishes creating your artwork, it is taken to my art mounting workshop in Beijing where a wall scroll is made by hand from a combination of silk, rice paper, and wood.
After we create your wall scroll, it takes at least two weeks for air mail delivery from Beijing to you.
Allow a few weeks for delivery. Rush service speeds it up by a week or two for $10!
When you select your calligraphy, you'll be taken to another page where you can choose various custom options.
Making Chinese Roman: Main Systems for Romanizing Mandarin ...
No, by "romanizing" Chinese, we mean using the letters of the Roman alphabet (you know, "A, B, C ... terms compare, take a look at these well-known Chinese names...
Roman in Chinese Characters and Japanese Kanji Symbols ...
This character can also be the Chinese family name roman ized as, "Lan". However, it is not the only character that can be roman ized as Lan. In Japanese and Korean, this...
Lost Roman Chinese Legion | Fr. Z's Blog -- What Does The ...
Chinese villagers descended from Roman soldiers' By ... is an ancient name for Rome, and Chinese antropologists note some customs with bulls that they link to the Roman...
beyond the creased spine: Roman city in China?
Soon after the battle, there was a town founded in Gansu called "Lijien," which was the Chinese name for Alexandria and the Roman Empire as a whole.
The Maccabeees' Menorah and Titus' Menorah
The eagles were, of course, the best-know
symbol
of
Roman
sovereignty.
... argue for its Jewish origins, they cannot offset the strong
Roman
influence perceptible...
Roman Numerals
The Roman Symbols
.
The
Romans used a special method of showing numbers, ... Don't use the same
symbol
more than three times in a row. Tip: Break the number into...
Abstract Guitars & Basses - Abstract Symbol Guitar - Ed Roman ...
Abstarct
Symbol
Guitar, Made in the Ed
Roman
Custom Shop in Las Vegas ... Let the Ed
Roman
Custom Shop build one for you!!! Made in the USA...
Roman Times: Symbols of Roman vox populi to get scrubbed
The Romans use antiquties for this purpose while here in Eugene, Oregon, we must be content with posting ... is recognized for totally restructuring
the Roman
Army and...
Roman Catholic High School - Home
Roman
Catholic High School in the heart of Philadelphia
On the use of italic and roman fonts for symbols in ...
On the use of italic and
roman
fonts
for symbols
in scientific text ... The general rules concerning the use of an italic (sloping) font or a
roman
(upright)...
Roman Dance
An amphitheatre in a community became a prized
symbol
of
Roman
citizenship in the outlying areas of Italy.
... of concrete to substitute for stone in building in the first...
CoinZappers - Hosted by RomanCoins.Net - Glossary of ...
This is the #1 source on the net to buy and learn about
Roman
Coins.
... The rudder of a ship is frequently found on
Roman
coins and was a
symbol
of their military power.
Roman Numeral Arithmetic
Of course, if a subtractive appears with a I, X, or C to the left of a "larger"
symbol
, we need to substitute the pair for the correct numeric value. to
Roman
...
Roman numerals
The seven key
symbols
in
Roman
numerals are I (1), V (5), X(10), L ... When a
symbol
is proceeded by a
symbol
of less value, the represented quantity is...