---
About My Giclée Prints
I'm really into this as a hobby more than a business, but that means I have more dedication to the art than the profit. I love to experiment with different papers and graphic designs until I find the perfect combination. Quality really matters to me, and is also more important than profit. There's another fine art print shop down the street that charges twice as much as I do - so maybe I am doing something wrong, but you benefit from my folly.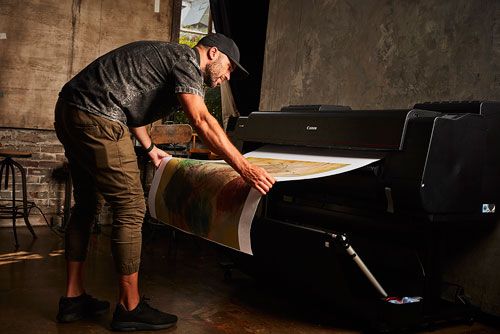 A photographer that I admire, Jeremy Cowart, and his Canon imagePROGRAF PRO Series printer.
It took me a few years to find just the right fine art giclée printer.
The first printer handled the handmade papers from Japan and China really well, but the dye-based ink could fade in direct sunlight (dye-based inks are not good for long-lasting art).
The next printer was a huge HP DesignJet. I spent almost $7000 on the used printer, new heads, and new ink tanks just get it going. However, it constantly jammed when trying to feed these fine papers. I sold it for $1200 - ouch!
I finally bought a wonderful Canon imagePROGRAF PRO Series. A big investment (printer and initial ink, about $6000) but this time it was a good investment.

This Canon printer has 18,432 nozzles and can fire more than 32 Million precision droplets of ink per second. Your home inkjet printer cannot compete with that.
There are 12 ink tanks, and with so many ink colors, the gamut is excellent.
This printer can reproduce any color the human eye can perceive, and the gradients and tones are smooth and, well, perfect.

I use only authentic Canon Lucia Pro pigment-based inks. This ink is archival and UV-resistant. In independent laboratory testing, giclée prints created with this ink are rated to last 95 years without fading (but still don't hang this in direct sunlight). I figure you'll get a lifetime of enjoyment if you take good care of this artwork.
Want a customized wall scroll or custom-sized print? Just contact me!
I can print this larger, on the paper texture of your choice, and give you whatever silk brocade colors you want. Ready-to-frame prints can be delivered in a few days. However, it does take several weeks for custom wall scrolls. Either way, it's worth the wait if you want something really custom and unique.