We are taking a family vacation during this Thanksgiving week. Anything you order now will be reserved for you, and shipped on Monday Nov 27th.
Ships from:

---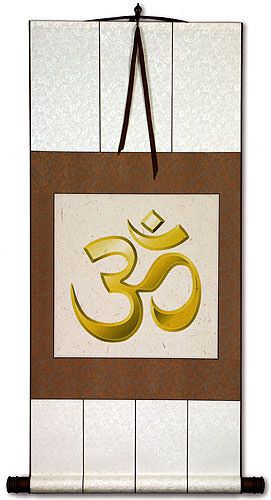 Approximate Measurements
Artwork Panel: 32.3cm x 32.3cm ≈ 12¾" x 12¾"
Silk/Brocade: 41.9cm x 91.9cm ≈ 16½" x 36¼"
Width at Wooden Knobs: 50.9cm ≈ 20"
Information about caring for your wall scroll

See Larger Image
ॐ Om
This is a print of the sacred Om symbol (sometimes romanized as "Aum"). This symbol is used in various Dharmic religions such as Hinduism, Buddhism and Jainism. Most will associate this as a mantra and mystical sound of Hindu origin.

This is printed on handmade/handpressed Chinese xuan paper with a high-fiber content (you will see lots of natural husks and fibers pressed into this paper). The artwork was then mounted to to a handmade two-tone silk brocade wall scroll.

The result is a beautiful and elegant presentation of Om.

The print was created on a $4000+ commercial printer with German UV-resistant ink. The fine lines and complex geometry would make it impractical to paint this artwork by hand (or at the very least, it would cost 3x more if inked by hand).
This item was listed or modified
Mar 16th, 2015

Printer Friendly
Version
Gary's random little things about China:
Where's my fortune cookie?
So after traveling to China, you have just finished your first meal in a real Chinese restaurant.
But the bill comes, and the waiter forgot to bring everyone their fortune cookies!
Well, actually not...
You see, fortune cookies did not come from China (at least not directly).
One legend has it in the late 1800s or early 1900s, a Chinese man running a noodle making shop in San Francisco accidentally mixed a bunch of sugar in his dough, and didn't want to waste it. So he made cookies and stuck papers with people's fortunes on them as a novelty.
In the end, it's really the Chinese visitors to America that are confused when the waiter brings them a blob of sugary noodle dough with a piece of paper stuck in it.