It's not too late! We can deliver custom Chinese calligraphy art to the USA before Christmas! Order now!
• Delivered to you in Ashburn by Dec 18th.
• All U.S. orders ship for just $3.80 total.
• Limited Edition Print - Just a couple left.
• Fine Art Giclée Print.
• Handmade Wall Scroll.
• Money-Back Guarantee.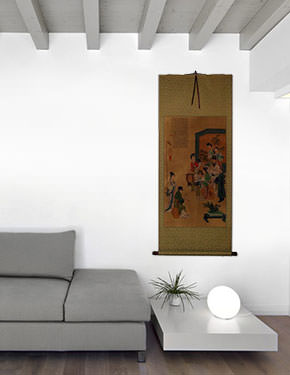 This artwork will look great in your home or office.



Music After the Evening Meal - Antique-Style Wall Scroll
This wall scroll features seven female musicians creating music for their master in ancient China. However, the Chinese title written on this work means "Evening Feast Painting".
This wall scroll is designed to have a classic look (like an antique).

It should be noted that this is a "partial print". The black detailed lines were printed on the special handmade paper. We don't do a lot of partial prints like this, but many people kept requesting antique-styled wall scrolls. I finally picked some up on my last trip.

The use of the printing process for this artwork keeps the price of the artwork affordable (it would be more than 3 times more if this was 100% hand-painted). All of the colored portions are hand-painted.
This item was listed or modified
Jan 30th, 2019
Related and Recommended Items...
Gallery Price: $200.00
Your Price: $78.88
Gallery Price: $200.00
Your Price: $78.88
Gallery Price: $200.00
Your Price: $78.88