Want it by Wednesday?
Order in the next 26 hours and 17 minutes
• Delivered to you in Ashburn by Nov 20th.
• All U.S. orders ship for just $3.80 total.
• Limited Edition Print - Just a couple left.
• Fine Art Giclée Print.
• Handmade Wall Scroll.
• Money-Back Guarantee.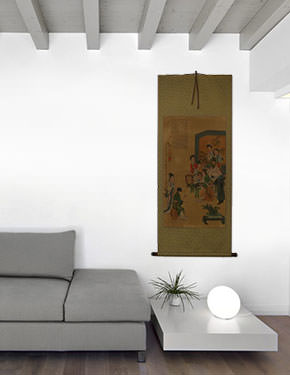 This artwork will look great in your home or office.
Music After the Evening Meal - Antique-Style Wall Scroll
This wall scroll features seven female musicians creating music for their master in ancient China. However, the Chinese title is a long complicated poetic-style passage about ladies of the evening and many other subjects.
This wall scroll is designed to have a classic look (like an antique).

It should be noted that this is a "partial print". The black detailed lines were printed on the special handmade paper. We don't do a lot of partial prints like this, but many people kept requesting antique-styled wall scrolls. I finally picked some up on my last trip.

The use of the printing process for this artwork keeps the price of the artwork affordable (it would be more than 3 times more if this was 100% hand-painted). All of the colored portions are hand-painted.
This item was listed or modified
Apr 16th, 2013
Related and Recommended Items...
Gallery Price: $200.00
Your Price: $78.88
Gallery Price: $200.00
Your Price: $78.88
Gallery Price: $200.00
Your Price: $78.88