Dragon Symbol
Chinese Symbol Wall Scroll

This Chinese character is "long" which means dragon.
(Note: This "long" is not English, so the "o" vowel sound is more like "oh" in English)
In Chinese culture, the dragon represents power and for many generations, only the emperor could dare to wear the symbol of a dragon on their clothing.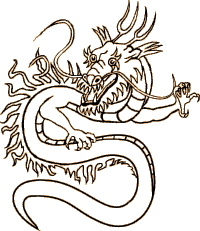 If you hang this on your wall, it indicates that you are strong and powerful. A great gift for a corporate executive with a chip on his shoulder - lol.
This is probably the most popular Chinese character for tattoos these days. You'll see it on the shoulders of pro-basketball players, and on the hips of pop star divas. Of course, half of them have no idea what this symbol means, and the other half incorrectly think it directly means "warrior" or "power".
Of course, long before it became a tattoo staple, the mythological dragon roamed the earth - at least in the legends and minds of Asian people.
The history of the dragon is hidden deep in myth and history. Drawings and symbols of this mythological animal can be traced back to prehistoric tribal peoples of China. Evidence of the dragon's importance in Chinese culture can be traced to dragon figures and other artifacts unearthed from the Yin Dynasty (3000 years ago).
---
About the calligrapher:
I met Cao Bin years ago, and long before his fame. At that time, his wife was running a small house cleaning business. One day she was tidying up my mother-in-law's home in Beijing and overheard that I am in the business of selling Chinese calligraphy and artwork. She asked if I'd like to meet her husband who was a pretty good calligrapher as she described him with modesty.

The next evening, I visited his modest studio and saw some really nice calligraphy and great black ink bamboo paintings that he'd just finished. After a lot of tea drinking and chatting, I asked if I could commission a few pieces.

Through the years, I would occasionally buy a few more pieces, not realizing how famous he had become. I might pop by his studio, only to hear from his wife that he was down in Anhui receiving an award for his calligraphy (calligraphy competitions are comparable to the fervor that sports championships have in the rest of the world). It finally dawned on me that this man I had known for about 7 years was a premier calligrapher for whom books had been published featuring his work, and the recipient of numerous awards.

The best part is that I have guanxi (a word that kind of means "special relationship" in Chinese), he gives me better prices than anyone else. This really fits well with my philosophy to offer high quality Asian artwork that everyone can afford.
---
More about the artwork:
This is painted on xuan paper (often incorrectly called "rice paper"). The raw artwork was then taken to my workshop in east Beijing where the master mounter built it into a handmade wall scroll.
This item was listed or modified
Jun 30th, 2018