Ships from:

This artwork is
100% hand-painted.
---
Peace / Harmony Symbol Wall Scroll
---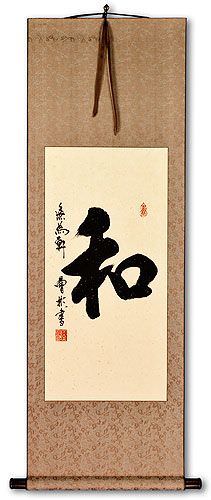 Peace / Harmony Symbol
Reason for discount: This has a faint wrinkle or line in the paper. It can only be seen if light hits the artwork at certain angles. This was painted by a master calligrapher. Value if perfect: $72.88
This item was listed or modified
Mar 20th, 2018
Gary's random little things about China:
Where's my fortune cookie?
So after traveling to China, you have just finished your first meal in a real Chinese restaurant.
But the bill comes, and the waiter forgot to bring everyone their fortune cookies!
Well, actually not...
You see, fortune cookies did not come from China (at least not directly).
One legend has it in the late 1800s or early 1900s, a Chinese man running a noodle making shop in San Francisco accidentally mixed a bunch of sugar in his dough, and didn't want to waste it. So he made cookies and stuck papers with people's fortunes on them as a novelty.
In the end, it's really the Chinese visitors to America that are confused when the waiter brings them a blob of sugary noodle dough with a piece of paper stuck in it.
---