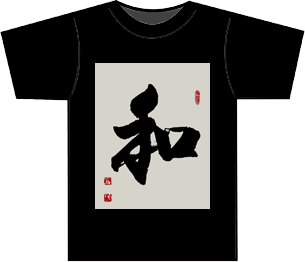 We are out of XL size. Please do not order XL.
This tee-shirt features a peace and harmony character. The calligraphy was by our master calligrapher Xing An-Ping of Beijing. The character itself is used in Chinese, Japanese Kanji, and old Korean Hanja.
We used a special process to make this shirt. We wanted a natural background that was somewhat like the xuan paper used on a wall scroll. We found that if we used a "discharge ink" when it was silk screened, we would have a dark black character that would virtually never fade (since it's the color of the tee-shirt itself). The character background actually bleaches out to the natural color of the cotton. We then used another screen to add the signature and personal stamps of the calligrapher.
The result: You get to wear a piece of artwork.

I spent two years working on this project until I was happy with the graphics and results of the tee-shirt. It's a very special shirt that I am sure you will treasure highly among your other tees.

This tee shirt was screened in the USA, just a few hundred feet from our small office in San Diego. The tee-shirt itself was made by All-Style (a very common brand seen often in the USA).
When you first receive the shirt, you will notice that the artwork panel area seems a bit stiff. After just one washing, this will go away, and you will only feel soft cotton on the whole front of the shirt. The only place you will feel a typical raised silk-screen area is the red signature seals.
This item was listed or modified
Feb 29th, 2016