Before purchasing, you must first contact Gary to work out the details of what you want. Start by emailing me at help@orientaloutpost.com telling me what you want. This is a personal service, so there are a lot of things to work out first.
The services on this page are specifically for your chop to be carved by Ling Hua. She will carefully design your chop, carve it by hand on a quality stone, and provide you with a one-of-a-kind stamp.
Here are some samples of what the print from various chop styles can look like:

Positive:

1

2

3

4

5

6

7

8

9

10

11

12

13

14
Negative or Reverse:

1

2

3

4

5

6

7

8

9

10

11

12

13

14
Ovals or Oblongs:

1
2

3

4

5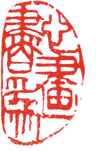 6
This item was listed or modified
Jul 18th, 2018
Gary's random little things about China:
Beijing/Peking Roast Duck:
If you order Peking Roast Duck, you should do so only in Beijing, China (anywhere else, it's just not the same).

A hot tip: Always ask how long it will take before the duck is served.
If they tell you any timeframe less than 30 minutes, change your mind and order the Kung Pao Chicken (Gong Bao Ji Ding) instead.
The reason: If they can serve Beijing Roast Duck in less than 30 minutes, that means you are getting "pre-cooked" duck.
If you have to "duck the duck", next time look for a restaurant with ducks hanging over an open wood fire.