Buy a wall scroll with Mary in Chinese or Japanese.
Learn how the name Mary is written in Chinese and Japanese. Decorate your home with a cool wall scroll that says Mary.
---
---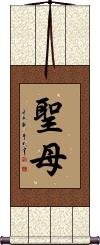 聖母 is the title for the Holy Mother, Madonna, or Virgin Mary as used by Catholic Chinese, Korean, and Japanese people.

I think this would be a very cool wall scroll for a devout Catholic who also appreciates Asian artwork and language.

Note: Koreans often put a third character after these two which creates a title that means "Hail Mary", however, this character is not added, or used in the same way in Japanese or Chinese. If you want that Korean title, just let me know, and we'll add that character for you. The two-character title shown to the left is universal, so I think it's the best choice.
The following table may be helpful for those studying Chinese or Japanese...
Title
Characters
Romaji

(Romanized Japanese)

Various forms of Romanized Chinese
Holy Mother
Saint Mary
聖母

---

圣母
seibo
shèng mǔ / sheng4 mu3 / sheng mu / shengmu
Mary
瑪麗

---

玛丽
mǎ lí / ma3 li2 / ma li / mali
Mary
メアリー
mearii / meari
Mary-Grace
瑪麗格雷斯

---

玛丽格雷斯
mǎ lì gé léi sī

---

ma3 li4 ge2 lei2 si1

---

ma li ge lei si

---

maligeleisi
ma li ko lei ssu

---

malikoleissu
Mary-Grace
メアリーグレース
meariigureesu

---

meariguresu
Mary-Lou
瑪麗璐

---

玛丽璐
mǎ lí lù

---

ma3 li2 lu4

---

ma li lu

---

malilu
Mary-Rose
瑪麗羅斯

---

玛丽罗斯
mǎ lì luó sī

---

ma3 li4 luo2 si1

---

ma li luo si

---

maliluosi
ma li lo ssu

---

malilossu
Mary-Rose
メアリーローズ
meariiroozu

---

mearirozu
Mary-Ann
瑪麗安

---

玛丽安
mǎ lì ān

---

ma3 li4 an1

---

ma li an

---

malian
Mary-Ann
メアリーアン
meariian / mearian
Mary-Jane
瑪麗簡

---

玛丽简
mǎ lì jiǎn

---

ma3 li4 jian3

---

ma li jian

---

malijian
ma li chien

---

malichien
Mary-Jane
マライジェーン
maraijeen / maraijen
Mary-Lou
メアリールー
mearii ruu / meariiruu / meari ru
In some entries above you will see that characters have different versions above and below a line.
In these cases, the characters above the line are Traditional Chinese, while the ones below are Simplified Chinese.
All of our calligraphy wall scrolls are handmade.
When the calligrapher finishes creating your artwork, it is taken to my art mounting workshop in Beijing where a wall scroll is made by hand from a combination of silk, rice paper, and wood.
After we create your wall scroll, it takes at least two weeks for air mail delivery from Beijing to you.
Allow a few weeks for delivery. Rush service speeds it up by a week or two for $10!
When you select your calligraphy, you'll be taken to another page where you can choose various custom options.
What does the name MARY mean?
What does the name MARY mean?
CHINESE NAME Mary - All About The Chinese Name Mary
Chinese Name Mary, EVERYTHING About It. Meanings: Horse; horse, one of the pieces in Chinese chess\Big\A surname. Sharp; fluent; favourable\Advantage; profit; wealth\To...
"Mary" in Chinese, calligraphy, pronunciation.
Your name in English, Chinese character, Pinyin pronunciation and Calligraphy.
Your name in Chinese - Calligraphy, pronunciation, tattoo
Names written in Chinese, transliteration in Chinese characters...
... Create your own Chinese Calligraphy with a character, a word, a sentence or any text.
Mary-Grace | Baby Names, Name Meaning, Popularity | BabyCenter
Use the expanded version of the Baby Name Explorer to search for names related to Mary-Grace ... Arabia (Arabic) Arabia (English) Australia Austria Brasil Canada China France Germany...
Origin and Meaning of Mary Ann - Baby Girl Name Mary Ann
The English Baby Girl Name Mary Ann means - a combination of Mary + Ann.
... African Baby Names - Hawaiian Baby Names - Russian Baby Names - Chinese Baby Names
THE SYMBOLS OF MARY
The Rose and the Violet: The Rose, is the symbol of the Blessed Virgin of prophecy, the rose plant bearing the flower, Christ, and exquisite beauty, and the fragrance left...
THE SYMBOLS OF MARY
The Lily: The Lily, symbol of virginity and purity. There is also a white day lily which only blooms during the time of the Assumption in mid-August and is known as...
Symbols and Attributes of the Virgin Mary
The SEALED Book is also a symbol often placed in the ... of sovereignty, was very early placed in the hand of ... in the German schools and those of Northern Italy.
IDLE SPECULATIONS: Symbols of the Virgin Mary
BRAY, Dirck de (active 1651-1678 in Haarlem) Still-Life with Symbols of the Virgin Mary 1672 Oil on panel, 37 x 31 cm Amstelkring Museum, Amsterdam
The Virgin Mary Becomes Pop Symbol
As Latino Catholics celebrate the festival of Our Lady of Guadalupe, how did this modern Virgin Mary become the symbol of gangsters, pro-lifers, and artists? Judith...