Buy a wall scroll with Louis in Chinese or Japanese.
We've carefully transliterated the name Louis into Mandarin Chinese and Japanese Katakana. Click a button below to see many custom calligraphy artwork options for Louis.

shèng

sei

성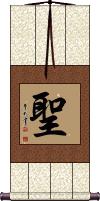 聖 is the simple, single-character religious form of "saint" in Chinese (also holds same meaning in Japanese and Korean, though rarely used alone like this).

This can also mean: holy, sage, master, or priest.
Note: 聖 is often used in compound words (words of more than one character) to create further meanings. In compounds, it can mean holy, sacred or divine.

聖 is also used as the first word for Spanish and English place names such as "San Diego" and "St. Louis" in Chinese (not Japanese).

In Buddhist context, this can represent ārya or sādhu. And mean a sage; wise and good; upright, or correct in all his character; sacred, holy, or saintly.
The following table may be helpful for those studying Chinese or Japanese...
Title
Characters
Romaji

(Romanized Japanese)

Various forms of Romanized Chinese
Jean-Louis
讓路易

---

让路易
ràng lù yì

---

rang4 lu4 yi4

---

rang lu yi

---

rangluyi
jang lu i

---

janglui
Louis
路易斯
lù yì sī

---

lu4 yi4 si1

---

lu yi si

---

luyisi
lu i ssu

---

luissu
Louis
ルイス
ruisu
Louis-Philippe
路易菲力浦
lù yì fēi lì pǔ

---

lu4 yi4 fei1 li4 pu3

---

lu yi fei li pu

---

luyifeilipu
lu i fei li p`u

---

luifeilipu

---

lu i fei li pu
The Saint
聖

---

圣
sei
shèng / sheng4 / sheng
In some entries above you will see that characters have different versions above and below a line.
In these cases, the characters above the line are Traditional Chinese, while the ones below are Simplified Chinese.
All of our calligraphy wall scrolls are handmade.
When the calligrapher finishes creating your artwork, it is taken to my art mounting workshop in Beijing where a wall scroll is made by hand from a combination of silk, rice paper, and wood.
After we create your wall scroll, it takes at least two weeks for air mail delivery from Beijing to you.
Allow a few weeks for delivery. Rush service speeds it up by a week or two for $10!
When you select your calligraphy, you'll be taken to another page where you can choose various custom options.
Which Chinese artists are among the big names at Louis ...
Which Chinese artists are among the big names at Louis Vuitton Passion show in Hong Kong? NY Times review
Louis in Chinese Characters and Japanese Kanji Symbols ...
This character is also used as the first word for Spanish and English place names such as "San Diego" and "St. Louis" in Chinese (not Japanese).
Louis
Chinese symbols for name Louis ... Chinese Symbols Clip-Art CD-ROM Over 1,200 words in Chinese symbols with high resolution JPEG format.
CHINESE NAME Louis - All About The Chinese Name Louis
Chinese Name Louis, EVERYTHING About It. Meanings: Road, way, path; journey, distance; way, means; sequence, line, logic, method; region, district, side; route; kind...
Baby Names: Louis
Chinese Birth Chart; Morning Sickness; Healthy Pregnancy Diet ... A common name among French royal and noble families. Louis XIV, also known as Louis the Great, ruled...
Chinese food in St. Louis - General Midwest Archive - Chowhound
I was wondering if any of you have suggestions for good, authentic Chinese food in St.Louis. I've tried the buffets at Eat First (what a dumb name!) o
Fleur-de-lis - Wikipedia, the free encyclopedia
... and in the 12th century Louis VI and Louis VII started to use the emblem, on sceptres for example, so connecting their rulership with this symbol of saintliness. Louis VII...
Book World: Louis Bayard Reviews Dan Brown's 'The Lost Symbol ...
What kind of mess has Harvard symbologist Robert Langdon got himself into now?
The Symbol of Louis Vuitton Designer Handbags
A century later, printed "Louis Vuitton Replica Handbags" sign this unique pattern monogram canvas bag
Answers.com - What is the ticker symbol for Louis Vuitton
Louiss Vuitton is owned by the French Conglomerate LVMH Moët Hennessy, Louis Vuitton S.A. It is traded under LVMH on the Euronext.
Louis XIV of France - Wikipedia, the free encyclopedia
Louis XIV (5 September 1638 - 1 September 1715), known as the Sun King, was King of France and of Navarre His reign, from 1643 to his death in 1715, began at the...