Buy a wall scroll with Kata in Chinese or Japanese.
We've carefully transliterated the name Kata into Mandarin Chinese and Japanese Katakana. Click a button below to see many custom calligraphy artwork options for Kata.

fāng

hou

방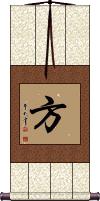 方 is the most common version of a Chinese surname that romanizes as Fong from Taiwan or Fang from mainland China.

The meaning of this character is square, upright, honest, fair and square, direction, place, or side. Sometimes 方 can refer to a method, prescription, or way of doing things.

In Japanese, this can be the given names Michi, Masani, Masashi,Tamotsu, Tadashi. It can also be Japanese surnames Hon, Hou, Ho, Fuon, Pan, Ban, Tokukata, or Kata.

xíng

kata

형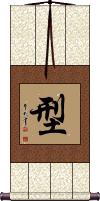 型 is often used in Japanese martial arts to mean a certain set of movements and techniques.

The meaning in other context (and in Chinese or Korean) can be model, type, style, pattern, mold, mould, template, or form.

One Japanese dictionary defines it as, "standard form of a movement, posture, etc. in martial arts, sport, etc."
The following table may be helpful for those studying Chinese or Japanese...
Title
Characters
Romaji

(Romanized Japanese)

Various forms of Romanized Chinese
Fong
Fang
方
hou / ho
fāng / fang1 / fang
Kata
卡塔
kǎ tǎ / ka3 ta3 / ka ta / kata
k`a t`a / kata / ka ta
Kata
型
kata
xíng / xing2 / xing
hsing
Saifa
砕破
sai fa / saifa
All of our calligraphy wall scrolls are handmade.
When the calligrapher finishes creating your artwork, it is taken to my art mounting workshop in Beijing where a wall scroll is made by hand from a combination of silk, rice paper, and wood.
After we create your wall scroll, it takes at least two weeks for air mail delivery from Beijing to you.
Allow a few weeks for delivery. Rush service speeds it up by a week or two for $10!
When you select your calligraphy, you'll be taken to another page where you can choose various custom options.
Answers.com - How do you write Katie in Chinese
A Chinese name that stands for dream but in english is kathryn or katie? How do you say Katie and shelbys room in chinese? How would you write the the name katie in...
Katie in Chinese Characters / Symbols / Letters / Words / Glyphs
If you are looking for Katie in Chinese or Japanese, you have come to the right place.
... This is the transliteration to Mandarin Chinese for the name Katie
Origin and Meaning of the Name Katie
Meaning and origin of the name Katie ... Chinese (34) Czech (56) Czechoslovakian (74) Danish (78) Dutch (103) Egyptian (278)
"Kate" in Chinese, calligraphy, pronunciation.
Your name in English, Chinese character, Pinyin pronunciation and Calligraphy.
Chinese Name Katie - Chinese Characters and Chinese Symbols ...
Chinese Name for Katie - Chinese Names and Characters translated from English names, personal Chinese chop, t-shirts, pendants and Chinese gifts - csymbol.com
Answers.com - How do you say 'my name is Katie' in Chinese
'My name is Katie' in Chinese is '???????'. In pinyin, it is 'wo de ming zi shi kai di '.
Kata - Wikipedia, the free encyclopedia
The number of moves in a kata may be referred to in the name of the kata, e.g ... In Chinese martial arts, forms are known as taolu. Modern forms are used in...
Japanese katakana
At first there were many different symbols to represent one syllable of spoken Japanese, but over the years the system was streamlined. By the 14th century, there was a...
Isshin-ryu - Wikipedia, the free encyclopedia
The kata was built as an introduction to Sai practice, with the weapon movements ... No Megami (???????), or for short, Megami (???, goddess) is the symbol...
The symbol of Australia - Kata Tjuta (The Olgas), Uluru-Kata ...
The Kata Tjuta national park contains Uluru and Kata Tjuta aboriginal sacred sites. If you go in Australia for a short or a long period you cannot miss them. Their...
Karate kata - Wikipedia, the free encyclopedia
The other Goju-ryu kata, Sanseru (meaning "36") and Seipai ("18") are factors of the number 108. Other Buddhist symbols within Karate include the term karate itself, the...