Buy a wall scroll with Kara in Chinese or Japanese.
We've carefully transliterated the name Kara into Mandarin Chinese and Japanese Katakana. Click a button below to see many custom calligraphy artwork options for Kara.

kōng

kuu / kara / sora / ron

공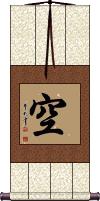 This single character means empty, void, hollow, vacant, vacuum, blank, nonexistent, vacuity, voidness, emptiness, non-existence, immateriality, unreality, the false or illusory nature of all existence, being unreal.

In Buddhist context, this relates to the doctrine that all phenomena and the ego have no reality but are composed of a certain number of skandhas or elements, which disintegrate. The void, the sky, space. The universal, the absolute, complete abstraction without relativity. The doctrine further explains that all things are compounds, or unstable organisms, possessing no self-essence, i.e. are dependent, or caused, come into existence only to perish. The underlying reality, the principle of eternal relativity, or non-infinity, i.e. śūnya, permeates all phenomena making possible their evolution.

From Sanskrit and/or Pali, this is the translation to Chinese and Japanese of the title śūnya or śūnyatā.

In Japanese, when pronounced as "ron" (sounds like "roan") this can be a given name. It should be noted that this Kanji has about 5 different possible pronunciations in Japanese: kuu, kara, sora, ron, and uro. 空 is also an element in the Japanese version of the five elements.

kenpo kunfu

拳法功夫 is the Japanese slogan associated with Kajukenbo.

There is not a way to really write Kajukenbo in Japanese (as the "ka" for karate cannot be separated from the "kara" character it is supposed to represent - among a few other language issues). This slogan which reads, "fist law, kung fu" is often written on banners and patches for Kajukenbo clubs or dojos.

quán fǎ táng shǒu

ken pou kara te

The first two characters mean "fist law" which is Romanized from Japanese as "Kenpo" or "Kempo."

The last two are a secondary way to express "karate."

Notes:
The more common way to express "karate" is literally "empty hand" (meaning "without weapons in your hand"). This version would be translated literally as "Tang hand" (as in the Tang Dynasty) or "China hand" (sometimes "Tang" means "China" in Japanese). Even though the character for "Tang" is used instead of "empty," it's still pronounced "kara-te" in Japanese.

拳法唐手 is not commonly used in China - so please consider it to be a Japanese-only title.

Many Japanese people will say the last two Kanji are the old and antiquated way to say Karate. This fact does not stop this title from existing, as these four characters are often seen in Kenpo / Kempo Dojos around the western world.
This in-stock artwork might be what you are looking for, and ships right away...
Gallery Price: $231.00
Your Price: $127.88
The following table may be helpful for those studying Chinese or Japanese...
Title
Characters
Romaji

(Romanized Japanese)

Various forms of Romanized Chinese
Sky
Ether
Void
Emptiness
Unreality
空
kuu / kara / sora / ron

---

ku / kara / sora / ron

---

ku/kara/sora/ron
kōng / kong1 / kong
k`ung / kung
Kajukenbo Slogan
拳法功夫
kenpo kunfu

---

kenpokunfu
Kara
卡拉
kǎ lā / ka3 la1 / ka la / kala
k`a la / kala / ka la
Kara
カーラ
kaara / kara
Law of the Fist Karate
Kempo Karate
拳法唐手
ken pou kara te

---

kenpoukarate

---

ken po kara te

---

kenpokarate
quán fǎ táng shǒu

---

quan2 fa3 tang2 shou3

---

quan fa tang shou

---

quanfatangshou
ch`üan fa t`ang shou

---

chüanfatangshou

---

chüan fa tang shou
In some entries above you will see that characters have different versions above and below a line.
In these cases, the characters above the line are Traditional Chinese, while the ones below are Simplified Chinese.
All of our calligraphy wall scrolls are handmade.
When the calligrapher finishes creating your artwork, it is taken to my art mounting workshop in Beijing where a wall scroll is made by hand from a combination of silk, rice paper, and wood.
After we create your wall scroll, it takes at least two weeks for air mail delivery from Beijing to you.
Allow a few weeks for delivery. Rush service speeds it up by a week or two for $10!
When you select your calligraphy, you'll be taken to another page where you can choose various custom options.
KARA Bio, Videos, TV Shows, Dramas, Movies and Music Videos ...
Real Name: KARA; Korean Name: ??; Chinese Name: KARA; Profession: Singer Birthdate: Not Available; Birthplace: Seoul, South Korea
Origin and Meaning of Kara - Baby Girl Name Kara
The name origin and meaning of Kara. The Greek Baby Girl Name Kara means - pure.
... African Baby Names - Hawaiian Baby Names - Russian Baby Names - Chinese Baby Names
Meaning of Kara - American baby name
Find the meaning of the name Kara. Search more than 30000 baby names meanings ... African Names Basque Names Chinese Names Danish Names Dutch Names Gaelic Names
What's In A Name?
What's In A Name? How the meaning of the term karate has changed. By Maurey ... In Japanese, it is pronounced either "tou" or "kara," and came to mean China in general, and...
Kara Hui | Chinese Hong Kong TVB Actor Actress Profile ...
Chinese Star TVB Artist Singer Actor Actress Profile Biography Discography Drama Series Film Movies TV Shows Gossip News Name Birth Soundtracks Singer Hong Kong Taiwan...
Names of China - Wikipedia, the free encyclopedia
In China, common names for China ... meaning "to talk in Chinese." Kara. Japanese: Kara (??; variously written in kanji as ? or ?). An identical name was used by the...
Kara - SikhiWiki, free Sikh encyclopedia.
Sarika Singh Wins religious bangle case in the UK court The right to wear the 5Ks; Articles of faith; Sikh Symbols; Bana; Letter regarding 5ks; External links. Sikh Kara Sikh Karas
The Sikh Bangle - Symbolism of the Kara
A double-edged axe symbol was used by the prehistoric Egyptians as a sign of power and divinity. Later on, this symbol underwent a lot of changes, and finally appeared...
House of El - Smallville Wiki
Kara -- Zor-El's daughter Jor-El (clone)-Jor-El's clone who was murdered by Major Zod ... The pendant's design was based on the original symbol of the House of El, suggesting...
BBC - Religions - Sikhism: The Five Ks
The 5 Ks are 5 physical symbols worn by Sikhs who have been initiated into the Khalsa. The five Ks are: Kesh (uncut hair) Kara (a steel bracelet)
The Five Ks - Wikipedia, the free encyclopedia
The Five Ks are not just symbols but Articles of Faith which collectively form the ... with their hands has to be in keeping with the advice given by the Guru.The Kara is...
Kara Thrace - Battlestar Wiki
For information on Kara Thrace's counterpart in the Original Series ... of the symbol and when they embrace, the tattoos form the whole symbol. According to Sackhoff, Kara...
"Kara" in Chinese, calligraphy, pronunciation.
Chinese Name "Kara" ... Create your own Chinese Calligraphy with a character, a word, a sentence or any text
Kara.. The Punjabi Symbol | Facebook
Welcome to a Facebook Page about Kara.. The Punjabi Symbol. Join Facebook to start connecting with Kara.. The Punjabi Symbol.
Kara (Kada) | symboldictionary.net
A kara is a symbolic circular steel bracelet worn by Sikh initiates, as a symbol of the initiate's commitment to truthfulness, strength, and unity. It is also