Buy a Crazy Chinese & Japanese Calligraphy Wall Scroll
We have many options to create artwork with Crazy characters on a wall scroll or portrait.
If you want to create a cool Crazy Asian character tattoo, you can purchase that on our Chinese and Japanese Tattoo Image Service page and we'll help you select from many forms of ancient Asian symbols for Crazy.

fā kuáng

髮狂 is the nicest/coolest way to write "crazy" in Chinese.

There are several other ways to express "insane" or "mentally disturbed" but they are either clinical terms, or very serious afflictions.

髮狂 is not a great or normal selection for a wall scroll. Please only order this if you really want this idea for some personal reason.

To put it another way: It's a little crazy to have a "crazy" wall scroll.

kuáng

kyou

광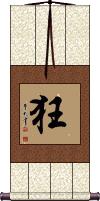 狂 is a single character that means "crazy" in Chinese, Japanese Kanji, and old Korean Hanja. 狂 means crazy, unrestrained, lunatic, insane, confused, deranged, wild, or mad.

This can also refer to an extreme enthusiast (like a football fan). But then, it can also refer to a person possessing a mental abnormality.

In some context, this can mean conceited (it probably won't be read that way on a wall scroll).

A warning: 狂 is an odd selection for a wall scroll. You should only order this if you plan to bewilder or confuse those who see it. It kind of says something about you, something that most native Asian people will not view in a good light.

wú zhèng fú

museifu

무정부

無政府 is a Chinese and Japanese word for anarchy.

無政府 literally read "without government."

mí

mei

미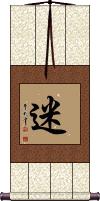 迷 is one of those characters that can mean a lot of different things depending on context. When written alone, as a single character on a wall scroll, it opens up the possibilities, and allows you to decide what it means to you.

The key definition is "to be lost." This could be physically or mentally lost. It can be someone lost in their thoughts, lost in an ocean, or just confused about where they are. The reason for the confused state may be due to internal or external reasons.

Here are some entries from various Asian dictionaries...

Chinese: lost, confused, bewilder, crazy about, fan, enthusiast, mystery.

Japanese: lost, astray, be perplexed, in doubt, err, illusion.

Korean: lost, bewildered, fascinated, deluded.

qiáng

kyou

강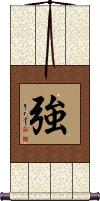 This "strong" character means strength, force, powerful, better, stubborn, and stiff (yes, all of this in one character). This "strong" has less to do with physical strength and more to do with having a winning attitude, or just having the ability to win at something.

Note that most of the time, this character is pronounced "qiang" but when used with the meaning of stubborn, unyielding, or stiff, it is pronounced "jiang" in Chinese.

Also, sometimes "qiang" is used in modern Chinese to describe people that do crazy things (Example: Bicycling from Beijing to Tibet alone). I sometimes can be found outside my Beijing apartment wearing nothing but shorts and a tee-shirt while eating an ice cream during a snow storm, just to hear my neighbors call me "qiang." Maybe they mean "strong" but perhaps they are using the new meaning of "crazy strong."

Also a Korean Hanja with same meaning but mostly used in compound words.

強 is used in Japanese (though normally in compound words). In Japanese, it has the same meaning but in some context can mean "a little more than..." or "a little over [some amount]." Most Japanese would read this as tough, strength, stiff, hard, inflexible, obstinate, or stubborn.

hùn dùn

konton

혼돈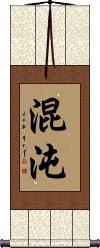 混沌 is the Japanese, Korean and Chinese word that means absolute confusion, disorder and chaos.

This more directly refers to primal chaos or primeval chaos.

When reading something about Chinese mythology, you may find this term used to describe the formless mass before creation.

Chinese scientists sometimes use this word to refer to the nebulous state before the universe was formed or nebulosity.

In some context, this could mean "a state of confusion."

hùn luàn

kon ran

혼란
The first character means confused, dirty, muddy or mixed.

The second character means confusion and disorder.

Together, these characters mean chaos, and sometimes extended to mean a type of anarchy.

This term is often used in a less-than-literal term to describe anything in disarray. Someone might use this word in a sentence like, "My kitchen is in a state of chaos" or "my life is so chaotic."
---

Please note that Japanese use an alternate/simplified version of the second character of chaos - it also happens to be the same simplification used in mainland China. Click on the character to the right if you want the Japanese/Simplified version of this two-character chaos calligraphy.
The following table may be helpful for those studying Chinese or Japanese...
Title
Characters
Romaji

(Romanized Japanese)

Various forms of Romanized Chinese
Crazy
Mad
髮狂

---

发狂
fā kuáng / fa1 kuang2 / fa kuang / fakuang
fa k`uang / fakuang / fa kuang
Crazy
Mad
Wild
狂

---

狂
kyou / kyo
kuáng / kuang2 / kuang
k`uang / kuang
Crazy Love
首っ丈
kubittake
Anarchy
無政府

---

无政府
museifu
wú zhèng fú

---

wu2 zheng4 fu2

---

wu zheng fu

---

wuzhengfu
wu cheng fu

---

wuchengfu
Lost
Dazed and Confused
迷
mei
mí / mi2 / mi
Madly in Love
愛得死去活來

---

爱得死去活来
ài de sǐ qù huó lái

---

ai4 de5 si3 qu4 huo2 lai2

---

ai de si qu huo lai

---

aidesiquhuolai
ai te ssu ch`ü huo lai

---

aitessuchühuolai

---

ai te ssu chü huo lai
Strong
Powerful
Force
強

---

强
kyou / kyo
qiáng / qiang2 / qiang
ch`iang / chiang
Chaos
混沌
konton
hùn dùn / hun4 dun4 / hun dun / hundun
hun tun / huntun
Chaos
Anarchy
Confusion
Mayhem
混亂

---

混乱
kon ran / konran
hùn luàn / hun4 luan4 / hun luan / hunluan
Peaceful Chaos
平靜的混亂

---

平静的混乱
píng jìng de hùn luàn

---

ping2 jing4 de hun4 luan4

---

ping jing de hun luan

---

pingjingdehunluan
p`ing ching te hun luan

---

pingchingtehunluan

---

ping ching te hun luan
Stir the Chaos
攪動混沌

---

搅动混沌
jiǎo dòng hún dùn

---

jiao3 dong4 hun2 dun4

---

jiao dong hun dun

---

jiaodonghundun
chiao tung hun tun

---

chiaotunghuntun
In some entries above you will see that characters have different versions above and below a line.
In these cases, the characters above the line are Traditional Chinese, while the ones below are Simplified Chinese.
All of our calligraphy wall scrolls are handmade.
When the calligrapher finishes creating your artwork, it is taken to my art mounting workshop in Beijing where a wall scroll is made by hand from a combination of silk, rice paper, and wood.
After we create your wall scroll, it takes at least two weeks for air mail delivery from Beijing to you.
Allow a few weeks for delivery. Rush service speeds it up by a week or two for $10!
When you select your calligraphy, you'll be taken to another page where you can choose various custom options.