Buy a wall scroll with Bruce in Chinese or Japanese.
We've carefully transliterated the name Bruce into Mandarin Chinese and Japanese Katakana. Click a button below to see many custom calligraphy artwork options for Bruce.

xiàng shuǐ yí yàng

象水一樣 is a short quote from a much longer statement by Bruce Lee.

He was summarizing how people should be flexible to all circumstances, attacks, or situations. At the end, he exclaims, "Be like water my friend." 象水一樣 is the, "Be like water" part alone, since that seems to be what most people want.

lǐ xiǎo lóng

bu ruu su ri

이소룡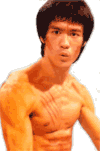 Many people have no idea that Bruce Lee had a "real" Chinese name. In mainland China and Hong Kong he is known as "Li Xiao-Long." He kept his family name pronunciation (Li = Lee). 李小龍 is a common family name that also means "plum."

His given name "Xiao-Long" literally means "little dragon." 李小龍 is why you often see the character for dragon associated with Bruce Lee on various posters etc.

For a pronunciation lesson, the "X" in Romanized Chinese is pronounced like a "sh" sound but with your tongue at the bottom of your mouth. The vowel sound in "Long" is like the English "oh," not like the "ah" sound in the English word "long."

If you are a big Bruce Lee fan, you should know this information, and you should have this wall scroll hanging in your room or martial arts studio.

Note: Japanese use these same exact Chinese characters / Kanji to write Bruce Lee's real name (with different pronunciation - which is a bit like how the name "Bruce Lee" sounds in English).
---
See Also: Kung Fu | Marital Arts

jié quán dào

jeet kune do

sekken dou

In Cantonese, this is Jeet Kune Do. Often it is explained as the "Way of the Intercepting Fist." 截拳道 is a martial art style founded by Bruce Lee.

The first character means to cut-off or sever.
The second character is fist.
The last character means way or method.
---
See Also: Bruce Lee

gōng fu

gung fu

kan fu / ku fu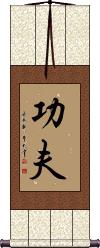 One of the most famous types of martial arts in the world - and not just because of Bruce Lee.

Some translate the meaning as "Accomplishment by Great Effort." I think this is partially true but directly translated it literally means "Merit/Achievement/Accomplishment Man." The word "fu" can sometimes mean "husband" or "porter" but in this case, it can only mean "man." However, few in China will think "man" when they hear the word "Gong Fu" spoken.

This term is also used for things other than martial arts. In fact, it's used to refer to a person with excellent skills in crafts that require a great deal of effort such as cooking, tea ceremonies, and calligraphy.

What a lot of people don't know is that the spelling of "Kung Fu" was actually taken from the old Wade Giles form of Romanization. Using this method, the sounds of the English "G" and "K" were both written as "K" and an apostrophe after the "K" told you it was supposed to sound like a "G." Nobody in the west knew this rule, so most people pronounce it with a "K-sound." And so Gong Fu will always be Kung Fu for most westerners.

Also, just to educate you a little more, the "O" in "Gong" has a sound like the English word "oh."

The popular Chinese dish "Kung Pao Chicken" suffers from the same problem. It should actually be "Gong Bao Chicken."

Historical note: Many will claim that Kung Fu was invented by the monks of the Shaolin monastery. This fact is argued in both directions by scholars of Chinese history. Perhaps it is more accurate to say that the Shaolin Monks brought the original fame to Kung Fu many generations ago.
---
See Also: Bruce Lee

lǐ

lee

ri / sumomo

리 or 이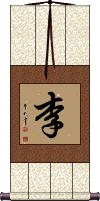 李 is the most common Chinese character which sounds like "Lee" or "Li" and is used as a surname / family name in China.

李 actually means "Plum." So it's really Mr. Plum and Mrs. Plum if you translated the name instead of romanizing.

李 is not the only character in Chinese that can be romanized as "Lee" or "Li." If your family name is "Lee" or "Li" please be sure this is the correct character before you order this scroll (look at your grandparents' Chinese passports or other documents if you are an ABC and are trying to create a heritage wall scroll).

Famous people with this surname include Bruce Lee (Li Xiao-Long), Minister Li Peng, and famous Tang Dynasty poet Li Bai. In Korea, this is the original character for a surname that romanizes as "Yi".
The following table may be helpful for those studying Chinese or Japanese...
Title
Characters
Romaji

(Romanized Japanese)

Various forms of Romanized Chinese
Be Like Water
象水一樣

---

象水一样
xiàng shuǐ yí yàng

---

xiang4 shui3 yi2 yang4

---

xiang shui yi yang

---

xiangshuiyiyang
hsiang shui i yang

---

hsiangshuiiyang
Bruce
布魯斯

---

布鲁斯
bù lǔ sī

---

bu4 lu3 si1

---

bu lu si

---

bulusi
pu lu ssu

---

pulussu
Bruce
ブルース
buruusu / burusu
Bruce Lee
李小龍

---

李小龙
bu ruu su ri

---

buruusuri

---

bu ru su ri

---

burusuri
lǐ xiǎo lóng

---

li3 xiao3 long2

---

li xiao long

---

lixiaolong
li hsiao lung

---

lihsiaolung
The key to immortality is first living a life worth remembering
獲得永生的鑰匙是先要活得精彩

---

获得永生的钥匙是先要活得精彩
huò dé yǒng shēng de yào shí shì xiān yào huó dé jīng cǎi

---

huo4 de2 yong3 sheng1 de yao4 shi2 shi4 xian1 yao4 huo2 de2 jing1 cai3

---

huo de yong sheng de yao shi shi xian yao huo de jing cai
huo te yung sheng te yao shih shih hsien yao huo te ching ts`ai

---

huo te yung sheng te yao shih shih hsien yao huo te ching tsai
Ip Man
葉問

---

叶问
yè wèn / ye4 wen4 / ye wen / yewen
yeh wen / yehwen
Jeet Kune Do
截拳道
sekken dou / sekkendou / seken do / sekendo
jié quán dào

---

jie2 quan2 dao4

---

jie quan dao

---

jiequandao
chieh ch`üan tao

---

chiehchüantao

---

chieh chüan tao
Kung Fu
Gong Fu
功夫
kan fu / ku fu

---

kanfu / kufu
gōng fu / gong1 fu / gong fu / gongfu
kung fu / kungfu
Leanna
李安娜
lì ān nà

---

li4 an1 na4

---

li an na

---

lianna
Lee
Plum
李
ri / sumomo
lǐ / li3 / li
Little Dragon
小龍

---

小龙
xiǎo lóng

---

xiao3 long2

---

xiao long

---

xiaolong
hsiao lung

---

hsiaolung
Unbreakable
Indestructible
堅不可摧

---

坚不可摧
jiān bù kě cuī

---

jian1 bu4 ke3 cui1

---

jian bu ke cui

---

jianbukecui
chien pu k`o ts`ui

---

chienpukotsui

---

chien pu ko tsui
In some entries above you will see that characters have different versions above and below a line.
In these cases, the characters above the line are Traditional Chinese, while the ones below are Simplified Chinese.
All of our calligraphy wall scrolls are handmade.
When the calligrapher finishes creating your artwork, it is taken to my art mounting workshop in Beijing where a wall scroll is made by hand from a combination of silk, rice paper, and wood.
After we create your wall scroll, it takes at least two weeks for air mail delivery from Beijing to you.
Allow a few weeks for delivery. Rush service speeds it up by a week or two for $10!
When you select your calligraphy, you'll be taken to another page where you can choose various custom options.
CHINESE NAME Bruce - All About The Chinese Name Bruce
Chinese Name Bruce, EVERYTHING About It. Meanings: Textile; cloth; a copper coin in ancient times\Announce; spread; arrange\A surname. Rash, rough, rude; stupid, dull...
Custom Bruce Lee Chinese Calligraphy Wall Scroll
Want Bruce Lee's real name on a wall scroll? Just ask and we will have a Bruce Lee calligraphy wall scroll or portrait made custom for you.
The word Bruce Lee in Chinese Characters and Japanese Kanji ...
Many people have no idea that Bruce Lee had a "real" Chinese name. In mainland China and Hong Kong he is known as "Li Xiao-Long". He kept his family name pronunciation...
Bruce Lee: Biography from Answers.com
Lee reportedly had a number of Chinese names, but it would be by the name of Bruce that he would become famous. Stardom began early, with his first film appearance at age...
Bruce Lee - Wikipedia, the free encyclopedia
... himself did not discriminate against Caucasians or other non-Chinese. "That paper had all the names of the sifu from Chinatown, but they don't scare me". - Bruce Lee...
My Name Is Bruce - Wikipedia, the free encyclopedia
My Name is Bruce is the heroic struggle of a small mining town (Gold Lick, Oregon) to rid itself of a vengeful monster. Guan-di (Jamie Peck), the Chinese god of war...