Divinity in Chinese / Japanese...
Buy a Divinity calligraphy wall scroll here!
Personalize your custom "Divinity" project by clicking the button next to your favorite "Divinity" title below...
Trust in God / Belief in God

神の信仰 is the simplest way to express, "Trust in God" in Japanese.

The first character means God, deity, divinity, or spirit (in this case, it will be read as God).

The second character is a particle that links the ideas.

The last two characters mean faith, belief, or creed, in religious context.
Spirit / Spiritual Essence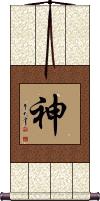 神 is the simplest way to write spirit in Chinese, Japanese Kanji, and old Korean.

This single character alone will conjure up ideas of the spiritual world. 神 can also be translated as "vital awareness" as in the fact that one must know they exist to exist (I think, therefore, I am).

Other translations include:
God, deity, mysterious, divine essence, lively, spiritual being, divinity, supernatural, soul, mind, nerves, and energy. In some extended context it can mean genius or unusual.

Japanese romanizations vary a lot when this character is combined into other words. However, shin is the original pronunciation taken from Chinese into Japanese. You'll also see it romanized as kami, gami, jin, and a few others, depending on context.
The following table may be helpful for those studying Chinese or Japanese...
Title
Characters
Romaji

(Romanized Japanese)

Various forms of Romanized Chinese
Trust in God
Belief in God
神の信仰
kami no shin kou

---

kaminoshinkou

---

kami no shin ko

---

kaminoshinko
Spirit
Spiritual Essence
神
shin / kami
shén / shen2 / shen
Not the results for divinity that you were looking for?
Below are some entries from our dictionary that may match your divinity search...
Characters

If shown, 2nd row is Simp. Chinese

Pronunciation
Romanization
Simple Dictionary Definition

神

see styles
shén
shen2

---

shen

---

shin; jin
しん; じん

More info & calligraphy:
Spirit / Spiritual Essence

deity; soul; spirit; unusual; mysterious; lively; expressive; expression; look; CL:個|个[ge4]; (slang) awesome; amazing

---

(1) spirit; psyche; (2) (See 神・かみ・1) god; deity; divinity; kami; (female given name) Miwa

---

Inscrutable spiritual powers, or power; a spirit; a deva, god, or divinity; the human spirit; divine, spiritual, supernatural; psychic power

祐

see styles
yòu
you4

---

yu

---

yū
ゆたか

---

(given name) Yutaka

---

help

神位

see styles
shén wèi
shen2 wei4

---

shen wei

---

shini
しんい

---

divinity; (surname) Kamii

神性

see styles
shén xìng
shen2 xing4

---

shen hsing

---

shinsei / shinse
しんせい

---

divinity

神格

see styles
shén gé
shen2 ge2

---

shen ko

---

shinkaku
しんかく

---

divinity

カムイ

see styles
kamui
カムイ

宅つ神

see styles
yakatsukami
やかつかみ

神学士

see styles
shingakushi
しんがくし

神學士

---

神学士

see styles
shén xué shì
shen2 xue2 shi4

---

shen hsüeh shih

---

See: 神学士

阿彌陀

---

阿弥陀

see styles
ā mí tuó
a1 mi2 tuo2

---

a mi t`o
a mi to

---

Amida
あみだ

---

(阿彌) amita, boundless, infinite; tr. by 無量 immeasurable. The Buddha of infinite qualities, known as 阿彌陀婆 (or 阿彌陀佛) Amitābha, tr. 無量光 boundless light; 阿彌陀廋斯Amitāyus, tr. 無量壽 boundless age, or life; and among the esoteric sects Amṛta 甘露 (甘露王) sweet-dew (king). An imaginary being unknown to ancient Buddhism, possibly of Persian or Iranian origin, who has eclipsed the historical Buddha in becoming the most popular divinity in the Mahāyāna pantheon. His name indicates an idealization rather than an historic personality, the idea of eternal light and life. The origin and date of the concept are unknown, but he has always been associated with the west, where in his Paradise, Suikhāvatī, the Western Pure Land, he receives to unbounded happiness all who call upon his name (cf. the Pure Lands 淨土 of Maitreya and Akṣobhya). This is consequent on his forty-eight vows, especially the eighteenth, in which he vows to refuse Buddhahood until he has saved all living beings to his Paradise, except those who had committed the five unpardonable sins, or were guilty of blasphemy against the Faith. While his Paradise is theoretically only a stage on the way to rebirth in the final joys of nirvana, it is popularly considered as the final resting-place of those who cry na-mo a-mi-to-fo, or blessed be, or adoration to, Amita Buddha. The 淨土 Pure-land (Jap. Jōdo) sect is especially devoted to this cult, which arises chiefly out of the Sukhāvatīvyūha, but Amita is referred to in many other texts and recognized, with differing interpretations and emphasis, by the other sects. Eitel attributes the first preaching of the dogma to 'a priest from Tokhara' in A. D.147, and says that Faxian and Xuanzang make no mention of the cult. But the Chinese pilgrim 慧日Huiri says he found it prevalent in India 702-719. The first translation of the Amitāyus Sutra, circa A.D. 223-253, had disappeared when the Kaiyuan catalogue was compiled A.D. 730. The eighteenth vow occurs in the tr. by Dharmarakṣa A.D. 308. With Amita is closely associated Avalokiteśvara, who is also considered as his incarnation, and appears crowned with, or bearing the image of Amita. In the trinity of Amita, Avalokiteśvara appears on his left and Mahāsthāmaprāpta on his right. Another group, of five, includes Kṣitigarbha and Nāgārjuna, the latter counted as the second patriarch of the Pure Land sect. One who calls on the name of Amitābha is styled 阿彌陀聖 a saint of Amitābha. Amitābha is one of the Five 'dhyāni buddhas' 五佛, q.v. He has many titles, amongst which are the following twelve relating to him as Buddha of light, also his title of eternal life: 無量光佛Buddha of boundless light; 無邊光佛 Buddha of unlimited light; 無礙光佛 Buddha of irresistible light; 無對光佛 Buddha of incomparable light; 燄王光佛 Buddha of yama or flame-king light; 淸淨光佛 Buddha of pure light; 歡喜光佛 Buddha of joyous light; 智慧光佛 Buddha of wisdom light; 不斷光佛 Buddha of unending light; 難思光佛 Buddha of inconceivable light; 無稱光佛Buddha of indescribable light; 超日月光佛 Buddha of light surpassing that of sun and moon; 無量壽 Buddha of boundless age. As buddha he has, of course, all the attributes of a buddha, including the trikāya, or 法報化身, about which in re Amita there are differences of opinion in the various schools. His esoteric germ-letter is hrīḥ, and he has specific manual-signs. Cf. 阿彌陀經, of which with commentaries there are numerous editions.

人間宣言

see styles
ningensengen
にんげんせんげん

太上老君

see styles
taijouroukun / taijorokun
たいじょうろうくん

月下老人

see styles
yuè xià lǎo rén
yue4 xia4 lao3 ren2

---

yüeh hsia lao jen

---

gekkaroujin / gekkarojin
げっかろうじん

---

(yoji) (See 月下氷人) go-between; matchmaker

阿說羅部

---

阿说罗部

see styles
ā shuō luó bù
a1 shuo1 luo2 bu4

---

a shuo lo pu

---

Asetsura bu

クトゥルフ

see styles
kutotorufu
クトゥルフ

天皇人間宣言

see styles
tennouningensengen / tennoningensengen
てんのうにんげんせんげん
Many custom options...




And formats...



Successful Chinese Character and Japanese Kanji calligraphy searches within the last few hours...
All of our calligraphy wall scrolls are handmade.
When the calligrapher finishes creating your artwork, it is taken to my art mounting workshop in Beijing where a wall scroll is made by hand from a combination of silk, rice paper, and wood.
After we create your wall scroll, it takes at least two weeks for air mail delivery from Beijing to you.
Allow a few weeks for delivery. Rush service speeds it up by a week or two for $10!
When you select your calligraphy, you'll be taken to another page where you can choose various custom options.
Check out my lists of Japanese Kanji Calligraphy Wall Scrolls and Old Korean Hanja Calligraphy Wall Scrolls.
Some people may refer to this entry as Divinity Kanji, Divinity Characters, Divinity in Mandarin Chinese, Divinity Characters, Divinity in Chinese Writing, Divinity in Japanese Writing, Divinity in Asian Writing, Divinity Ideograms, Chinese Divinity symbols, Divinity Hieroglyphics, Divinity Glyphs, Divinity in Chinese Letters, Divinity Hanzi, Divinity in Japanese Kanji, Divinity Pictograms, Divinity in the Chinese Written-Language, or Divinity in the Japanese Written-Language.
5 people have searched for Divinity in Chinese or Japanese in the past year.
Divinity was last searched for by someone else on Oct 10th, 2021